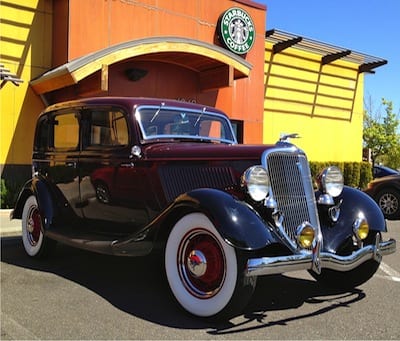 Story & Photos – Joseph Boyle
82 years ago in 1930, Bonnie Parker, age 19 & Clyde Chestnut aka "Champion" Barrow, age 21, teamed up to become infamous lovers, bank robbers and killers during the four years that followed. They ended up robbing numerous banks and killed 13 victims, including several police officers.
As the decades passed by, their horrific and violent story became romanticized including the production of a movie, Bonney & Clyde, in 1967 staring Warren Beatty and Faye Dunaway.
Just recently, Bonnie & Clyde's favorite choice for a getaway car, the 1934 Ford Fordor deluxe sedan, was spotted in the City of Lakewood over in front of the Starbucks.  Keep your eyes open and you too, might just get a chance to see the car they loved to steal for robbing banks.
Clyde wrote a letter to Henry Ford telling him he thought the 1934 Ford was one "dandy car".  He went on to say that anytime they were stealing a fresh get-a-way car, they always preferred the 1934 Ford.  With its large 85 horsepower V8, he could outrun all the cops.
Another great feature for the bank robbers in the 1930s was the running boards.  The bank robbers forced hostages from the bank to ride on the running boards to form a human shield thereby preventing the cops or any citizen-hero from shooting at them.  They would drop the hostages off about 8 miles outside of town and then make their clean get-a-way.
In February 1934, Mrs. Ruth Warren had her new 1934 Ford parked in her driveway in Topeka, Kansas.  She had purchased the Cordoba grey car from Mosby-Mack Motor Company for $835.00.  The price included several options such as the steel spare tire cover, Potter trunk and Arvin hot water heater, bumper guards and of course the eye-catching greyhound hood ornament.
Bonnie and Clyde stole her Ford and switched the license plate to Arkansas plate 15-368.
On May 23, 1934 at about 9:15 a.m, with the help of two locals, the cops ambushed the pair in a hail of gunfire, killing them both in the shadow of the 34' Ford.  There are 167 bullet holes in Mrs. Warren's stolen car.  Clyde had piled on an extra 2,500 miles while driving Mrs. Warren's car before making his last stop on the lonely road between Sailes, Bienville Parish, Louisiana and Gibsland, Louisiana.
I have included two web sites listed below, should you wish to learn more about the Bonney & Clyde 1934 Ford story.
The web sites provide interesting details, plus photos of the original car, photos of a replica car and the history of the car's ownership, location and ascending sales prices as the car passed from owner to owner with the last known price for the $835 car posted at $250,000.
http://www.roadsideamerica.com/story/2894
http://texashideout.tripod.com/warrencar.html
Ford manufactured 107,956 deluxe models of this car, plus 24,978 of the standard version.  The Bonnie & Clyde car was a 1934 Ford Fordor 730 deluxe sedan.   In the movie, it appears they were driving a standard model, which would not be correct.
There is great folklore surrounding this car and those who possessed and drove it.  Some say, it is still a great car in our day for historic reasons and it's fun gangster look.  I am not sure why the gangster look is fun, but it is fun for a lot of folks.
See if you can spot this car.  It is rumored to still be in Lakewood.  You might check the parking lots of the Lakewood banks first.