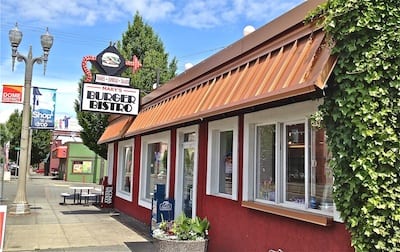 By Joe Boyle
I moved to Pierce County in 1959.  My photo depicts a small burger joint that has been in the same Tacoma location since the early 1950s, long before I got here.  I have always wanted to try it out, but never have.
At times I have been afraid to try this place.  It is just sitting there and I never hear anyone talk about it, good or bad.  I do not know anyone who ever went there.  I never see ads for this place on national TV.
53 years pass by; still I have never tried this burger joint.   Today was the day.  I may not have another 53 years to procrastinate.
As I travelled North on Pacific Avenue in downtown Tacoma, I said to myself, "If there is a parking space in front, I will stop and eat."
There it was and it was a free space too.  I parked my car right by the front door.  There are another 4 spots in the bank lot reserved for Mary's.
Inside, Mary greeted me with great gusto.  The interior reminds me of a 1950s burger joint, like you might see on the TV show, Happy Days.  I kept looking for the Fonzie to walk in.
I ordered a combo, which included a BBQ burger, Pepsi and fries for about $8.00.  The burger by itself was only $4.99.
The burger was really tasty.  Mary has a number of intriguing burger options too.
Mary has great money saving breakfast items, starting at $2.29.  I think I will return tomorrow and try the breakfast.  I am no longer afraid!
At Mary's you can enjoy 100 different milkshake flavors.
Would any of our readers be willing to accept the Joe Boyle Milk Shake Challenge?
Visit Mary's and try all 100-shake flavors within 12 months.  I will make you famous by writing an article about your desert consumption accomplishment.
At no cost to you, I will put your picture in the paper as you slump over your 100th shake.  To sweeten the deal, I will buy your 100th shake.  Any takers?
Mary's Burger Bistro is located at 2301 Pacific Avenue, Tacoma, Washington.  Phone: 253-779-0777.  Web: www.marysburgerbistro.com
Mary's is about 10 miles or 15 minutes from central Lakewood.  Take a road trip.  Check it out.  Tell Mary Joe Boyle sent you.