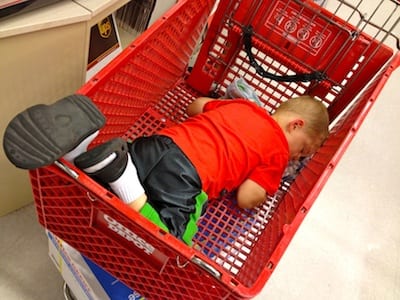 Story & Photo – Joseph Boyle
Guys, has your wife ever asked you why it is you can walk around a car show for hours and yet when she takes you shopping at the mall, your legs give out after 15 minutes; your eyes grow heavy and you immediately collapse into one of those "husband chairs" in the back of the store, before you pass out?
Good news. I have discovered empirical scientific evidence that the phenomenon of guys vs. shopping is not our fault. Guys are simply not meant to be shoppers.
So while pondering this very question, after entering the Lakewood Towne Center Office Depot, I made an important discovery. There it was, right before my very eyes.
I had only been in the store about 2 minutes when I felt my legs starting to grow weak. My left eye started drooping after being exposed to the shopping environment.
I looked up toward the cash register and what did I see? A young man, only 4 years old, already was demonstrating the male shopping behavior phenomenon.
Little Gavin was shopping with his mommy.
Shopping practically rendered him unconscious. He fell asleep in the bottom of his mommy's shopping cart, using his favorite blanket as a pillow.
After I gave Gavin's mother one of my official "The Suburban Times" Cub Report business cards, she authorized the photo of her son.
Guys, we can now tell our wives our shopping behavior is not our fault.
Now you have it, proof positive. Print this article and carry it in your wallet. Give your son a copy.
Gavin, thanks for your contribution to science and the betterment of boy – girl relations to thousands of my readers worldwide.