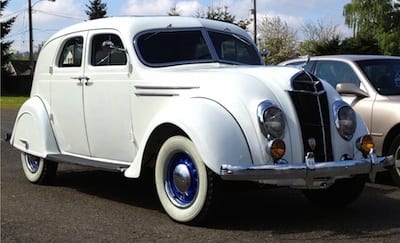 Story & Photos – Joseph Boyle
How many of you have ever seen or heard of this car?  I had never seen one until just recently.  I thought it was a remarkable looking vehicle.
After taking my photos, I decided to see if I could learn more.  I found some interesting material in a book titled, The Complete History of Chrysler Corporation 1924 – 1985 by Richard M. Langworth and Jan P. Norbye.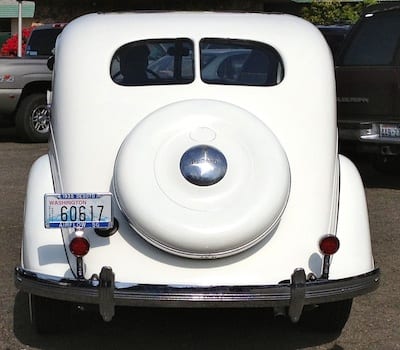 As it turns out, public reaction to the Chrysler Airflow during the 1930s was just like the public reaction to the more modern day Ford Edsel.  The public does not like to purchase ugly cars.
The Airflow was so far ahead of its time with its aerodynamic styling, the car buying public could not keep up.  It was a great car, but the public could not move that quickly into the future.
The Airflow was really the first mistake Walter P. Chrysler made in his automotive career.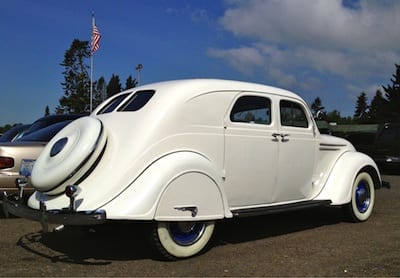 In 1934, Chrysler was getting ready to celebrate its 10th anniversary.  There was a feeling of renewed national prosperity just around the corner.  Chrysler had been spectacularly successful during its fist ten years.  This seemed like an ideal time to launch the new radical design.  The mistake of the Airflow impacted Chrysler for 20 years.
While the car was a failure in its time, it did introduce streamlined styling and with it the basic shape of the automobile as we know it today.
The authors stated, "And in body construction, engine placement, ride quality, and several other areas, it marked a complete break with existing design conventions, which were simply evolutions of the 'horse-and-buggy' practices."
To demonstrate the safety of the design, Chrysler sent an Airflow off a 110' cliff in Pennsylvania.  After tumbling down the bank of the cliff, the Airflow landed wheels down and drove away under its own power.  It mattered not.  The public does not buy ugly cars.
The beginnings of the Airflow started back in 1927.  A Chrysler engineer, Carl Breer, saw a squadron of airplanes practicing maneuvers.  He then got the idea to blend principles of aeronautics with the design of automobiles. Mr.  Breer even went so far as to consult with aviation Pioneer, Orville Wright.
The headlines of the day shouted, "Chrysler has gone too far too fast"
78 years have past since the introduction of the Airflow, which has given us time to accept the future, now that the future is the past.
I think the ugly duckling has turned into a beautiful historic automobile.