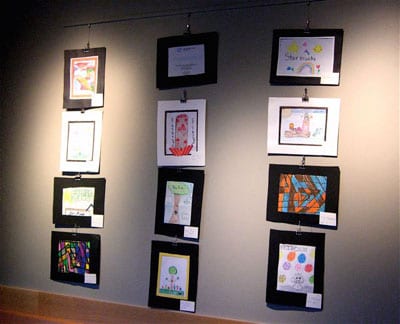 Story & Photos – Joseph Boyle
I have written multiple articles on the Community Art Wall inside Starbucks located at 6040 Main St SW in our Towne Center.
For several days I noticed a new art display, but I did not take a close look.  I could tell it was artwork, produced by students, probably from one of our local schools.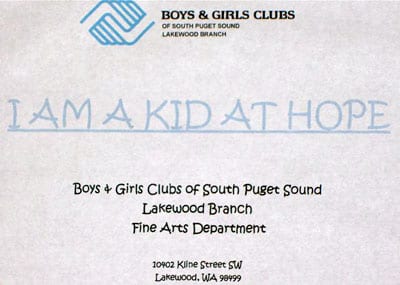 So, shame on me.  I did not spend any time checking it out.  I discounted the possibility that the art could be interesting or rewarding to view up close.  I discounted it because the artists are young students and I am afraid to admit; I am old.
The other morning I was inside Starbucks quite early, waiting for my tasty custom prepared "Joe's Special" beverage.  As I waited, I ambled over to finally take a closer look at the art.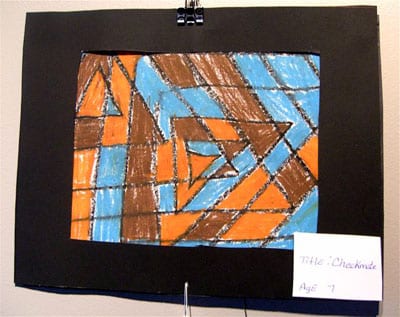 Wow!  The kids, who are a part of our Lakewood Boys & Girls Club Fine Arts Department, have done some great work.  I took some photos of a couple of my favorites.  The artwork shows young raw talent and creative thinking reduced to art on paper.
We hear about kids doing bad things, like smashing mailboxes.  These kids are doing fun, creative and positive things.
Don't be like me.  Don't discount our kids.  Check out their work.
These young artists are doing something that is rewarding to be exposed to, even if you are an adult.  Plus, the artwork serves as a foundation for great things to come from these young people.  After all, when we are old and they take over our world, it will be nice to have people in charge who have developed their talent and ability to use clear thinking.
With a larger perspective in mind, one example that certainly jars my thinking is the famous impressionist painter, Pierre-Auguste Renoir (1841–1919).
He has something in common with the Boys & Girls Club artists.  Like them he too, started out as a kid artist.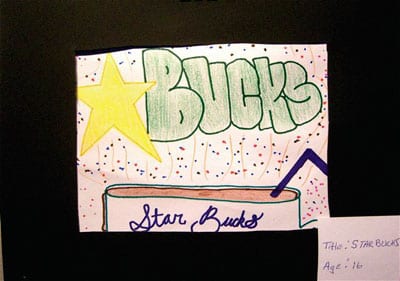 Biography (Source: Wikipedia)
Youth
Pierre-Auguste Renoir was born in Limoges, Haute-Vienne, France, the child of a working class family. As a boy, he worked in a porcelain factory where his drawing talents led to him being chosen to paint designs on fine china.[2] He also painted hangings for overseas missionaries and decorations on fans before he enrolled in art school.[3] During those early years, he often visited the Louvre to study the French master painters.
Let's not discount our kids.  Pay attention to what they are doing.  Compliment them for their good work.
If we believe in our young people, our young people can believe in themselves.
And to you young Boys & Girls Club artists, keep doing what you are doing.  I am proud of you.  Thank you for opening my eyes.