Photos and Story by Joe Boyle
Boy, oh boy, do I have some good news!
In this shrinking economy with all the bad news and negative press, one of my favorite companies, Starbucks, has expanded their business by opening another convenient Lakewood area location.
Starbucks is doing what they can to get our economy moving again.   Starbucks is putting good people to work.
Because I am a Starbucks aficionado, I enjoyed being one of their opening-day charter customers on Friday.
I had so much fun in the morning at 8:00 a.m. when I met my pal Dennis, I returned that same evening on my way home from work for a second visit to cement my "Charter Customer Status".  I also picked up my repeat customer pin.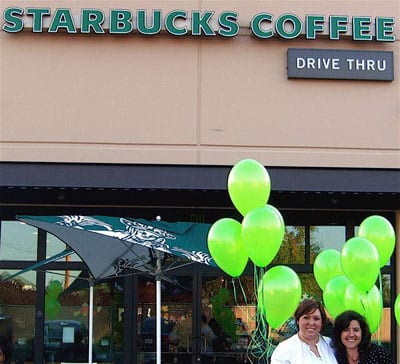 The new coffee shop is located at 5422 – 74th St W, just west of Lakewood Drive W, across from H & L Produce and Casa Mia Restaurant.
It is nicely decorated inside and out.  They have a drive-through and an inside art wall.  Clover Park High School students are the first to display their art at this location.
A very friendly staff will greet you, many of whom I know from my visits to other Starbucks on previous occasions.
The new store hours are Monday – Saturday 5:00 a.m. to 9:00 p.m. and Sunday 5:30 a.m. to 9:00 p.m.
I included a couple of fun photos for this story.
The first photo, is the oldest and original Starbucks, located at Pikes Place Market in Seattle, Washington.
The crowd you see lined up at the door formed when they heard Joe Boyle, from The Suburban Times, was inside drinking a Grande' Mocha and signing autographs.
The second photo is the new Lakewood Starbucks.  The woman on the left is Sarah, the store manager, and on the right is Sandi, our Starbucks District Manager.
Have some fun; invite a friend.  Check out our new Lakewood Starbucks.  Tell them Joe Boyle sent you.