Story & Photos – Joseph Boyle
This coming September 11, 2011 we will observe the 10th anniversary of the New York City Twin Tower tragedy. While the tragedy epicenter was in New York City, the terrorist shock waves reached out and found each and every one of us, no matter where we were on that day.
Even though a decade has passed since that fateful day, I still had tears in my eyes as I interviewed one of our own, West Pierce Firefighter, Rick Snodgrass, who works out of our Firehouse Station 21.
Rick had a great idea to commemorate the 10th anniversary of the 9-11 terrorist attack.  He and three of his firefighter pals, Greg Johnson, Travis Kuch and Aaron Johnson are going to ride their motorcycles to New York City as a part of the West Pierce Fire Fighters 911 Tribute Ride.
It is such a great idea, up to 5,000 other fire fighters from the U.S.A., Canada and a host of other countries are going to ride their Harleys, Hondas and anything else with two wheels to New York City to honor the 343 fire fighters who gave their lives during their effort to rescue victims of this savage attack.
Rick told me, and he is correct, we cannot forget these brave firefighters who all paid the ultimate price serving the citizens of our country.
On Friday, September 2, 2011 at 9:00 a.m., I rode my blue Peace Officers Special Edition Harley Davidson down to meet about 60 other motorcycle riders at the Fallen Firefighters Memorial on Ruston Way in Tacoma.  Many of them were riding red Firefighter Special Edition Harleys.
It was a beautiful day with the bright sun reflecting off Puget Sound.
Tons of folks including reporters from radio, T.V. and the newspapers, turned out to send the firefighters off on their cross-country journey.
Before leaving, all the bikes dipped their rear wheel in Puget Sound's salt water, which of course connects to the Pacific Ocean.  When they arrive on the other coast, they will dip their front wheel in the Atlantic Ocean.
Rick and his crew of 60 riders pulled out behind a Tacoma fire truck.   The fire truck, with lights and siren, escorted the riders to I-5.
The riders are carrying a special banner from the Heroes to Heroes Program given by our local military.
Two messages stand out among all the signatures on the banner.  Message 1 is military; firemen and policemen do not get to choose their battles.  Their battles find them.
All of these men and women unselfishly serve all of us, frequently at great personal risk.  Sometimes some of them do not get to come home.
On September 11, 2001, 343 firefighters in New York City never made it home.
Message 2 is we cannot forget these 343 firefighters.
The banner will be delivered to a firehouse in New York where it will be displayed as a remembrance, from their brothers and sisters on the West Coast.
The International Association of Fire Fighters Motorcycle Group and Orange County Choppers will host the 2011 Fire Fighters 9/11 – Always Remember & Never Forget Tribute Rally In Newburgh, New York.
I was amazed that Orange County Choppers would travel all the way from Orange County, California to New York to participate in this event.  That is when Rick told me I need to watch more television.  Yes, there is another Orange County, Orange County New York.  That is where Paul Sr. and Paul Jr. work their motorcycle magic on their T.V. show, Orange County Choppers.
I was invited to ride with the firemen.  Of course my blue Road King was in he back of the procession of red firefighter Harleys.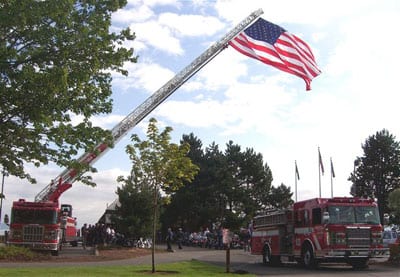 As we headed out with a television helicopter hovering overhead, I darn near choked several times because of the emotion generated by the sight of the long double column of firefighters riding their motorcycles side by side as they headed to New York City.  By the time they reach New York, Rick's crew will have picked up enough other firefighters, that they will number 100 riders.
I rode with them to just over the King County line.  I had told Rick I wanted to make certain they were not loading their bikes onto a trailer.  No, like the 343, they will ride the full distance.
It was meaningful to me to be able to help them launch their ride.
They will route themselves through Shanksville, Pennsylvania, the site of the 9-11 Flight 93 crash.
On the morning of September 11, 2011 up to 5,000 motorcycle riders will roll into New York City in a procession that is estimated to be six miles long.
It will be a time for remembering and a time for reflection.
If you like, follow their progress cross-country and back home again on Rick's Blog.
Thanks Rick, Greg, Travis and Aaron for your contribution to helping us properly remember this historic and life changing world event.