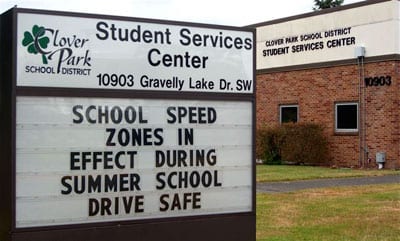 Story & Photo by Joseph Boyle
I have it on good authority that not one of us likes being issued a traffic ticket. Our good friends down at Clover Park High School are doing what they can to keep our kids safe and to keep us from getting a ticket. Check out my photo of their reader board sign.  It says it all.
So everywhere you go, comply with the school zone signs and signals.  Kids are in summer school and the enforcement cameras and traffic cops know that.
After reading my article and viewing my photo, you have to ask yourself, "What fun thing can I do with the money I save by not getting a ticket?"