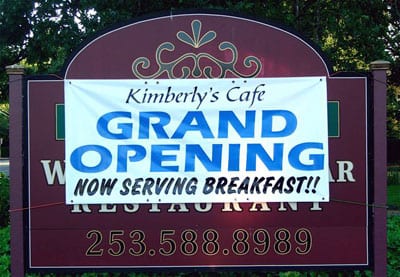 Story & Photo by Joseph Boyle
Recently I shared some news about Kimberly Jimenez's restaurant, Vive Bene, in an article titled, "Last Supper".  Vive Bene closed. Are you ready for Chapter II?  Another Kim, Kimberly Connell, purchased Vive Bene and has renamed the restaurant, Kimberly's Café.
Her Grand Opening was this past Thursday, June 30, 2011.  In my effort to be omnipresent, I was there! The two Kims are now friends with connections that go way back before the restaurant business.
In case you wish to venture out and try our new Lakewood eatery, Kim's location inside Clover Park Shops and her summer hours are as follows:
Kimberly's Café, 11126 Gravelly Lake Dr SW, Lakewood, WA 98499. Phone: 253-588-8989
Monday 7:00 am to 3:00 pm
Tuesday – Thursday 7:00 am to 8:30 pm.
Friday & Saturday 7:00 am to 9:00 pm.
Sunday 7:00 – 3:00 pm.
Menu prices run as follows:
Breakfast $3.99 to $10.99.
Lunch $5.25 to $9.99.
Dinner $10.00 to $17.00.
Here is an interesting Lakewood connection.  Most of you are familiar with Bur's Restaurant on Steilacoom Boulevard.  Will Burslem and his wife Verna Burris combined their two names, Burslem and Burris and then shortened the name to Bur's Restaurant.
Will and Verna were Kimberly's grandparents.  She grew up at Bur's Restaurant.  The food business is in her genes.
Kimberly has lived and traveled extensively in Connecticut, Italy, Germany, Mexico and Canada.  Everywhere she went, she focused on food and the restaurant business.
Kimberly worked her way through college at The Norwich Inn and Spa, which was named the 9th best restaurant in the United States.
What a small world we live in.  Twelve years ago, Kimberly worked for Mimi's Kitchen, a former favorite Lakewood Restaurant.  The old Mimi's is now Kimberly's.
Because of Kimberly's travel and her love of food and wine, her menu offerings are what she describes as eclectic including Italian and Pacific Northwest cuisine.  She is building an exciting wine list for your pleasure.
Towards the end of June, Kimberly's Café will feature a prominent local Washington State artist, Marshall Johnson, www.marshalljohnson.com.  His oil paintings depict the San Juan Islands, downtown Tacoma and other local known locations.
The next time you are hungry, give Kimberly's Café a try.  She would like to serve you excellent food with an exciting taste at a reasonable price.
People are starting to talk.  "Kimberly's is fabulous.", they say.  Check it out for yourself.
Tell Kimberly Joe Boyle sent you.