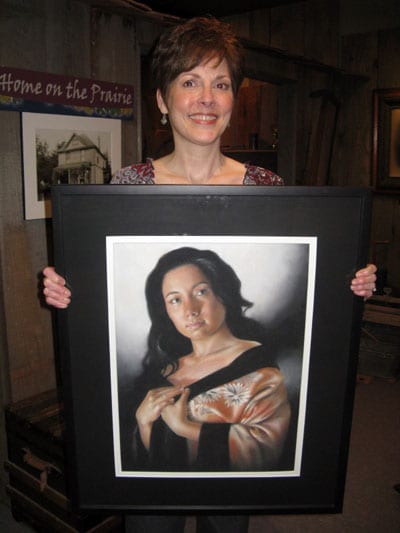 Story by Joseph Boyle. Photos by Phil Raschke
Remember my story about our local artist, Pat Graham (above), which was posted last March 27, 2011? Pat is back; this time with a solo art show display at our Lakewood History Museum.
Everyone I talk to tells me Pat and her artwork is wonderful. I encourage you to take a break from your busy schedule and head over to see her show. Show dates:

May 6, 2011 – July 6, 2011 at the Lakewood History Museum, 6211 Mount Tacoma Dr SW, Lakewood, WA 98499. Located West of Gravelly Lake Dr SW and just North of Columbia Bank.
Hours: Wednesday – Saturday 12:00 – 4:00 pm.
Admission is free, but if you really have a good time, a donation will get you a big smile from all who volunteer for our non-profit museum.
Pat has 9 paintings in the show several of which have won awards. One in particular titled Hesitation, won first place at Lakewold Gardens MayFest Art Show (see more shots from the MayFest Art Show below) .
If you decide you would rather enjoy one of Pat's art pieces at home, several are available for purchase.
Have a fun time and tell them Joe Boyle sent you.