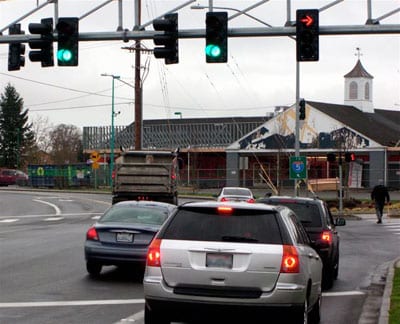 Story & Photos by Joseph Boyle
During the past several months I have been witness to a significant number of complaints regarding a new and improved traffic light system at Bridgeport Way SW and Gravelly Lake Dr SW.
When approaching the intersection moving Southbound on Bridgeport crossing Gravelly Lake Dr SW there are two through lane traffic lights, one left turn arrow light and one right turn arrow light.  When the lights are red, there is no problem as everyone stops.  When the green lights activate for the through lanes, the right turn lane arrow stays red instead of changing to green as you might expect.

In this case, the red arrow does not make sense.  The red arrow has frustrated many drivers.
Well, I have been in the frustrated driver group and just the other day I was hanging out at my home away from home, Main Street Starbucks, when I ran into a couple of credible and knowledgeable City of Lakewood employees.
I asked, "What's up with the red / green arrow on Bridgeport and Gravelly?
Their answer was both enlightening and encouraging.
#1. There is a design issue or problem that they are trying to develop a solution for.  While normally the red arrow would be set to change to green when the through lanes turn green, the red arrow is purposefully delayed to remain red while they find a solution to the design problem.
The encouraging word is that once the problem is rectified, the right turn arrow will normally turn green when the through lane ball lights turn green.
#2. The exception to having the right turn arrow turn green simultaneously with the through lane green balls occurs when a pedestrian mashes the crosswalk button in order to cross Gravelly Lake Dr SW.  The red arrow will stay red to avoid having the car turning right, run down the pedestrian.
Check out my photo.  Do you see the pedestrian?  The red arrow makes sense for pedestrian safety.
Well, there you have it.  Keep your eyes on the new traffic lights for improvements and more importantly, keep your eyes open for pedestrians.
Our City of Lakewood Engineers are great and intelligent people.  So, let's be patient and have confidence.  Our intersection will get better, one day soon.