Story by Joseph Boyle | Photos by Joseph Boyle & Pat Graham
Do you remember my commenting in a previous story on how you could meet interesting people at the Starbucks Community Art Wall?  It's true.  I just met artist, Ms. Pat Graham.
Pat's art will be featured on the Starbucks Community Art Wall located at 6040 Main St SW in Lakewood, Washington, starting on March 30, 2011, and running through April 20, 2011
If you would like to own some of her art, Pat can make that happen.  To view her full gallery, check www.patgraham.nobullart.com.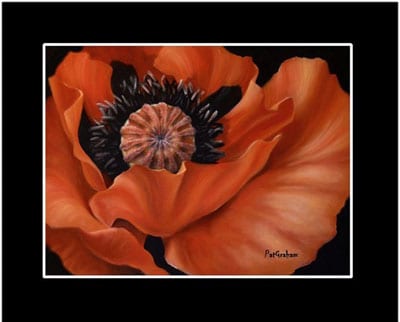 While we enjoyed a couple of tasty Starbucks beverages, she shared a fascinating story with me, which I have titled, The Eyes of an Artist.
Pat was born in the mid 1950s and rumor has it she came into the world clutching an artist's paintbrush.   Pat's parents proclaimed she was born to be an artist.
While she was blessed at birth with the gift of art, little baby Pat was born hearing impaired.  Although not totally deaf, she lacked a sense of hearing that most of take for granted.
Because of her hearing impairment, her energies and connection to others was redirected through her eyes.  She learned to be much more observant of people's faces, facial expressions and body language.  She learned to notice many visual details and cues that most of us, with normal hearing, would miss.
At age 3, she could out-draw her mother with her 8-pack crayon starter set.  She grew to understand that she was destined to be an artist.
All the way through school, Pat was fully engaged in art activities and classes.
Can you believe this?  When Pat was in 3rd grade, she sold her first piece of art for all cash; that was $3.00 cash.  This means she became a professional artist at age 9.   She continued to sell her art during high school.
After graduating from Lincoln High School, Pat attended a two-year Clover Park Vocational School program in Commercial and Fine Arts.
Art was an important connection for Pat to other people and the world.
New technology enabled Pat to be fitted with hearing aids for the first time in her late 20s.
Throughout her life, Pat continued to receive awards for her artistic works.
Now if Pat's story stopped right here, I think we might come to the conclusion that she had a unique life of challenge and triumph.  I could not help but wish this was the end of her story, but it is not.
When Pat reached her mid 20s she was diagnosed with a terrible disease called Sarcoidosis.  Sarcoidosis is a mean disease that began to attack Pat's eyesight.  Eventually she was forced to give up the center of her life, that of being an accomplished artist.  This period lasted for 12 long years.  She could not distinguish shapes, shades and colors clearly enough to paint.
Pat did not give up or concentrate on feeling sorry for herself.  She took her artistic gifts and worked in our schools with disadvantaged children.  She worked with flower gardening as a personal artistic expression.
In about 1998, Pat took the risk of having an eye operation.  She had always been and still was considered too young for such a delicate procedure, but she felt she no longer had a choice.
If you are like me, you are sitting on the edge of your chair wanting to know how the operation came out.  Success!  Pat recaptured the Eyes of an Artist.
Immediately she dove into art classes in an attempt to regain her skills that had atrophied during her 12-year dormant period.  In 2004 she won an art award titled "Best of Show".  Many other awards followed.
Pat chose her next word carefully and with the preciseness of a laser.  Her word is appreciation.  Pat appreciates her gift of eyesight.  She now has the freedom to see, mentally capture what she sees and then express what she sees through her art.
The rest of her story cannot yet be written for Pat's eyesight remains fragile and is constantly exposed to another disease attack.
Knowing full well that her eyesight may end prematurely, she is full speed ahead in savoring what she can see, experience and express to others through her art.
Stop by the Starbucks Community Art Wall March 30 through April 20, 2011 and view what Pat Graham sees through the Eyes of an Artist.