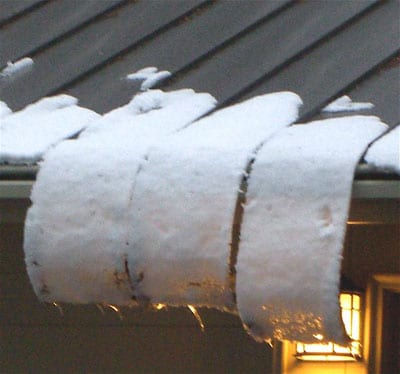 Photos and story by Joseph Boyle
During our recent snowstorm something mighty unusual happened. My home is covered with a standing seam metal roof. The metal roof combined with snowfall and changing temperatures caused a freezing and thawing action that produced what I call The Icicle Attack.
The snow on my metal roof started to melt. The water ran down the roof and formed icicles. They were vertical icicles and were reaching from the gutter towards the ground.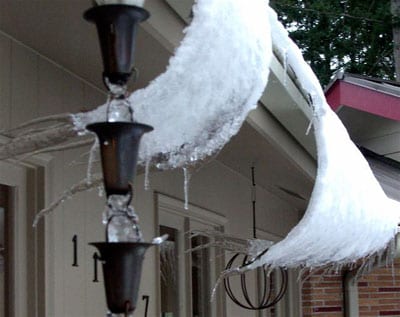 Had that been all that happened, I would not be writing this article. Now comes the strange part. The melt / freeze action caused the snow pack to slip down the roof. It was like a mountain glacial action. The moving snow captured the fir needle accumulations, dragging them down the roof and over the edge.
When the sliding snow pack hit the gutter area, the snow and 18" icicles made a pronounced turn wrapping around the gutter and headed towards my windows. Now instead of being in the standard vertical icicle position, the long icicles were parallel to the ground and appeared to be getting ready to attack and puncture my house.
They looked like an ice formation out of a horror film that could be entitled The Icicle Attack.
When you look at my photos, can't you imagine sitting in the movie theater spilling your popcorn as you watch in horror as the icicles pin innocent victims to the wall?
Well, thank goodness the warm temperatures came and melted all the snow and icicles just before I was stuck to the sheetrock.