Date - Apr 15, 2023
Time - 9:00am-3:00pm
Location:
Tacoma Dome
2727 East D Street
Tacoma WA 98421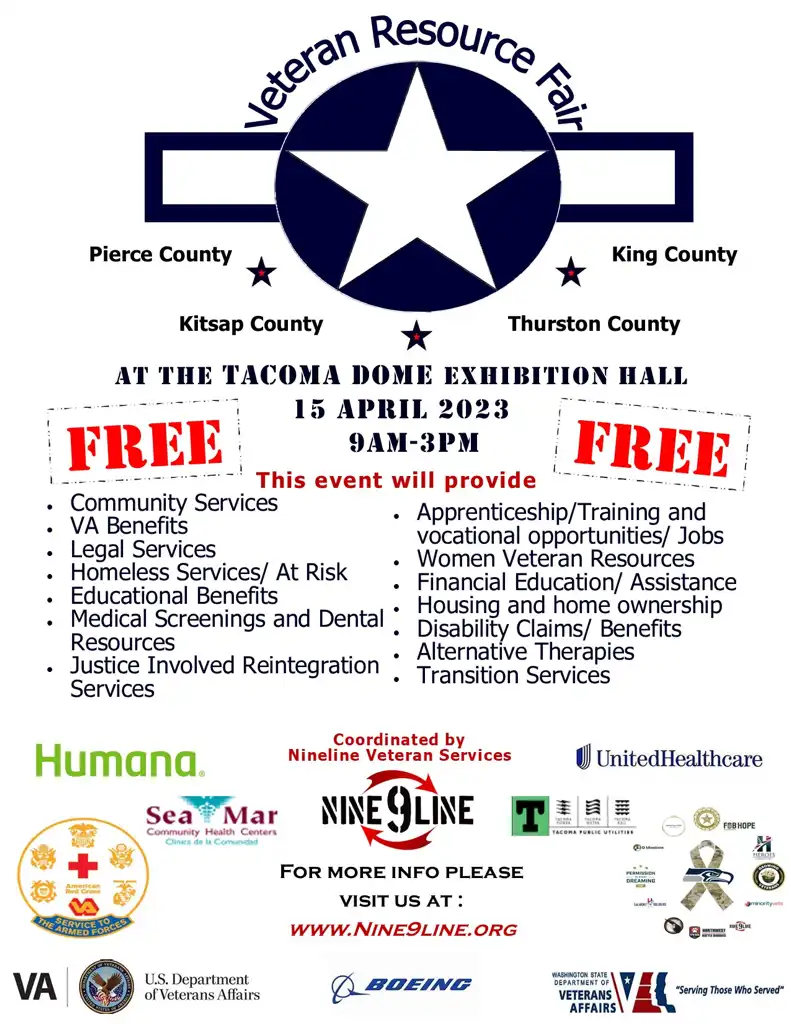 The Veterans Resource Fair is an annual "Labor of Love" event, hosted by NineLine Veteran Services, supporting over 35,000 military Veterans and their families. The 10th Annual edition will take place at the Tacoma Dome Exhibition Hall on April 15 (9 am-3 pm).
The Veterans Resource Fair was conceived by veterans who realized the veteran community desperately needed a safe space to connect with other veterans, and receive information and connection to services available specifically to the veteran community.
The Veteran Resource Fair is a community partnership between various veteran owned agencies, nonprofits, federal, state, and local county agencies whose aim is to provide an annual and reliable space where Pierce, King, Kitsap and Thurston County Veterans and their families can obtain direct connections and information to many different types of veteran specific programs and resources, to include:
Veteran Administration (VA) Benefits
Community Services
Services for Unhoused Veterans / At Risk
Medical Screenings and Dental Resources
Community Reintegration Services
Employment / Apprenticeship / Training and Vocational Opportunities
Educational Benefits
Female and Non-binary Veteran Resources
Financial Education / Assistance
Housing / Home Ownership Resources
Disability Claims / Benefits
Legal Services
This is a FREE event for ALL veterans, active duty and their families.
(Click Here for 10 years of service 2 others)
Category