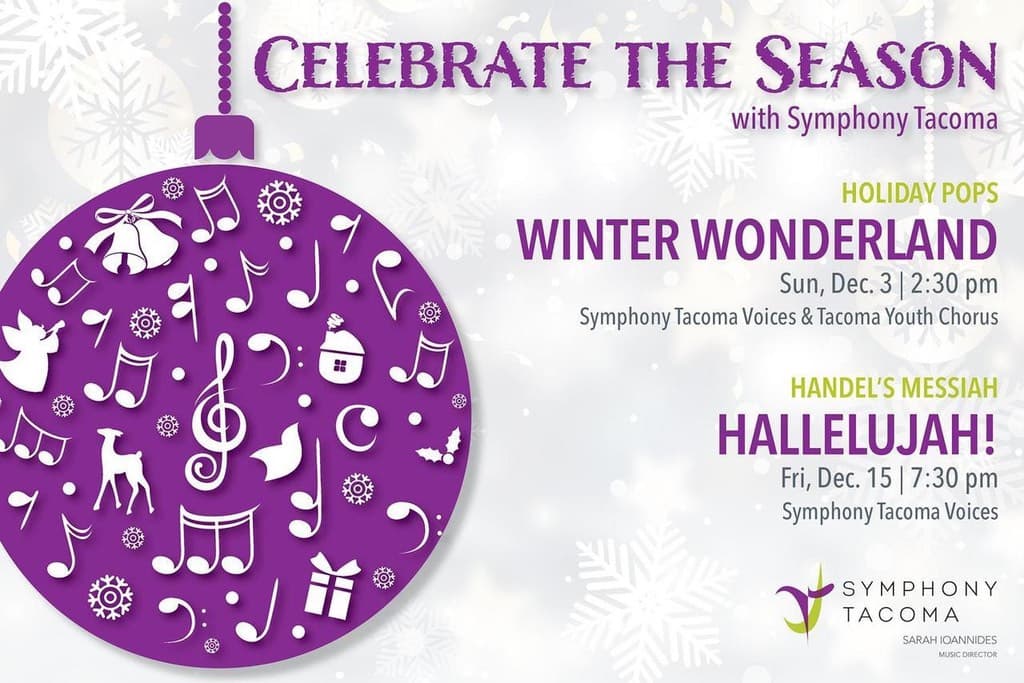 Tacoma, WA—Symphony Tacoma will continue its tradition of celebrating the holidays with two concerts in December. From cherished holiday songs from diverse traditions to Handel's Messiah, the programs capture the themes, spirit and "sounds of the season."
Winter Wonderland
Sunday, December 3 | 2:30 pm
Pantages Theater
Geoffrey Boers, conductor
Symphony Tacoma Voices (Geoffrey Boers, director)
Tacoma Youth Chorus (Judith Herrington, director)
Tickets: $24 to $87
On Sunday, December 3, the Pantages Theater stage will be teeming with singers and musicians as Symphony Tacoma presents Winter Wonderland, its annual collage of seasonal delights for the whole family. This year's program features choral masterpieces and festive arrangements from various traditions that evoke the holiday spirit. Selections include classic works from Rimsky-Korsakov, Handel and Grieg as well as contemporary favorites such as Sleigh Ride and The Twelve Days of Christmas.
Joining the orchestra are a multitude of talented voices. The 80-member Symphony Tacoma Voices (STV) is a diverse chorus comprising gifted amateurs and professional musicians. Under the direction of Geoffrey Boers, they perform regularly with Symphony Tacoma and in stand-alone engagements.
Tacoma Youth Chorus (TYC) will also join the orchestra on stage for several selections of their own as well as joining the STV for a number of songs. TYC is Tacoma's educational choral program for children in kindergarten through high school directed by Judith Herrington. Additionally, members of Tacoma Youth Symphony's Brass Choir will entertain patrons as they arrive at the venue.
HALLELUJAH! (Handel's Messiah)
Friday, December 15 | 7:30 pm
St. Charles Borromeo Church
Symphony Tacoma Voices (Geoffrey Boers, director)
Allison Pohl, soprano; José Luis Muñoz, countertenor; John Marzano, tenor; Elijah Blaisdell, bass
Tickets: $31 general admission | $49 reserved
Handel's Messiah holds a unique place in the classical music canon. It is the most famous oratorio ever written, thanks in part to the tradition of annual performances that began during Handel's lifetime and continue today, a testament to the power of the music to reach diverse audiences across generations. Messiah tells the story of Jesus not as a linear narrative, but rather as reflections of his life and its symbolic significance. It has become a Christmas season classic.
This year's performance will be conducted by Sarah Ioannides and performed by Symphony Tacoma musicians and vocalists of Symphony Tacoma Voices. Featured soloists include Allison Pohl, soprano; José Luis Muñoz, countertenor; John Marzano, tenor; and Elijah Blaisdell, bass.
Tickets for both concerts are available through the Symphony Tacoma Box Office at 253-272-7264 ext. 1 or online at symphonytacoma.org.