Author E.C. Murray from Fox Island, Washington, works primarily as a writer but additionally is a creative writing instructor at Seattle Central College. She started keeping a journal at fourteen and wrote her first play at eight. She began taking her writing seriously in 2007 after her first writing class. E.C.'s first book was a "tiny book," a book of aphorisms and ideas for a "bad hair day", titled "Life Kind of Sucks," based on what she learned earning her Masters in Social Work. Her first book length memoir, "A Long Way From Paris," was published in December of 2014, the story of her personal transformation, living off the grid in the mountains of the south of France, herding forty-two goats, twelve sheep, and a cow. It was named a Kirkus Book of the year and received Honorable Mention from New Millennium Writing. Her short story "An Urban Goatherd" received a Pushcart nomination – written under the name of Elizabeth Corcoran Murray. E.C. belongs to the Pacific Northwest Writers Association, Hugo House, Sisters in Crime, and the Greater Gig Harbor Literary Society. When E.C. isn't writing, she loves to read, bike, ski, garden, and to travel a great deal.
Which genres do you cover?
E.C. Murray: Memoir, mystery, self-help.
Which is the latest book you had published, and what is about?
E.C. Murray: "An Unfamiliar Guest" is a suspenseful mystery with a surprise ending set in Gig Harbor about two women who know a young man is a troublemaker, but they're convinced he didn't shoot anyone.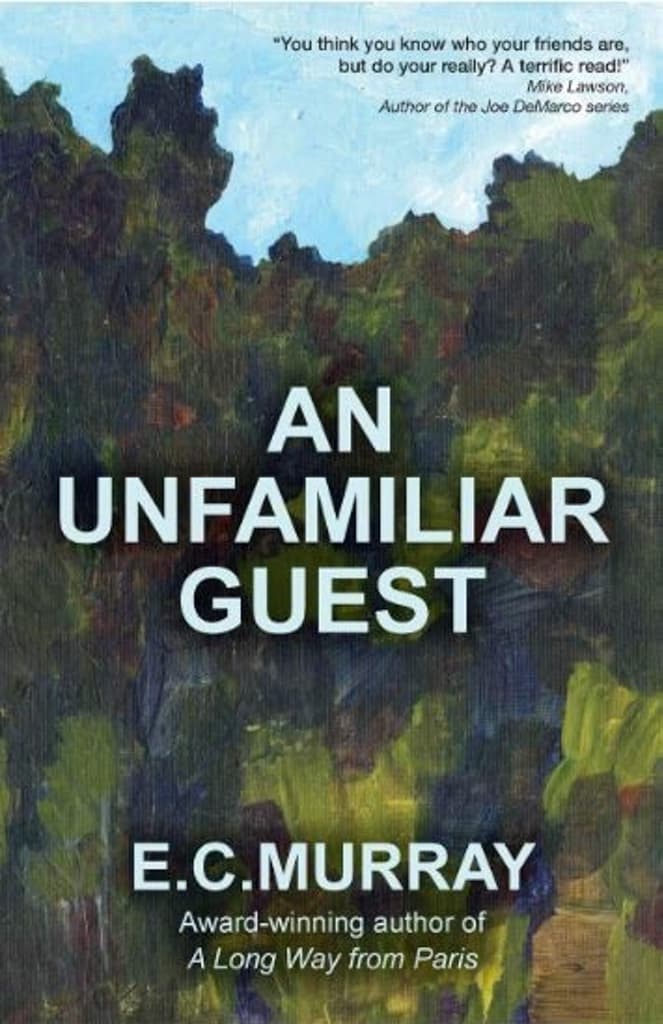 At which book events can readers find you?
E.C. Murray: Note that my book launch for "An Unfamiliar Guest" was in January 2020, and from that time until fall of 2022, I did virtually no events because of COVID precautions. In the past I participated in Gig Harbor High's Tidefest, Lakewood's Film, Art, and Book Festival, Fox Island Fair, and Indianola Fair. Mostly, though, I've presented at book clubs (in person and Zoom), civic clubs like the Elks and Rotary, BBQ2U, and many, many bookstores. I like events where I can answer questions and talk to people about books and reading. Upcoming events are in the week of November 20 at BBQ2U in Gig Harbor (not Thanksgiving); and at Winterfest at Peninsula High School in Gig Harbor, November 25 and 26.
Which book event connecting you with readers is your favorite and why?
E.C. Murray: At the FAB in Lakewood it was fun not only conversing with readers but also getting to know authors Connie Connolly, Wendy Kendall, and Tracy Cram Perkins, who are so knowledgeable. A total delight. I love to connect with authors through www.writersconnection.org, my website and newsletter which has dozens and dozens of resources for aspiring writers.
Do(es) your book(s) have any specific messages to your readers and, if so, which are they?
E.C. Murray: The message throughout all my books is about learning to believe in yourself, shedding negative self-thought, and moving forward through adversity with a sense of humor.
Which writer(s) keep(s) inspiring you and why?
E.C. Murray: I love the humor in Liane Moriarty laced with meaningful topics such as spousal abuse, miscarriage, taking people for granted, and so forth. I love Tana French's literary suspense books because they dig so deeply into human's motivation. I like JA Jance books because they also thread mystery with a more important message but aren't at all gory. As she says, "wonderful books to read sitting next to someone in a hospital."
Do you have any specific writing habits?
E.C. Murray: I prefer to write from 8:00 A.M. – 2:00 P.M. at home with Mozart playing.
What are you currently working on?
E.C. Murray: Currently as in the last four years: As a young man desperately searches for his mother in homeless camps, he inadvertently reunites two estranged lovers.
Which book are you currently reading simply for entertainment?
E.C. Murray: Great question. Not simply entertainment are "The Warmth of Other Suns" and "Uncle Tom's Cabin" (which is actually an epic adventure), which I can't recommend enough. Purely entertainment: "The Paris Apartment" by Lucy Foley and "Book Lovers" by Emily Henry.
What advice would you give any aspiring author?
E.C. Murray: Read! Read one hundred books of your genre. Writing well is about knowledge, talent, and persistence. Continue to learn about the craft of writing through books, conferences, and classes; get your 10,000 hours of writing and revising in; be choosey about whom you ask for feedback (someone knowledgeable and gentle); store your phone in another room; become a strong literary citizen supporting other authors; and keep at it! Be willing to learn, be willing to fail, be willing to be humble.
You can find E.C. Murray's books through her website with resources for writers, Writersconnection.org, at local bookstores, and at https://www.amazon.com/stores/E.C.-Murray/author/B008OHT7PA