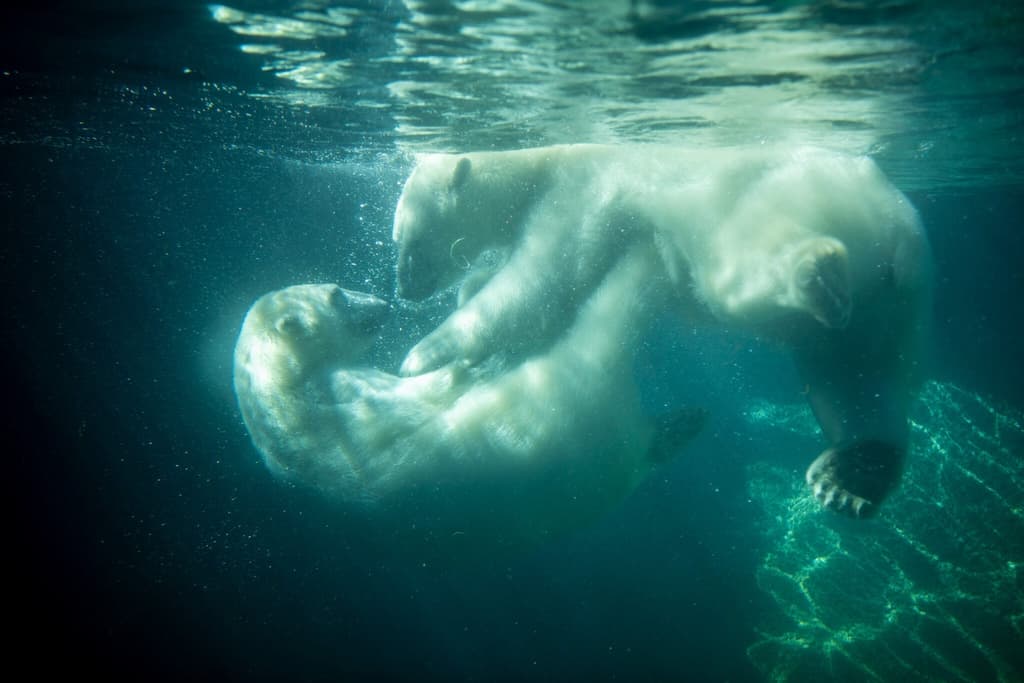 Polar bear twin sisters Astra and Laerke are celebrating their 3rd birthday at Point Defiance Zoo & Aquarium November 18-19. Since first arriving at the zoo in June, the pair have captivated the South Sound and the entire country, with multiple videos of them going viral in the last few months.
They love to polar plung– literally- and dive off their island into their fresh saltwater pool, swim in a kiddie pool in their large pool, and play with barrels and jugs of all sizes.
"They are a fan favorite and bring our guests and staff so much joy every day," said assistant curator Sheriden, who helps care for the bears.
Sheriden says they're now in a routine and seem comfortable around their new keepers.
"We've trained them to sit on a scale for us so we can monitor their weights," explained Sheriden.
Astra currently weighs 665 pounds, and Laerke, the smaller of the twins, weighs 330 pounds. Sheriden expects them to be fully grown by the time they're 5 years old. They're currently eating around 2 to 6 pounds of food daily.
"They love meat, fat, fish, and produce," said Sheriden. "But they are still quite picky and have not become accustomed to salmon yet."
Keepers are also training the sisters to voluntarily participate in blood draws.
"We ask them to show us their front paws, and they are rewarded with food," said Sheriden.
This allows the keepers and veterinary team to check the bears for any illnesses without anesthetizing them.
Sheriden says Astra picks up on things quickly, whereas Laerke watches her sister cautiously before following along.
"They are very different bears, but also enjoy so many of the same activities," said Sheriden. "They are often seen wrestling each other, and other times they're cuddling together."
Both bears love beef femur bones and anything they can put on their heads, from a kiddie pool to a toy barrel.
"It's a delight to watch them explore their new environment and grow each day," said Sheriden.
Polar Bear Birthday: Nov. 18-19 from 9 a.m.-3 p.m.
Celebrate Astra and Laerke's birthday with them all weekend long. Come to the 11:30 a.m. Keeper Chat and watch the sisters enjoy a special birthday "cake" and some of their favorite enrichment toys and treats. Before you leave, snap a selfie with our Paws Up For Polar Bears photo op and sign a birthday card for the bears! View event details.
The post Polar Bear Sisters Celebrate Third Birthday appeared first on Point Defiance Zoo & Aquarium.