Pierce County Executive, Bruce Dammeier announcement.
Milestones in your personal and professional life are important. They mark significant events that give you a chance to pause and reflect – and, in many cases, celebrate!
1983 was a big year in my life!  I graduated from the U.S. Naval Academy and began my active-duty service in the Navy.  But far more significantly, I married then Lauren Anderson.  On October 1st, we committed to face life together, before God, our family, and friends – through all its ups and downs.  And the 40 years since have been one adventure after another – not nearly the life we expected.
So, when thinking about how we should celebrate our 40th anniversary, it seemed only appropriate to have another adventure. So, we chose a bike trip on the coast of Maine! Living in the most northwestern state (sorry, Alaska), a visit to the most northeastern state sounded interesting and fun.
And it was!
We joined a 5-day bike ride with "Backroads" – a company focused on bike tours and other active adventures – starting in Portland, Maine. For two days we rode in the Acadia National Park, including part of the 45-miles of rustic carriage roads built and gifted by John D. Rockefeller.
One ride included "climbing" to Cadillac Mountain. While no Mount Rainier, (14,411 feet versus 1,530), it is the highest point on the eastern seaboard of the U.S., and I definitely earned my lunch while enjoying the view of Bar Harbor!
We then shifted further down the coast to Camden for our last three days of riding, including out to Owls Head Lighthouse.  We ended up riding over 135 miles and +8,000 ft of vertical – not huge but respectable.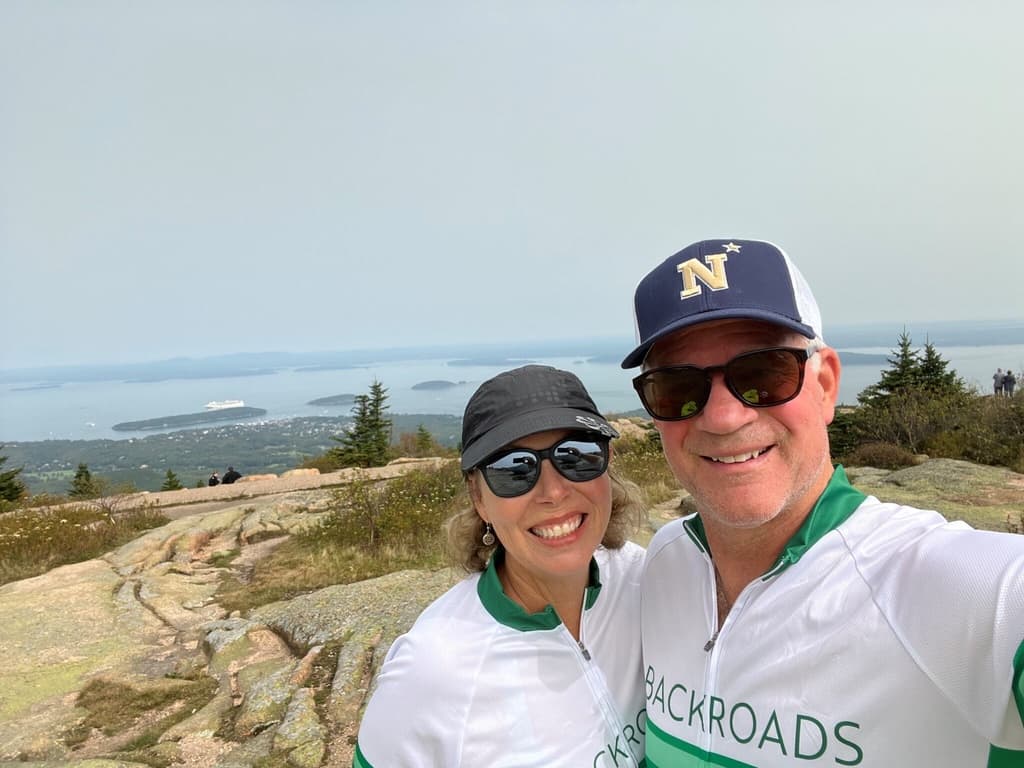 Along the way, we saw and experienced Maine at a nice pace. The coastline was spectacular, the leaves were just starting to turn, and of course lobster was everywhere – lobster rolls, t-shirts, decorations, and dog toys! But I did not know that Maine is the number one producer of wild blueberries, too! Mainers are hardy, as featured in the art of James Wyeth at the Farnsworth Art Museum in Rockland. And they have a rich connection to the sea, highlighted at the Maritime Museum in Bath.
All in all, it was a great way to celebrate our 40th anniversary – remembering where we have been and excited for what adventures lie ahead!
How have you celebrated milestones in your life?
P.S. We have a number of employees who will be marking a fun milestone in their lives – come join us as we celebrate Standing Ovation Award winners and other honorees on November 1. You can get your tickets and more details here.