Submitted by Christopher Kimball.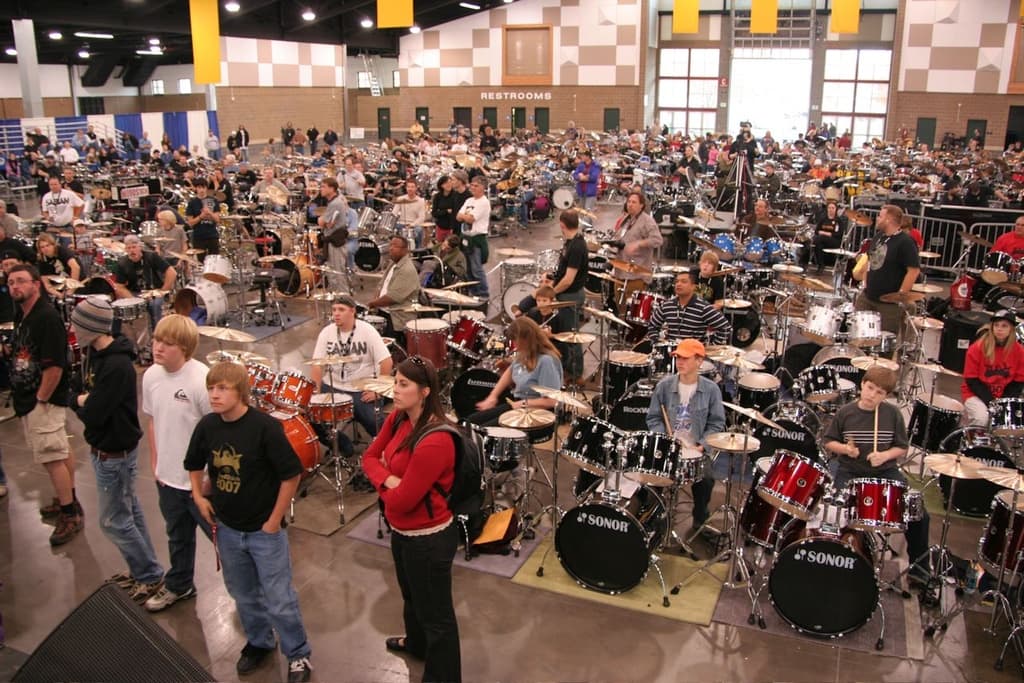 The Woodstick Drum Festival will be celebrating its 20th year at an event held at Clover Park High School on November 5, 2023. The first Woodstick was held on March 29, 2003, at the Tacoma Narrows Airport and marked the beginning of what would become an annual tradition and a remarkable celebration of drummers. Local drummer, Chris Kimball conceived the idea for his Rotary Club as a fundraiser to eradicate polio. Teaming up with fellow Northwest drummer, Donn Bennett, Woodstick went on to become an event that brought together drummers of all ages who wanted to play together and celebrate their passion for music, drums and percussion.
The inaugural event drew 264 drummers; more than doubling the previous world record set in Europe. As the word about Woodstick spread, successive years featured celebrity drummers from other states and regions. This will be the first Woodstick since 2019. Woodstick has become a widely recognized event that continues to foster a sense of community among drummers and percussion enthusiasts. It's a testament to the power of music and the passion of those who love drumming.
The 20th Anniversary Woodstick event will be held on November 5, 2023 at Clover Park High School, in Lakewood, Washington, and will include drum clinics conducted by featured professional musician drummers including Gregg Bissonette, Tony Coleman and many more. To participate, drummers bring their own drum kits and rugs to protect the floor, and register day of event. The $20 participant donation includes entrance to all the clinics, drumming in the performance with the band and a chance of winning prizes. In addition, one participant who raises the most funds for the selected charity will receive a limited-edition Tama Snare Drum.
The program culminates with all drummers playing along with the well-known Seattle-based band Spike and the Impalers, led by Pacific Northwest radio personality Spike O'Neill. Doors open for drummer participants at 10:00 am, and clinics start at Noon. Spectators are welcome to attend the concert that begins at 3:00pm, entrance donation is $5. Ear protection is strongly encouraged! As in the past, the proceeds from Woodstick support a worthy charity. This year, net proceeds raised will support The Coffee Oasis Youth Programs that offers housing and job resources, crisis services, activities, and development programs to youth.
To find out more email woodsticknw@gmail.com, call (253)722-7526. Visit Facebook page at https://www.facebook.com/woodstickgroove