By Don and Peg Doman, and Lavinia Hart.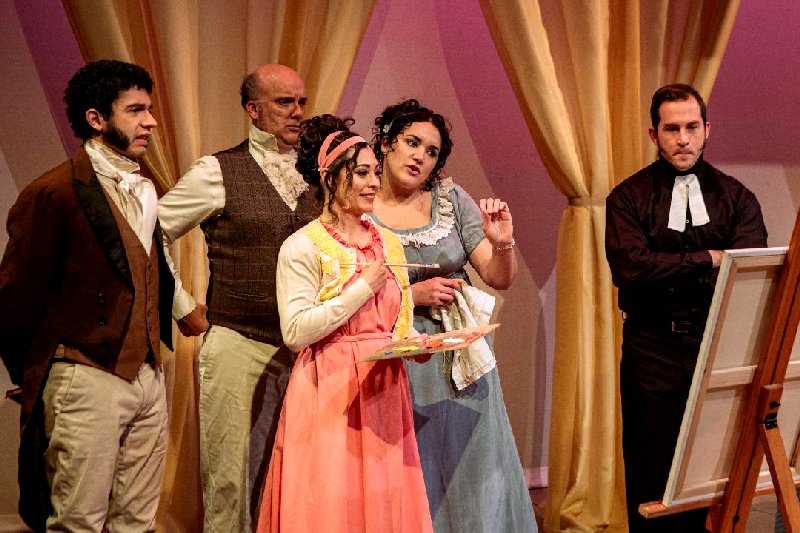 I have watched and watched a number of Jane Austen's six novels turned into television shows, films, and live stage productions. In EMMA we see a more pushy, determined character, compared to other Austen heroines. Instead of righting wrongs to make lives better, Emma looks at her friends and determines how to "help" them improve their lives. Always looking to have her own way, Emma strives to do good. We are treated to a wide of attitudes, concerns, occasional ill-manners, and opulent parties to serve her machinations. Basically, Emma is a match-making wiz . . . but do her matches succeed?
The charming Lesley Gordon plays Emma Woodhouse. We saw her as an imp who both instructs and bedevils in Jacob Marley's Christmas Carol at the Lakewood Playhouse. In this production we particularly enjoyed the intimate asides Emma has with the audience. Her innermost thoughts captivate the audience. For all Emma's mis-guided efforts, we stick with her main desire to help, wondering if things will work out for a match of her own.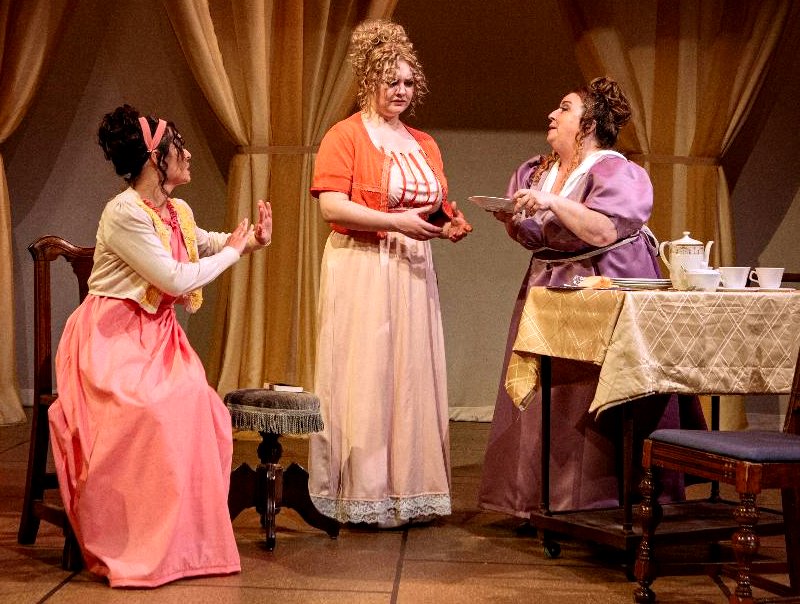 Emma's father is played by Alex J. Koerger who has been in several local productions. We've seen him locally in Titanic, Christmas Carol, Joseph and the Amazing Technicolor Dreamcoat, Best Christmas Pageant Ever, and probably more. Koerger is a strong performer, utterly believable as Emma's father. We understood his motivation with every turn of the plot. He is best, here, for being heard and understood. Hearing was a minor problem. Perhaps moving some of the staging closer to the audience would help the less experienced actors be heard.
Rylie Latham plays Emma's target and effervescent buddy Harriet Smith. We remember her outstanding choreography for Dirty Rotten Scoundrels two seasons ago. We are pleased to see her work as an actor and choreographer in EMMA. The ballroom dance late in the first act is staged to allow the budding affection between Emma and George unfold in a quiet and gentle way. It is one of the most beautiful turning points in the evening.
Other memorable performances were given by Miles McClure as the cheerful but deceitful Frank Churchill; the mysterious Jane Fairfax, portrayed by Natalie Wingerter; and Shelleigh Ferguson's never-ending chatterbox but likable portrayal of Miss Bates.
Most outstanding is Ben Symons' work as George Knightly. As Emma's friendly critic, George slowly grows in his admiration for her. Symons causes the audience to pull for him to be the guy at the top of Emma's personal list. Will Emma's priorities shift from being a grand puppeteer of affections to a young woman who understands her own heart? Stay tuned. It's impressive to note that Ben has been involved with Dacha Theatre, Greenstage, Annex Theater, and Ghostlight Theatricals – all Seattle based companies with cutting edge approaches to devising and producing theatre for all ages, from Children's Lit to free Shakespeare in the Park. Ben Symon is a talent to look for in future productions.
A minor note: I loved that there was a chess board and chess pieces in the midst of the stage. Chess is a game of war, and Emma concentrated on all of her moves.
Support Center Stage's Production of EMMA that runs through October 29. Tickets can be ordered at www.CenterstageTheatre.com