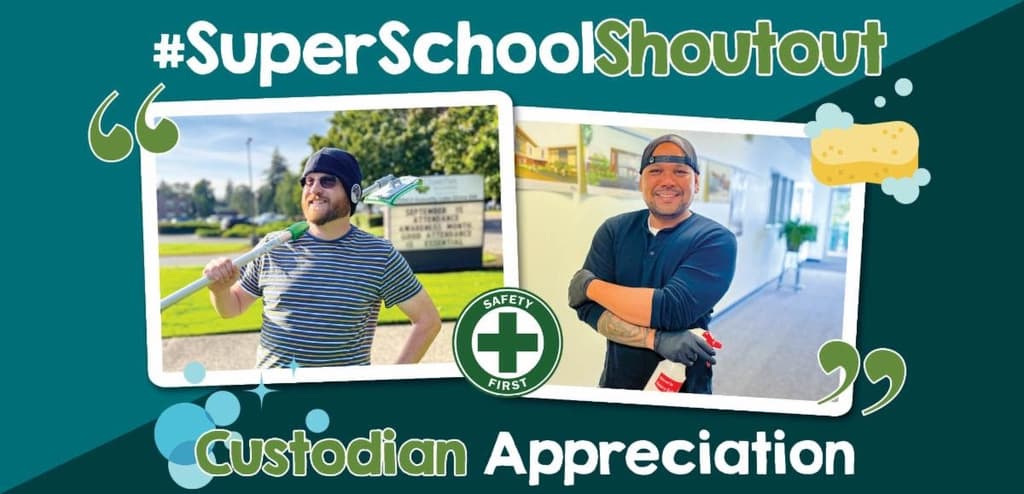 Each week, Clover Park School District (CPSD) will highlight a school or profession in our district on our social media pages with a #SuperSchoolShoutout where we celebrate the students and staff that make our district beam with pride.
This week, we're showing our CPSD pride by giving a shoutout to custodians in honor of Custodian Appreciation Day! We met with Mike Lee and Emilluis deLeonGuerrero to celebrate their important work and learn more about their profession.
Lee has worked at CPSD for 7 years. He currently serves as the chief custodian of the Student Services Center and has previously been a substitute custodian and a night custodian for Clover Park High School.
As a chief custodian, Lee manages his own schedule and prioritizes his work to focus on urgent tasks while also managing long-term projects. He enjoys getting to know everyone in his building and loves that it's his job to anticipate the needs of others.
Without the support of custodians like Lee, schools and office buildings would not function. "Everyone at the district has something to do and a role to play," he said. "We all work together to get things done, and I appreciate how friendly everyone in the district is."
DeLeonGuerrero has worked as a CPSD custodian for one and a half years. His wife also works for the district at Beachwood Elementary School and encouraged him to apply for the position. He works as a permanent substitute, which means he works wherever coverage is needed at different schools and buildings in the district.
DeLeonGuerrero is a self-described people person and loves meeting new people. "I get to see all the different buildings and meet the staff and kids," he said. "I also love getting physical exercise through my job and that I help with maintenance work in addition to cleaning, working with HVAC units or painting curbs."
DeLeonGuerrero knows the importance of his position and takes his job very seriously. He has been a tremendous team player for the district since he joined the CPSD team and makes sure that, regardless of where he is stationed, the students and staff he serves work in a healthy environment.