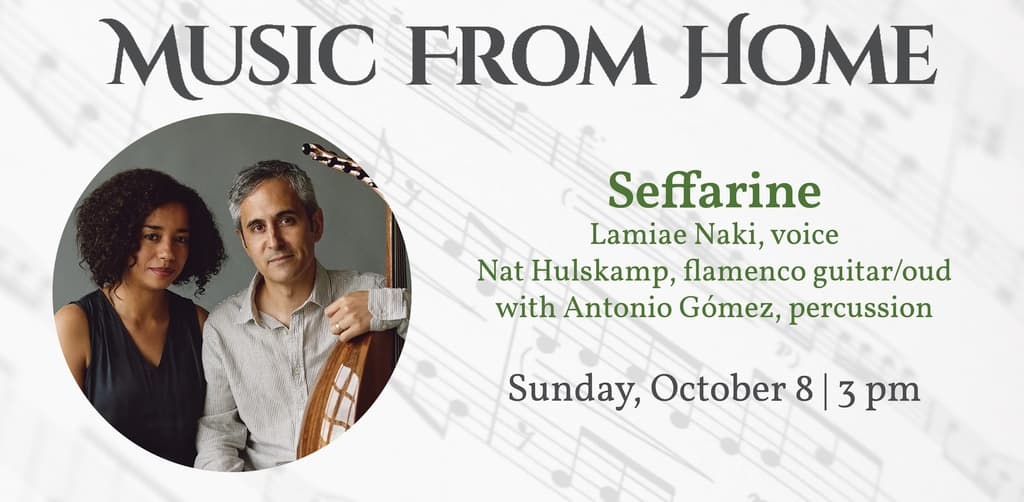 Seffarine is an ensemble composed of singer Lamiae Naki and oud player/flamenco guitarist Nat Hulskamp. In their repertoire, they channel their deep knowledge of the music of both sides of the Strait of Gibraltar—the crossroad where African, Middle Eastern and European cultures meet. For centuries, the people of this region coexisted peacefully, producing a seminal musical alchemy that influenced the foundations of both classical Arabic and European Renaissance music.
At this performance, Seffarine will perform original music based on their diverse backgrounds in flamenco, Arabic Muwashah and Andalusian music, as well as arrangements of traditional Arabic and Sephardic pieces that date back to pre-Inquisition Spain. They will be joined by versatile percussionist Antonio Gomez.
Music From Home
Sunday, October 8 | 3pm
Tickets: $17.50-$35
Your ticket includes a complimentary beverage and dessert, so you can indulge in the perfect pairing of music and treats. Click here to buy tickets.