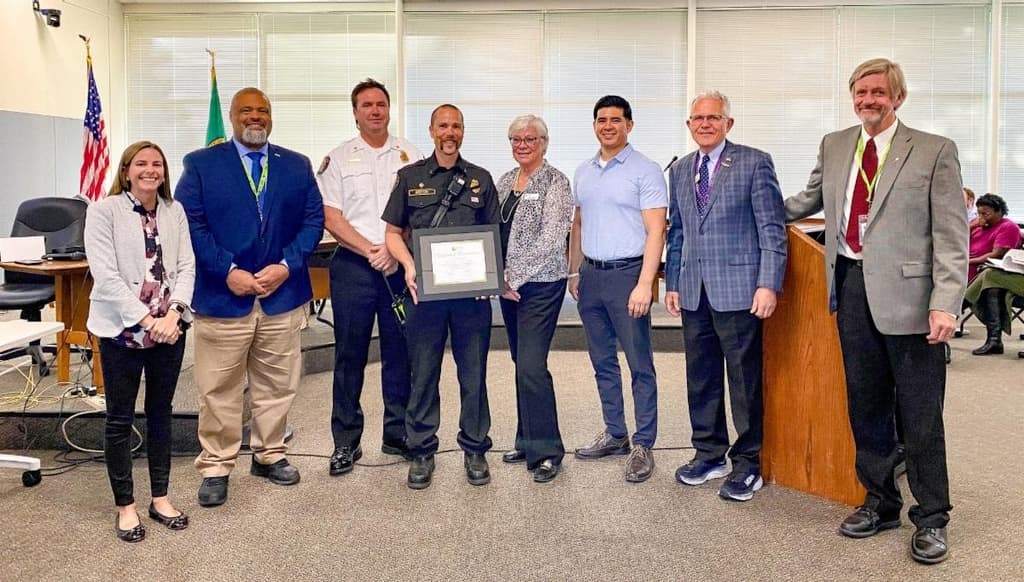 At its Sept. 11 regular meeting, the Clover Park School District (CPSD) Board of Directors commemorated Patriot Day and National Day of Service and Remembrance by honoring West Pierce Fire and Rescue for their leadership and support in response to recent fires that affected CPSD families.
Deputy Chief Mike Boltz and Battalion Chief Nic Britton, who served as incident commander at the fire at Jamestown Estates, accepted the honor and were commended for their service.
"They are the backbone of our community, serving others and oftentimes helping us in our direst moments of need," said School Board President Alyssa Anderson Pearson. "We greatly appreciate the efforts of West Pierce Fire and Rescue for their bravery and heroic service to the Lakewood community in response to the recent fires."
Sept. 11 Regular Meeting
During its Sept. 11 regular meeting, the CPSD Board of Directors recognized West Pierce Fire and Rescue and heard a report from Superintendent Ron Banner.
Superintendent's Report
In his report, Banner recognized Sept. 11 and discussed student achievement, community events, and an event the district hosted in partnership with the Office of Congresswoman Marilyn Strickland and West Point Academy.
Sept. 11 Recognition
The board meeting took place on the 22nd anniversary of Sept. 11. Banner recognized those who perished and those who responded to the terrorist attacks.
CPSD's community partner Woodmen Life provided a commemorative flag to put on display in the board meeting room.
Student Achievement
Thirteen CPSD students representing each of the district's three high schools were selected to receive Elizabeth Wesley Youth Incentive Awards. The program was founded in 1996 to send a positive message to African American youth in Tacoma and Pierce County and honors ninth-through-11th grade students.
Community Events
CPSD took part in a variety of community events in August and September, including Joint Base Lewis-McCord's annual Beach Bash and the city of Lakewood's Fiesta de la Familia.
Caring for Kids hosted three separate "Ready to Learn Fair" events around Lakewood providing backpacks, school supplies, clothing, haircuts, vaccinations and bike helmets to CPSD students. Banner gave a special thanks to Diane Formoso and her team for their efforts putting on these events.
West Point Academy Event
On Sept. 19, CPSD partnered with the Office of Congresswoman Marilyn Strickland and West Point Academy to host a presentation by West Point for students of color in the region to learn more about a future military career.
Of the 28 students who attended the presentation, 25 were from CPSD high schools. The presentation also provided students who have begun the application process to West Point the opportunity to interview with representatives and potentially receive a Letter of Assurance guaranteeing admission.
As part of the Individual Action Agenda, the Board of Directors:
Approved Collective Bargaining Agreement between district and the Education Support Personnel of Clover Park between the period Sept. 1, 2023, through Aug. 31, 2025. The previous agreement was set to expire on Sept. 1.
Censured Director Paul Wagemann for actions in violation of Board Policy 5011, Sexual Harassment, following investigation of an employee complaint filed under Board Policy 4220, Complaints Concerning Staff or Programs. The board received findings and recommendations for corrective action in Title IX Coordinator and Executive Director of Compliance and Student Services Greg Davis' decision letter, which was taken from the third party investigation report and advice from legal counsel. The board affirmed its commitment to a positive and productive working environment free from discrimination, including sexual harassment.
Adopted the following policies (view online):

4060 on Distribution of Information
The next regular meeting of the school board will be Monday, Oct. 9, at 6 p.m.
Sept. 25 Regular Meeting/Workshop
The school board held a regular meeting/workshop on Sept. 25. During the workshop, board members heard updates on the concept for a potential Pathway Discovery Center, Smarter Balance testing and information sharing about a potential four-year replacement levy.
Pathway Discovery Center
Director of Career and College Readiness Tim Stults provided a project overview on a potential Pathway Discovery Center concept in the district that would serve students districtwide. The presentation included sustainability, branding, programming and renderings.
If funded and built, the discovery center would offer an immersive technology-rich space designed to engage students with world experiences focusing on careers in STEM (science, technology, engineering and mathematics). The pathway center would include a variety of labs students could engage with, including labs focused on computer science, natural resources, medical and human sciences, and construction and engineering.
The board indicated support of the initial stages of the concept. The project is currently in concept stage with no funding acquired or current plans of construction.
Smarter Balance Update
Director of Assessment Brian Gabele provided an overview of spring Smarter Balance assessment scores, as well as the results of a preliminary student growth percentile project spearheaded by CPSD. The project includes test data from 21 school districts, which make up 26.5% of the statewide student population.
He reviewed the research and offered preliminary student growth percentiles data that was made available to principals prior to the start of this school year to support their school plans. Principals generally do not receive student growth data from the state until October, which is after the district planning period for the next academic year.
The district's Academic Improvement Committee will combine the summarized data with staff and student interviews to identify the most common practices among schools and classes that demonstrate excellence in assessment scores. Findings from the committee's research will be shared with all schools to reveal and encourage instructional practices that could lead to stronger student growth in the district.
The presentation included Smarter Balance scores for each subject and grade level and highlights of student growth percentile data for CPSD schools.
Levy Information Sharing
Executive Director of Finance and Business Services Greg Hart and Executive Director of Marketing and Community Relations Leanna Albrecht updated the board about information sharing for a potential 2024 Replacement Educational Programs and Operations Levy.
Hart shared current and estimated assessed values, collections and tax rate information. Based on the data, the district will recommend a levy with the tax rate of $2.36 per $1,000 at the Oct. 9 board meeting.
If approved by the board, the district will provide factual information to the community regarding the levy measure and follow all Public Disclosure Commission (PDC) guidelines. A review of the levy communication timeline and PDC guidelines will be provided at the board's October workshop.
The next regular meeting/workshop of the school board will be Monday, Oct. 23, at 5:30 p.m.