Submitted by Classy Chassis.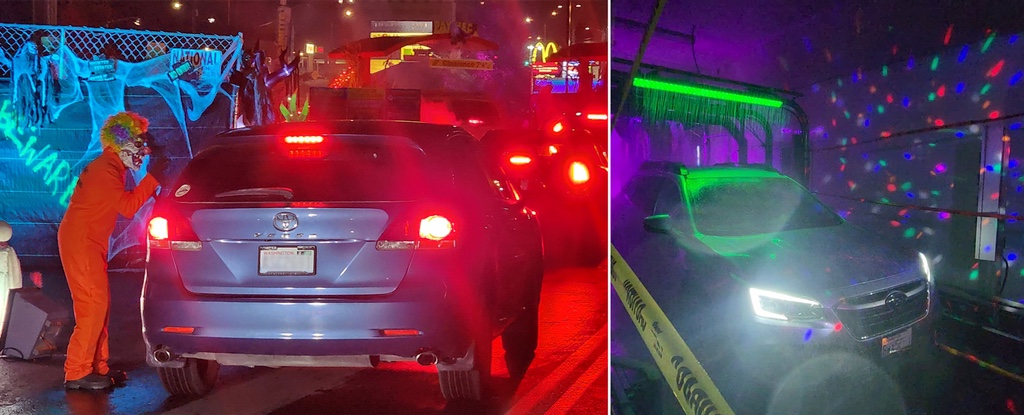 The legendary Classy Chassis Haunted Car Wash is returning to our community for the 4th year in a row! The Campbell family and Classy Chassis team invite you to come out and enjoy a one-of-a-kind, frighteningly fun experience: drive through a blacked-out car wash and property filled with spooky effects, laser lights, music and monsters – and drive away with a clean and shiny car!
This event comes on the heels of a devastating fire that occurred late September at Classy Chassis' main, original car wash and offices (Lakewood), which has closed that site and temporarily displaced the team. But Campbell explained this Haunted Car Wash event is an incredible morale builder for his team and brings so much fun to the families in the community who attend each year – so the team decided "the show must go on." And even more importantly, a large portion of each ticket purchase benefits Mary Bridge Children's Foundation; last year's event raised $8,000 that went directly to the foundation! Plus, this year's event will also focus on Fentanyl Awareness and accidental poisoning and local resources.
SALE: Save $10 when you buy presale discount tickets online at ClassyChassis.com/Haunted, available now through October 26th.
A video has been posted on YouTube to show a sneak preview the experience:
More event info can be found on their website at ClassyChassis.com/Haunted. 
Classy Chassis "Haunted Car Wash"
5002 Center Street, Tacoma (just off Hwy 16, at the corner of Orchard & Center)
October 27 – 7pm to 11pm
October 28 – 5:30pm to 6:30pm (Kids Hour), 7pm to 11pm
Presale Discount Tickets: $20 per vehicle – available online at ClassyChassis.com/Haunted (available through Oct 26)
Buy at Event: (cash or credit accepted)

Regular Tickets: $30 per vehicle
Unlimited Members: $25 per vehicle (with active Classy Chassis membership sticker on windshield)