Hilltop Artists announcement.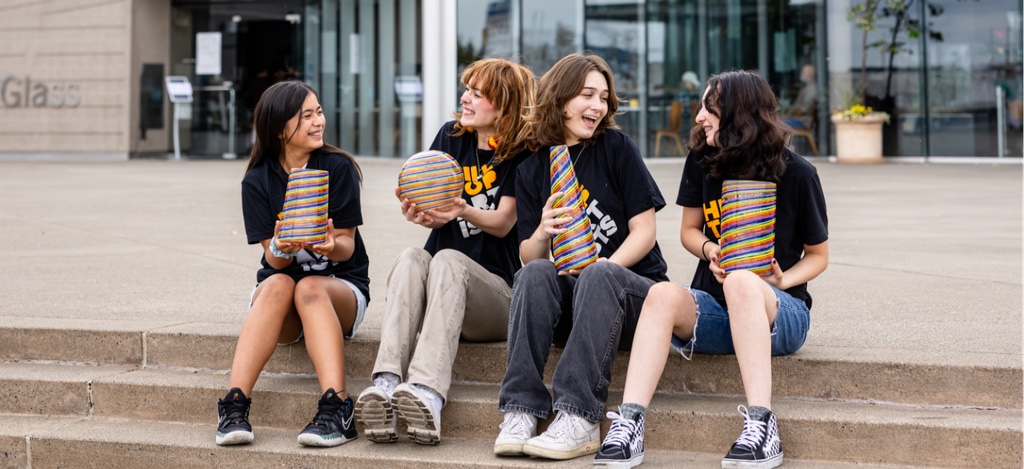 The Better Futures Luncheon Auction Preview is here!
This is your chance to get a first look at our Pride-themed, rainbow centerpieces created for this year's event.
And there's more! Check out art made by Hilltop Artists students and alumni, plus more goodies and experiences donated from our wonderful community partners.
Get more info about our auction and register on our website. Bidding opens October 6 at 10 AM and closes October 10 at 11:55 AM.
This theme of inclusion extends to the event design and centerpieces: using rich rainbow colors to create a visual design infused with Pride, each piece will be unique while recognizing the unity inherent in including all the colors of the rainbow!
Our beautiful centerpieces were created in August 2023 at the Museum of Glass, during Hilltop Artists' five day residency with the hot shop team.
Hilltop Artists students & alumni: Eddie, Lily, Jasmine, Kai, Aidan, Regan, Xavier, Addie, Kale, Lilith, Zach, Ethan, Annie, Jasmine, Ben, Oliver, Katie, Landon, and Jack
Hilltop Artists teaching artists: Trenton, Luis, and Jessica
Museum of Glass team: Gabe, Sarah, Ben, Nick, and Kristin