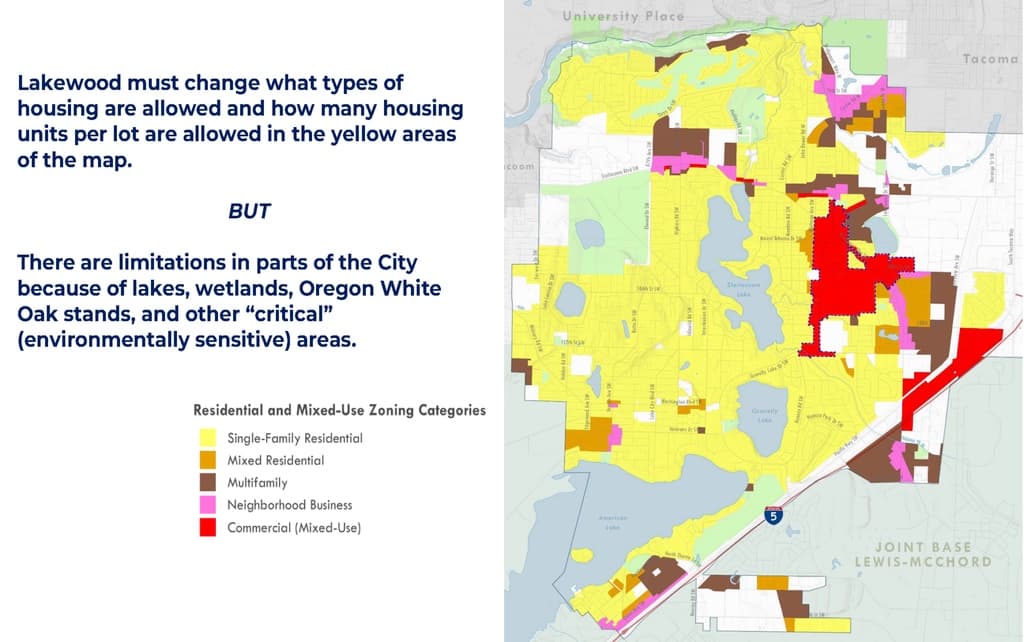 Did you miss Mayor Jason Whalen's Community Coffeehouse this week? Long range planning and special projects manager Tiffany Speir shared information about new housing laws at the state level that will impact housing density in the city.
In part, the laws require an increase in "middle housing" types in areas traditionally dedicated to single-family detached housing. Middle housing is described as housing that contains two or more attached, stacked or clustered homes. This includes duplexes, triplexes, four-plexes, five-plexes, six-plexes, townhomes, stacked flats, courtyard apartments and cottage housing.
Lakewood's zoning already allows these housing types in the city. But the new laws will require an expansion of the areas where these housing options are allowed.
The new laws also require cities to allow two or more accessory dwelling units on lots that meet a minimum size in all zones that allow single-family homes.
Because Lakewood is a largely residential city with single-family neighborhoods, the proposed increase in density will have a widespread impact. However, there are some limitations in some areas due to lakes, wetlands, Oregon White Oak stands and other critically, or environmentally sensitive areas.
View the presentation to learn more about what is allowed and how the city is preparing to handle these changes.