Author Joshua Crosson lives "in a rural area, very quiet and beautiful," in the Skagit Valley area in Washington State, far from work and school. Currently, he is working as a CAN and goes to nursing school, trying to become an LPN, which is "rewarding and important work, but draining at the same time." Joshua has been writing since childhood. His mother, also a writer and a huge inspiration for him, always took him to Young Authors' Conferences and to writing groups. His first book, "Limelight," was published in February. Joshua used to be a part of several weekly in-person writing groups; currently, he is part of a number of writing groups on Facebook. When Joshua isn't writing, he loves to hike. He also collects and restores old typewriters of which he has at least 20 right now—in all shapes, sizes, years, and conditions –, and he loves to make his own hot sauce.
Which genres do you cover?
Joshua Crosson: I write crime, mystery, thriller. I also love that wonderfully bleak subgenre of crime, neo-noir. Many of my favorite books have fallen into these genres. It's a great place to explore the dark parts of the human psyche.
Which is the latest book you had published, and what is about?
Joshua Crosson: My latest (and debut) novel is called "Limelight." The book is about a superstar, and he's this really narcissistic type of person who's obsessed with fame and with his presence in the world. He believes his presence is immortal and that everything he does will last forever. But, as the book progresses, he goes through this change and realizes that he isn't immortal and that everything dies and fades away in the end. By the end of the book, he sacrifices the things he thought had been the most important to him and has become a wiser, humbler person. As for genre, it's a mystery/crime/thriller novel. But the foundation and the focus of the book is on character and character development. I think it's the most crucial and exciting part about stories.
At which book events can readers find you?
Joshua Crosson: None at the moment. I'm still just starting out and trying to figure everything out.
Which book event connecting you with readers is your favorite and why?
Joshua Crosson: I pretty much do all of my connecting online. I haven't been to a book event in years. But now that I have my own novel out, I will be seeking more book events out for sure!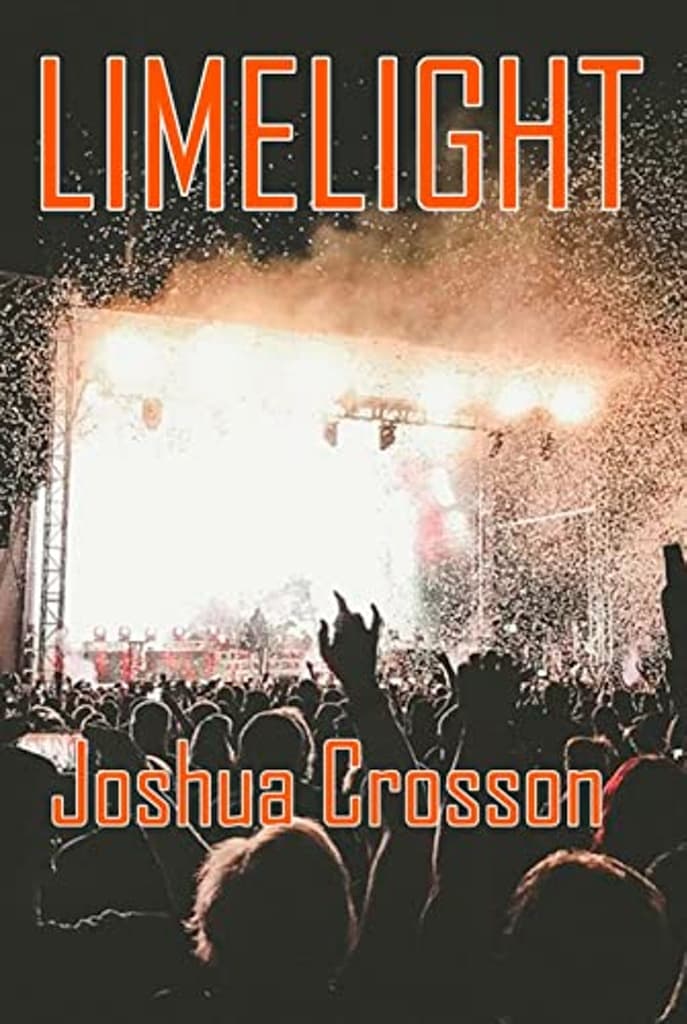 Do(es) your book(s) have any specific messages to your readers and, if so, which are they?
Joshua Crosson: Not messages. But I do try to develop themes that are important and personal to me in some way. I remember reading in Robert McKee's "Story", where he describes theme (he calls it the Controlling Idea) as the heart of the book and that every action and story thread connects to it. McKee says the Controlling Idea is a statement the author is making about the world and about the human condition. For me, the theme of my book, "Limelight," revolved around this selfish, narcissistic man who goes through a profound change and becomes a little humbler, a little wiser. So every plot beat and action in the book reflected the theme of the book. And the theme of the book is reflected in the character development.
Which writer(s) keep(s) inspiring you and why?
Joshua Crosson: Daniel Woodrell ("Winter's Bone," "Tomato Red") is always inspiring me. His prose is just pure poetry, plus he writes an amazing and engaging story. "Winter's Bone" might be my favorite novel of all time. I remember the night I read that book (I read the entire book in one sitting). I fell in love with that bleak, cold world and with those characters (with Ree Dolly specifically). I still go back to reread that book, and all Woodrell's others. Stephen King is another author. "The Shining" and "Gerald's Game" are two of my favorite books. That man's talent and his output are astounding. Another book I can't stop reading is "The Ice Harvest" by Scott Phillips. The book takes place over the course of a single night (Christmas Eve) and is set in the gritty clubs and bars of a desolate Wichita, Kansas. I just love the crooked characters and the cold, isolated atmosphere of this book.
Do you have specific writing habits?
Joshua Crosson: As of right now, due to my working schedule, I write at night. I work the swing shift, and so I get home anywhere from 11:30 to midnight. As soon as I get home, I shower, eat my dinner, boil some tea, and then I try to write a couple of hours (at the very least an hour, so I don't feel guilty).
What are you currently working on?
Joshua Crosson: I'm working on my second novel right now. It's another crime/thriller type of book. It deals with prostitution and is set in Seattle. But it's mainly about the relationship of the two main female characters.
Which book are you currently reading simply for entertainment?
Joshua Crosson: My guilty pleasure is extreme horror books. I love being repulsed and provoked when I'm reading. I just finished "The Bighead" by Edward Lee. Wow, is all I can say.
What advice would you give any aspiring author?
Joshua Crosson: I believe I'm not in any position, at least at this point in my life, to be giving advice. I need more time and more experience. In fact, I'd be happy to receive more advice myself.
You can find Joshua Crosson's book at Amazon.