Each week, Clover Park School District (CPSD) will highlight a school or profession in our district on our social media pages with a #SuperSchoolShoutout where we celebrate the students and staff that make our district beam with pride.
Last week, we showed our CPSD pride by celebrating National Arts in Education Week.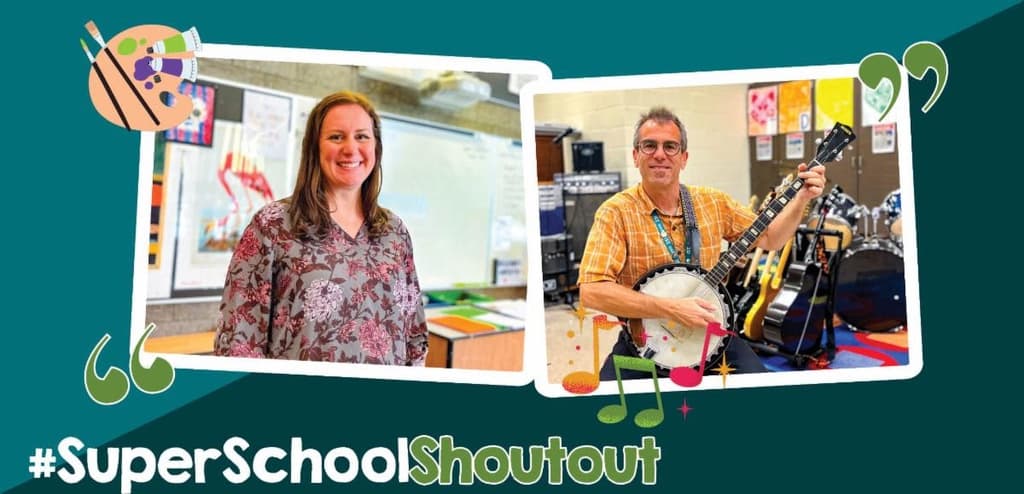 Hudtloff Middle School teacher Robin Cutler and Hillside Elementary School teacher Peter Giardina encourage their students' artistic expression through visual art and music.
Cutler believes visual art provides students with opportunities to learn important skills they may not always focus on in other classes. In her art room, students learn discipline and patience, think creatively, become detail oriented, develop perseverance and improve their ability to work in small groups. All of those qualities make for impressive job skills!
Cutler loves teaching middle school because students are just beginning to understand themselves as individuals and explore their cultural identity. With visual art, students are free to explore and creatively express their sense of self.
"Students have an opportunity in the art room to express their individuality and their culture," Cutler said. "I plan for them to have an avenue to express their hopes, their dreams and what they want for their future in class, in our hallways and in the community."
As the Hillside music teacher, Giardina helps his students build a foundation of rhythm and musicality. His young students are only beginning to understand the great big world around them. With music, he shows students how to make sense of the sights and sounds.
Giardina begins by teaching body percussion before moving on to rhythm sticks, singing and melody instruments. Fourth and fifth graders also learn to play xylophones, ukeleles and the guitar. Students harness their passion for music to learn the importance of kinesthetics, hand-eye coordination and listening skills.
His classroom lessons left such a great impression that fifth graders decided to use their free time last school year to start a rock band in Giardina's class!
"It was so fun to work with my rock band students last year and watch them rehearse and perform at assemblies," Giardina said. "I already have fourth graders asking me when they can start their own band this year, and I'm excited to get started."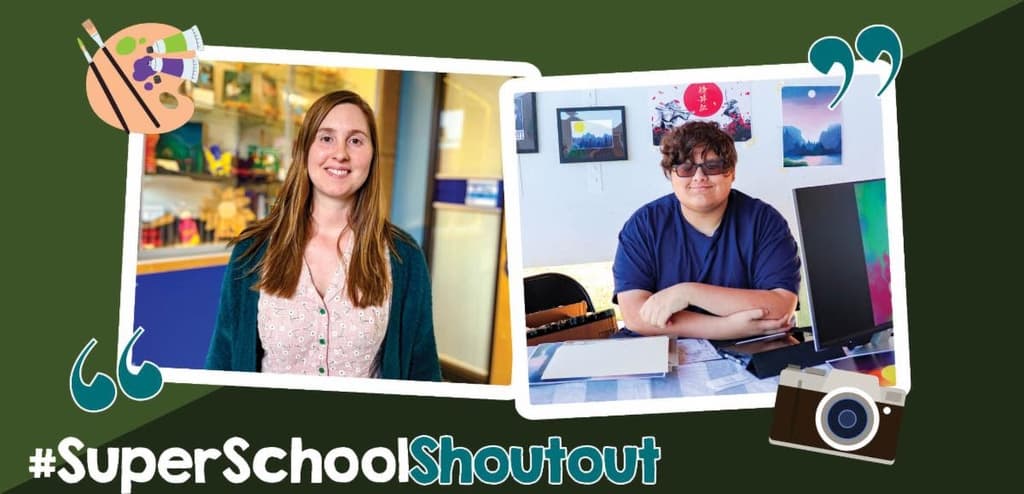 At Harrison Preparatory School, art teacher Sarah Neal and art student Samuel Reed use visual art to inspire others.
Neal works with students from eighth grade to 11th grade and teaches visual art, exploring art and the IB Diploma Program (DP) visual art class. She encourages her students to develop their own form of artistic expression as these young adults begin to see themselves as true artists.
Neal's students work with mixed mediums, and she is committed to helping them understand that there is no one way to create art. Every year, she looks forward to the end-of-year art show where students can show the community the impressive work they created throughout the year.
"The students here continue to amaze me with their artistic passion," Neal said. "I hope they leave my class with confidence in their artistic ability and a stronger sense of their own individual artistic expression."
Reed is a senior at Harrison Prep whose passion for art has led to exciting opportunities. This past weekend, he displayed and sold his artwork at the city of Lakewood Fiesta de la Familia.
Reed is of Brazilian heritage and his artwork often reflects his culture. Before showcasing his work at the Fiesta, Reed designed two of the colorful wraps on the electrical distribution boxes around the city. You can see his work on the corner of 96th Street and South Tacoma Way, and on the corner of 112th Street and Bridgeport Way SW.
"Art is expression, and it should always be taught at school because it's not easily accessible to everyone," Reed said. "Next year, I want to continue studying art at an art school and have also been looking at other universities with art programs."