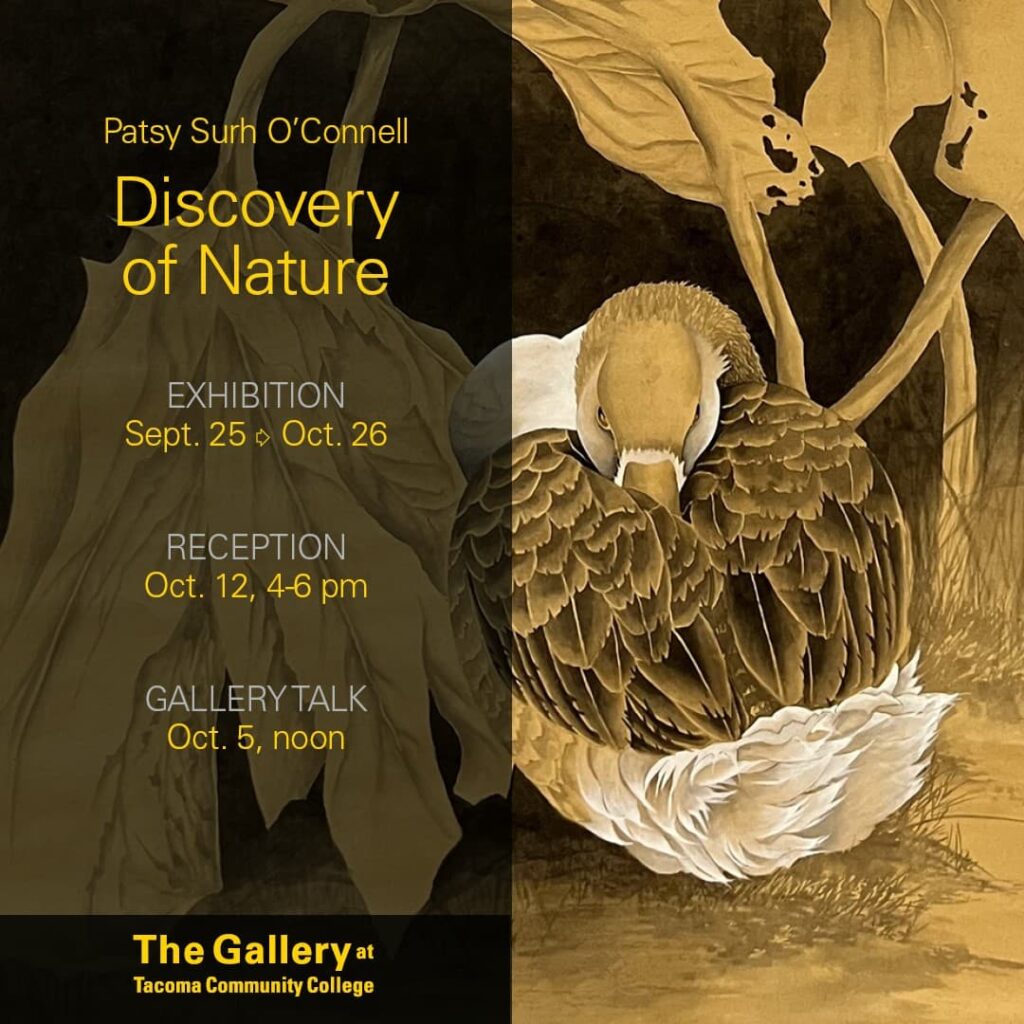 Local artist Patsy Surh O'Connell's "Discovery of Nature" exhibition will be on display in The Gallery at TCC from Sept. 25 – Oct. 26, 2023. Find Gallery hours here.
Sneak Preview: 10 a.m. – 8 p.m. Sept. 21 (Join us for a Third Thursday "Salon" artists' discussion, 6-8 p.m.)
Gallery Talk: Oct. 5, noon
Exhibition Reception: Oct. 12, 4-6 p.m.
Art Education
Born in Shanghai, China to Korean parents, Surh O'Connell grew up in Korea and immigrated to America in 1963. She graduated as an Interior Designer in San Francisco before moving to Gig Harbor, Washington, where she and her husband of 55 years have lived since 1985. They have two sons and a daughter.
Trained in the art of four countries, Surh O'Connell studied Chinese ink painting, Sumi-e, oil, watercolor, pastel, acrylic, lapidary, weaving, potter, quilting and batik in Korea, Japan, China and the United States.
Surh O'Connell has been a water media teacher at the college level for 37 years. She believes that learning is a life-long endeavor, and that keeping one's cultural roots is important.
Connecting Artists to TCC
Surh O'Connell's exquisitely detailed watercolors have been featured in nearly every TCC Juried Art Exhibition since Dr. Jennifer Olson started the annual exhibition 21 years ago. But at TCC, as in the larger community, her own art is only the starting point of her impact. Surh O'Connell has done as much as anyone to bring a diverse group of Asian-American artistic communities and exhibitions to The Gallery. She's been instrumental in planning shows for the Washington Oversees Chinese Artists Association, the Korean American Artists Association of Washington, and other groups. She's helped arrange tea ware exhibitions and calligraphy demonstrations, and she and other Asian-American artists have regularly exhibited work in The Gallery's annual themed and juried exhibitions.
Connecting Tacoma through Art
In 1996 Surh O'Connell founded the nonprofit Asia Pacific Cultural Center, and she still serves as president of the organization. Its mission is to bridge communities and generations through arts, culture, education, and business.
Awards and Accomplishments
Surh O'Connell was appointed as an Arts Commissioner to the Washington Arts Commission, and served two terms, 1996 – 2003. She was appointed to the Board of Trustees of the Western States Art Federation as the Washington State representative and served two terms, 1997 – 2004.
In 2018, Surh O'Connell received the Arts and Heritage Award from Governor Jay Inslee. In 2019, she received the President's Award from Republic of Korea President Moon Jae.
Surh O'Connell has shown her works in many juried art exhibitions and has received numerous awards. Her works are displayed in private collections in Korea, Japan, Sweden, and the United States.
Affiliations
Surh O'Connell has served as President of the Korean American Artists of Washington for the pasts five years. She is a member of Women Painters of Washington and is a Signature Life Member of the Northwest Watercolor Society.
Other affiliations include:
Asia Pacific Cultural Center
Women Painters of Washington
Northwest Watercolor Society
Korean American Artists Association of Washington
Puget Sound Sumi Artists
Overseas Chinese Artists Association
Peninsula Art League