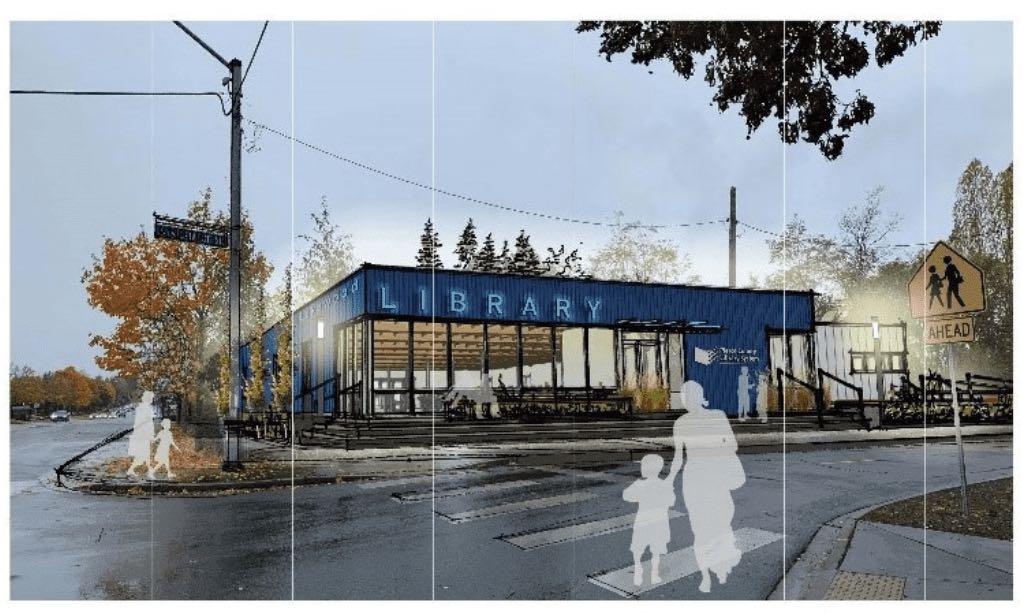 The interim Lakewood Pierce County Library remains a top priority for the Pierce County Library System.
At the Library's Board of Trustees meeting on Sept. 13, the Board approved purchase orders for the interim library (preliminary rendering of the interim library pictured above). Those included using the State of Washington's purchasing contract to buy furniture for people to sit, read, study, and gather; and shelving for books, movies, magazines, and other materials.
Some furniture from the Lakewood Library on Wildaire Road will be reused in the new building, with the addition of new furniture to provide comfortable and inviting spaces. Modern and flexible shelving will be installed to give greater accessibility.
These images provide a preliminary look at some design and layout ideas for the interim library.
Current Lakewood Library Services
The Pierce County Library System offers pop-up libraries and services with community partners throughout Lakewood. You may check out books, movies and other materials as well as participate in classes and events at the pop-up libraries and community places.
Visit lakewoodlib.pcls.us for up-to-date info on services and locations. Following is a menu of some of the classes and events:
Tech Help
Monday, Sept. 18, 25 and Oct. 2, 12:30-1:30 p.m.
Tillicum Pierce County Library
Bring your questions and devices, and staff will help with basic tech problems.
Library Pop-Up
Thursday, Sept. 21, 28 and Oct. 5, 9 a.m.-noon
Lakewood City Hall, 6000 Main St. SW
Access limited library services.
Family Story Time
Thursday, Sept. 21, 28 and Oct. 5, 10-11 a.m.
Clover Park Technical College, Bldg. 15 – 4500 Steilacoom Blvd. SW, Lakewood
Tuesday, Sept. 26 and Oct. 3, 10:30-11:30 a.m.
Lakewood City Hall – Council Chambers, 6000 Main St. SW
Enjoy stories, art activities, rhymes, singing and fingerplays for the whole family.
Postcards from the Park
Friday, Sept. 22, 2-4 p.m.
Lakewood Historical Society, 6114 Motor Ave. SW
Discover a bit of history while you plan your next adventure based on historical postcards from Washington parks.
Legal Help Pop-Up
Tuesday, Sept. 26, 2-4 p.m.
Tillicum Pierce County Library
Drop-in information and legal assistance related to landlord-tenant and family law from experts at Tacomaprobono. Registration required.
Toddler Story Time
Wednesday, Sept. 27, 10:30-11:15 a.m.
Lakewood Family Resource Center, 11150 Gravelly Lake Drive SW
Enjoy simple picture books, songs, fingerplays and movement games.
Poetry in the Park Walk
Wednesday, Sept. 27, 11 a.m.-noon
Waughop Lake Loop Trail, 8714 87th Ave. SW, Lakewood
Read nature-themed poetry signs as you stroll through the park.
Lakewood Book Banter
Friday, Oct. 6, 2-4 p.m.
Lakewood History Museum, 6114 Motor Ave. SW
Share what you're reading and get suggestions for your next read from library staff.
Spanish/English Story Time
Saturday, Oct. 7, 1-1:30 p.m.
Tillicum Pierce County Library
Stories, rhymes and songs in Spanish and English. Cuentos, rimas y canciones en inglés y español.
Please enjoy services at nearby DuPont, Steilacoom, Tillicum and University Place Pierce County Libraries.