Submitted by The Humane Society for Tacoma & Pierce County.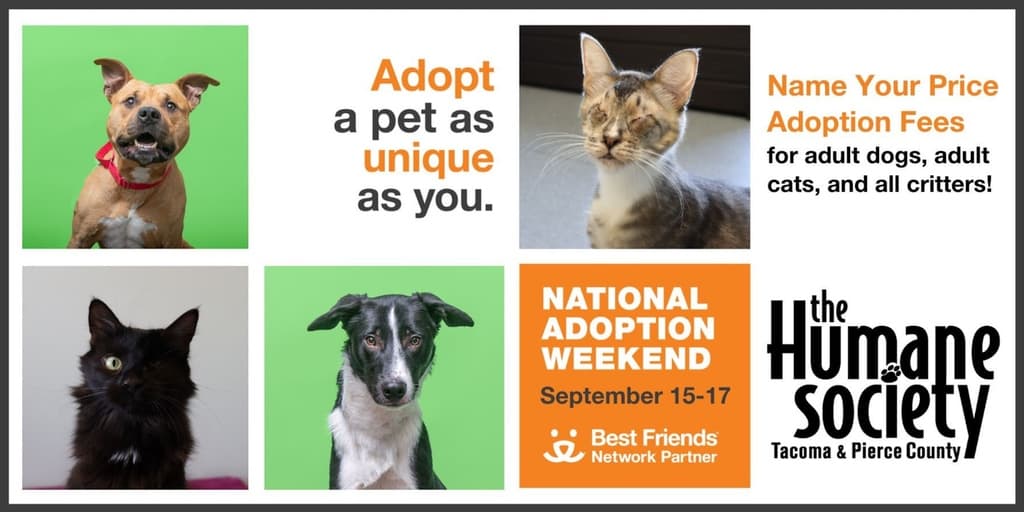 The Humane Society for Tacoma & Pierce County is partnering with Best Friends Animal Society, a leading animal welfare organization, for the sixth National Adoption Weekend happening Sept.15-17. Adopters can name their price when adopting an adult dog, adult cat, or critter during the weekend-long event.
Best Friends Animal Society has joined together with more than 500 shelter and rescue partners for the national event to help alleviate overcapacity challenges shelters across the country are facing.
With the organization's support, the weekend-long adoption promotion at the Humane Society for Tacoma & Pierce County will connect community members with their local animal shelter and encourage pet adoption.
"We have hundreds of dogs, cats, and critters at the shelter and more in foster homes," says Leslie Dalzell, chief executive officer of the Humane Society for Tacoma & Pierce County. "We are really excited to team up with Best Friends to find them all loving homes this weekend."
The adoption event will take place Sept. 15-17 at the shelter located on 2608 Center Street during the shelter's business hours, 11:00 am-5:30 pm. To allow the shelter's team adequate time to assist each potential adopter, it is advised that adoption applications be submitted by 3:00 pm during the event.
To view all adoptable shelter pets, please visit thehumanesociety.org/adopt. Every adoptable pet has had a wellness exam from shelter staff, been spayed or neutered, received their initial vaccines, and is microchipped with national registration.
Not looking to adopt? The shelter is always looking for fosters to provide shelter pets with a temporary home. More information about fostering can be found at thehumanesociety.org/getinvolved/foster.