By Don and Peggy Doman and Lavinia Hart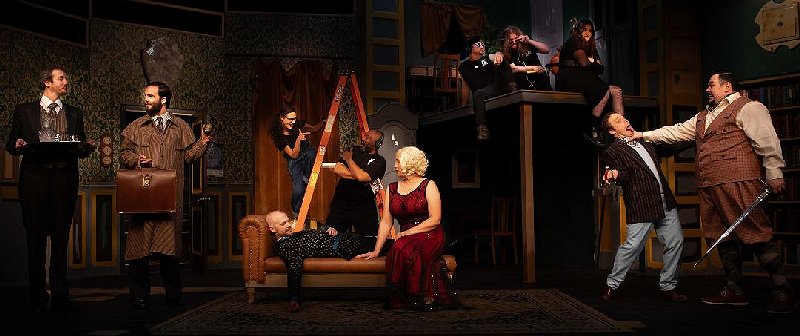 The setup: An amateur theatre troupe, the Cornley University Drama Society, has against all common sense managed to sell their production of a 1920s mystery "The Murder at Haversham Manor." There is no curtain time. When you take your seat in the audience you will already become involved as the players and the "crew" themselves put the finishing touches on getting the theatre, the set, the actors, and the final touches ready for the big time . . .
Director/Scenic Artist Jennifer York shared her comment about the play: "When first asked to direct this show, I was beyond thrilled. I first saw this show in New York and loved it! I barely made it to intermission before I sent Chris a text saying something along the lines of "OMG – this is HILARIOUS. We HAVE to do it!!!" It was filled with chaos, comedy, and technical magic – which are three of my favorite theatrical components. My brain quickly moved from elation to panic! How are we going to pull this off? Purposely creating every actor's worst nightmare live on stage, repeat – without serious bodily injury. The answer, of course, is the fabulous production team at TLT. Producing this show isn't for the faint of heart. It requires top notch technical design and luckily, that's what you get when you work for this theatre (insert HUGE shout out to my fabulous husband (Blake R. York) here)."
Blake R. York is one of my favorite people at TLT. He's the set designer and constructor and he has performed a tour de force in this set.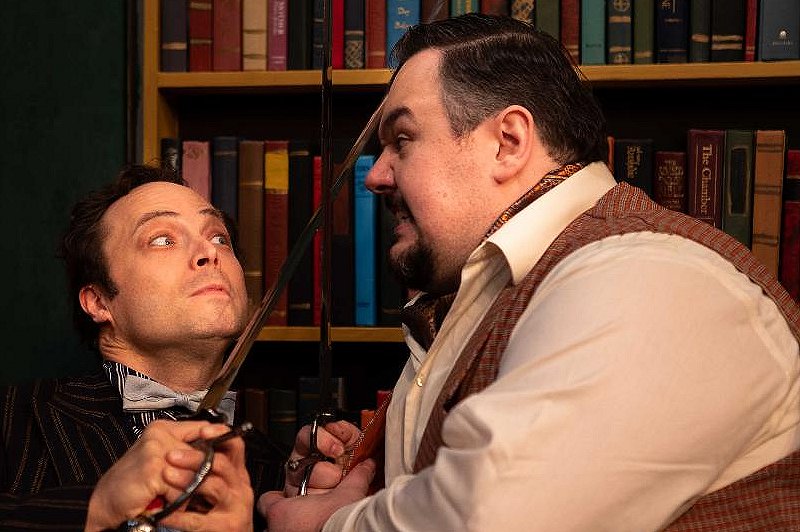 Thomas Colleymore sword fighting with Paul Ricther as Cecil Haversham is one of my favorite actors at Tacoma Little Theatre. I think he breathes, eats, and plays make believe every second he's involved with TLT. He is both the Technical Director and the Scenic Designer. He does a fantastic job with the designs of the sets, and when he acts on stage, it's usually a funny and hysterical character. Paul Ricther studied acting at Pacific Lutheran University, which has a great acting program. He was outstanding as Rooster in TLT's The Shawshank Redemption.
Charles Haversham (Kyle Sinclair) & Florence Colleymore (Gretchen Boyt) were both a delight. Kyle has done excellent work at Lakewood Playhouse, and scored big time with Peg and me for his work last year in "The Oregon Trail" as a computer and this year in "Tartuffe", both at CenterStage in Federal Way. Gretchen gave an excellent performance as Florence.
This is Gretchen Boyt's first fully staged show in six years. We hope she doesn't wait another six years to perform. One event in the play that is not to be missed by Sound Theatre goers takes place when Gretchen Boyt's Florence becomes combative with Marissa-Clare Hissey's understudy performance of Florence. Hissey's Florence begins to upstage the original Florence in the character's flare and passion. Their cat-fight takes up the entire stage and beyond for several minutes as the scripted play soldiers on. Once the fight tumbles off-stage above a center window it turns into a virtual Punch and Judy show that is worth the price of admission. These two fight like the barrel-racing cowgirls on "Yellowstone" and you get to see it live without professional stunt stand ins!
Mauro Bozzo, fresh from his fantastic portrayal of Harold Hill in Tacoma's Musical Playhouse did a great job with hair and wigs.
Lindy, a theater artistic director of her own theatre, Detroit's Attic Theatre in Greektown, comments: There are two stars of the show that audience members will find unforgettable with this production – the ensemble and the technical design. While every actor in the cast deserves high praise for tremendous skill in comic miming and character choices, it is how the cast experiences one event after another, crash piling from pre-show to post-show, that deserves recognition. The ensemble's heart beats as one while they experience building plot points regarding a murder mystery on one part of the stage while a stupefying disaster is occurring on another part of the stage.
It is hard enough to pull off the job of acting a script in a believable manner when everything goes right technically. It is a remarkable tribute to actors' belief in the adage "the show must go on" that the ensemble builds the intensity and pressure of deciding what to do next so that the show can go on.
The second star of the show is the technical design – primarily the set design. While the sound effects, props, set dressing, costume and lights are outstanding, the set design accomplishes an amazing feat of unfolding a living monster whose sole purpose is to have every nail, glue strip, prop stud and door hinge cut loose at the worst possible moment. The set has a life of its own when it comes to comic timing and TLT's design is up to the task. The ensemble and tech on this production are equally deserving of a standing ovation.
What a joy to see the commitment of this cast in meeting the challenges of one of the funniest and most intricately demanding plays of our time. The run of the show has already been extended an extra week to October 1. So, make plans with friends who love to laugh and reserve your tickets as soon as possible. Pay What You Can is Thursday, September 21st at 7:30 pm and there will be an ASL Performance Sunday, September 24th at 2 pm. For tickets call (253) 272-2281 or visit TacomaLittleTheatre.com.