Submitted by Marianne Bull.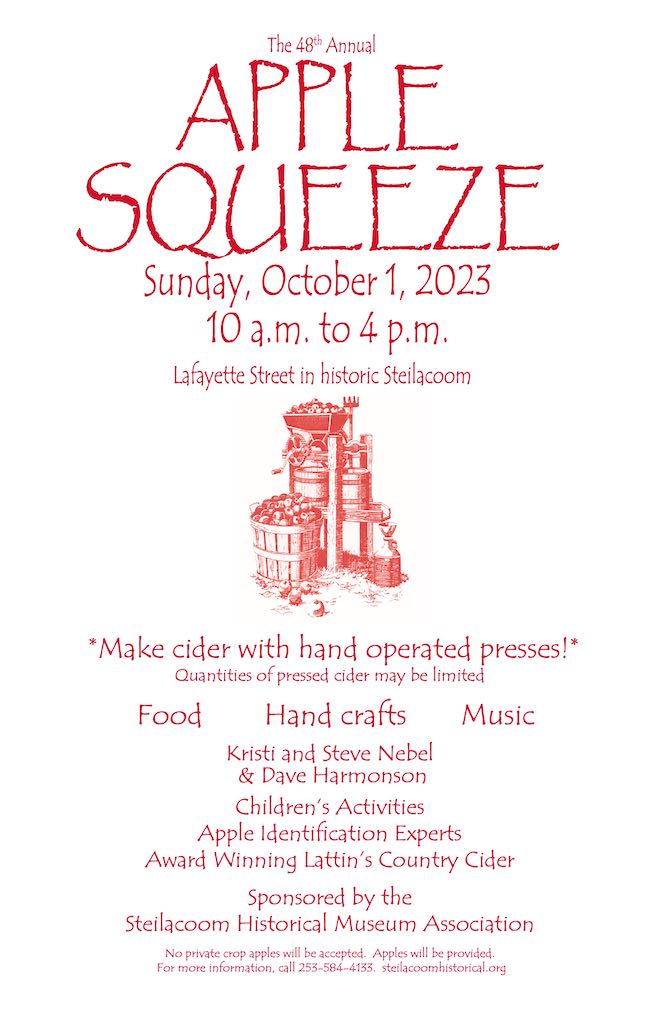 The 48th Steilacoom Apple Squeeze is coming Sunday, October 1 from 10 am-4 pm.  
This is a Steilacoom Historical Museum family friendly event and celebration of autumn. SHMA partners with other local groups such as Kiwanis, Boy Scout Troop #71, and Steilacoom High School to produce this event. The Squeeze tradition was started by the Steilacoom Historical Museum Association in 1973 as a way to honor the pioneer orchards throughout Steilacoom, and an original cider squeeze from 1915 as a school fund raising event served as a model. Today, apples are provided and for a fee the public can press their own cider with guidance from our experienced press operators who volunteer their presses and time to create a great experience for the public.
Come to press apples into cider the old-fashioned way with hand operated presses or buy a gallon of already pressed cider. Student clubs from the Steilacoom High School will offer activities for children in the tennis court area. Stroll through the street fair featuring quality handcrafts and food booths. Enjoy an apple cider float or apple pie with ice cream! Live music by Kristi and Steve Nebel and Dave Harmonson will be heard all day.
In addition at noon, the Steilacoom High School cheer team will do a presentation, and at 1:30 the SHS band and choir will each do a short performance adjacent to the band.
During the day, a tinsmith will demonstrate this pioneer craft at the Wagon Shop which will be open to visitors. The Museum will be open during the afternoon with an exhibit on Vintage Postcards. 
For information go to steilaoomhistorical.org or call 253-584-4133.