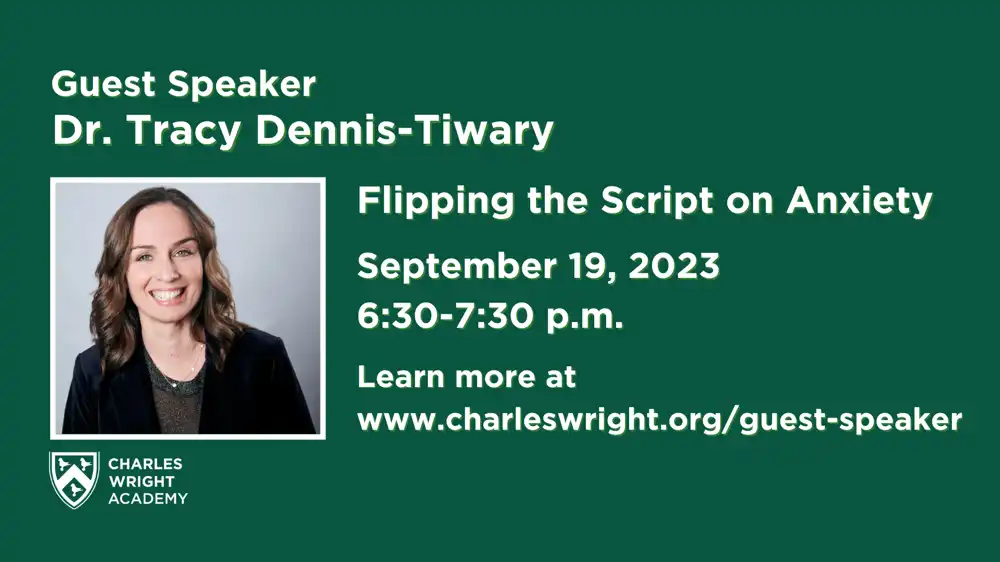 Tacoma, Wash. — Families across the South Puget Sound can learn from a nationally-renowned speaker on anxiety on September 19 in University Place, Wash.
Dr. Tracy Dennis-Tiwary, author of Future Tense: Why Anxiety is Good for You (Even Though it Feels Bad) will speak to families and teens on "Flipping the Script on Anxiety" at a free event hosted by Charles Wright Academy.
With stress and burnout spiking, many of us believe that our lives would be better if only we were less anxious. Dr. Dennis-Tiwary will provide families with a radical new framework for managing anxiety—our brains' response to uncertainty—and using it to our advantage.
As a clinical psychologist and author of Future Tense, Tracy argues that we've been looking at the anxiety crisis all wrong. "When we stop rejecting anxiety," Dennis-Tiwary says, "we will be better able to channel it, manage it, and use it to prioritize what matters to us in life."
Adam Grant, #1 New York Times bestselling author of Think Again, said about her book, "Tracy Dennis-Tiwary has delivered the riveting read we all need to help us learn to worry well instead of worrying less."
Dr. Dennis-Tiwary is a professor of psychology and neuroscience and director of the Emotion Regulation Lab at Hunter College. She is the founder and CSO of Wise Therapeutics, where she translates neuroscience and cognitive therapy techniques into gamified, clinically validated digital therapeutics for mental health. She has published over 100 scientific articles and delivered over 400 presentations at academic conferences and for corporate clients. She has been featured in a wide range of media, including The New York Times, The Wall Street Journal, ABC, CBS, CNN, NPR, The Today Show, and Bloomberg Television.
This event is open to the public, though space is limited. Those interested in attending are encouraged to register quickly.
For more information and to register to attend, please visit www.charleswright.org/guest-speaker/ or contact CWA at cwa@charleswright.org.