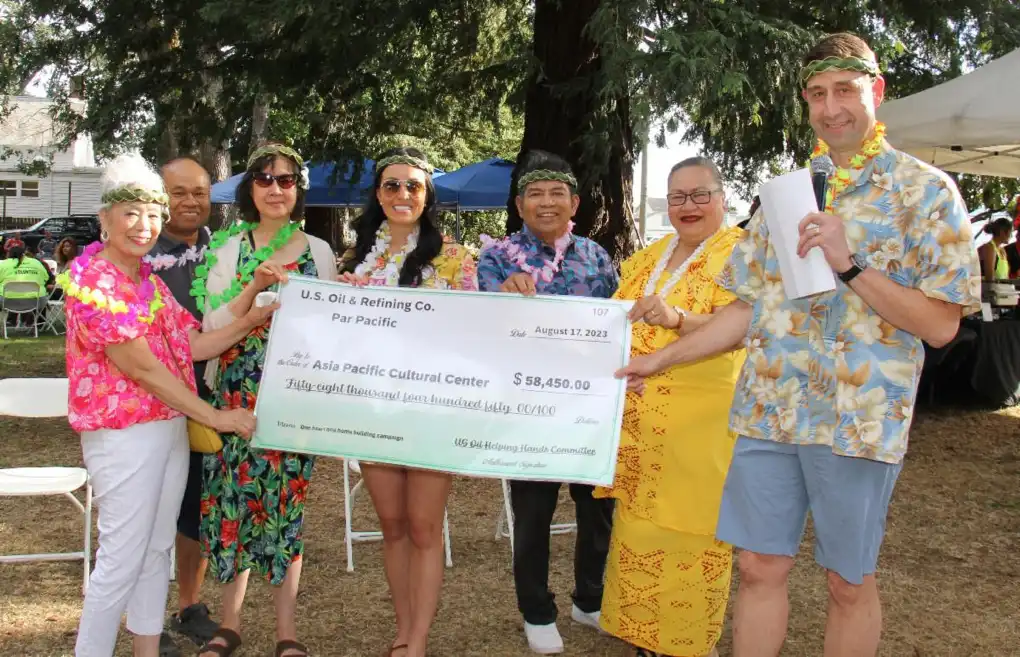 On August 17, 2023, Asia Pacific Cultural Center's (APCC) Outdoor Garden on South Tacoma Way came alive with vibrant Polynesian festivities during the US Oil & Refining Co. Par Pacific Luau. The event marked a remarkable day of cultural celebration and philanthropy, all against the backdrop of a radiant sunlit atmosphere.
Gratitude flowed as APCC extended its heartfelt appreciation to US Oil & Refining Co. Par Pacific for their remarkable contribution of $58,450.00, bolstered by the additional proceeds from the event, all of which were dedicated to APCC's new building campaign.
Attendees were treated to an unforgettable experience that encompassed a variety of Polynesian performances and activities, fostering a sense of togetherness and camaraderie among the participants. The day was brimming with Polynesian entertainment, delectable cuisine, and captivating audience engagements.
The pinnacle of the celebration arrived with a mesmerizing showcase by the world-renowned fire knife dancer, Kapeneta Suli Te'o-Tafiti, and his exceptional crew. Their scintillating performance left the audience in awe, igniting the senses and encapsulating the spirit of the Pacific islands.
The event concluded with heartfelt thanks, as APCC expressed their gratitude with the Hawaiian term "Mahalo," encapsulating the depth of appreciation for the contributions that made this memorable day possible.
CLICK HERE to see more photos of the event.