Office of Jani Hitchen, Pierce County Council, District 6 announcement.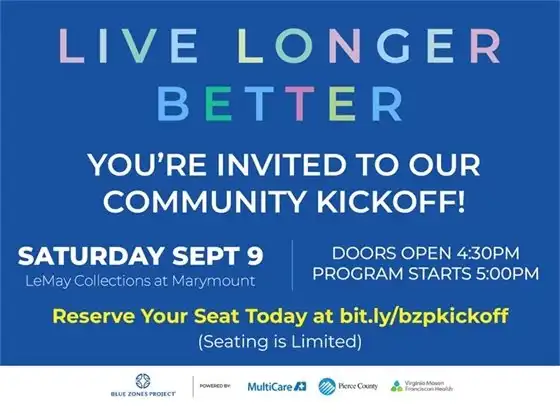 Pierce County is a proud sponsor of Blue Zones Project Parkland-Spanaway, which seeks to make Parkland and Spanaway healthier, happier communities. I'm writing to extend a personal invitation to attend the Blue Zones Project Kickoff Event in Parkland-Spanaway. Here are the details:
Date: Saturday, Sept. 9, 2023
Time: Doors Open 4:30 p.m., Program Begins 5 p.m.
Location: LeMay Collections at Marymount (325 152 St E Tacoma, WA 98445)
RSVP HERE: https://bit.ly/44rreE5
This event is the official launch of our community's journey towards enhanced well-being and longevity. As a proud and long-time Parkland resident, I see some considerable benefits to this project. I applaud the County and the two other sponsors (MultiCare and Virginia Masson Franciscan Health) for investing in our community.
The Kickoff Event promises a night of celebration, inspiration, and connection. Special guest Dan Buettner Jr. will share valuable insights about the Blue Zones Project and its transformative power to shape communities like Parkland and Spanaway. The evening will also offer an opportunity to enjoy a free, healthy, and delicious meal while connecting with your neighbors and the community. Every Blue Zones event that I have had the chance to attend has been inspiring and offered great food.
Please register and join the team if you live in Parkland, Spanaway, or nearby. Sadly, I am out of town, but my Council Assistant, Annette, and Councilmember Campbell will be in attendance. I look forward to hearing from the community about what they see as some of the first steps we take together.