Submitted by Lakewood Chamber of Commerce.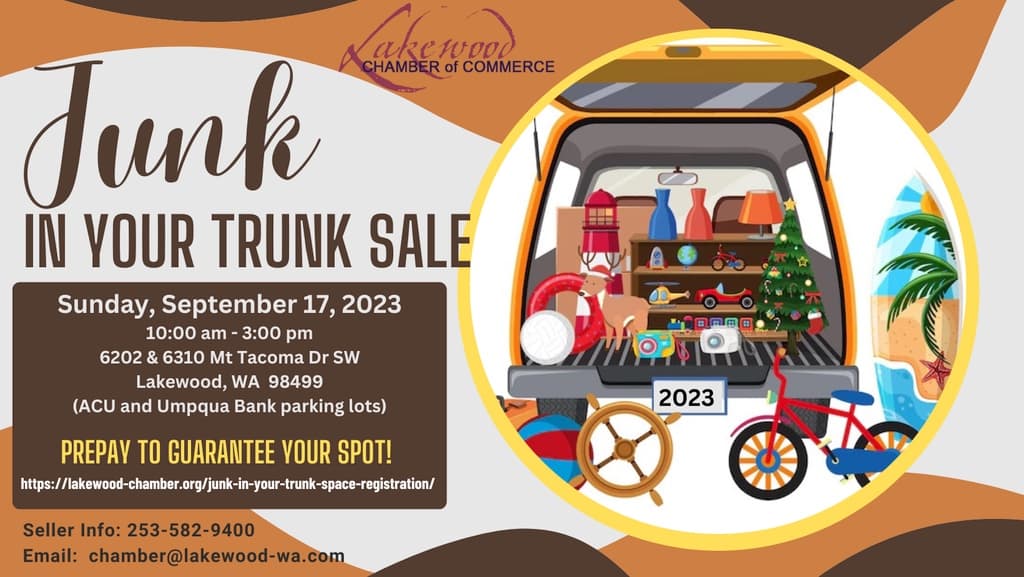 Mark your calendars for September 17th, as a unique and exciting event is coming your way: "Junk in Your Trunk." The location will be the parking lots of Umpqua Bank and ACU/Lakewood Chamber of Commerce right off Mount Tacoma Drive SW in Lakewood.
If you've been wondering what to do with all those extra items cluttering up your space – whether it's years' past Christmas decorations, golf clubs gathering dust, scuba gear waiting to be used, small appliances that have been replaced, stacks of DVDs, or even clothing that no longer fits your style – this event is tailor-made for you.
This one-day extravaganza provides a platform for you to clear out your clutter while giving others the chance to discover hidden treasures. Participants can sign up for their own selling space, where they can park their vehicles laden with the items they want to sell. It's like a massive garage sale, but with a twist – everything is conveniently stored in the trunks of cars.
Turning Clutter into Cash – Join the Fun!
We all have "stuff" and remember what we paid for them (retail)! Sometimes it's just hard to give or donate things when we remember the hard earned cash we had to fork out for them in the first place. "Junk in Your Trunk" offers a fantastic opportunity to turn your items into cash. By signing up for a selling space, you can connect with eager buyers who might be looking for exactly what you have to offer.
Treasure Hunting for Everyone
On the flip side, if you're an avid bargain hunter or someone who loves the thrill of discovering unique items, "Junk in Your Trunk" is the place to be. You never know what you might find – from vintage collectibles to gently used electronics, there's something for everyone's tastes and interests.
Guidelines for the Event
While "Junk in Your Trunk" is all about turning your unwanted items into someone else's treasures, there are a few guidelines to keep in mind. The event organizers have made it clear that almost anything goes, with the exception of firearms, weapons, and drug paraphernalia. Additionally, the sale of food and beverages is prohibited. So, while you won't be able to sample homemade treats, you can certainly feast your eyes on an array of fantastic deals. And although space rental is a bargain, you will be charged a cleaning deposit. So if you leave your "junk" behind, you will forfeit your deposit as it does cost to haul and remove items left behind.
Join the "Junk in Your Trunk" Extravaganza!
Whether you're looking to declutter, score amazing deals, or simply enjoy a unique community event, "Junk in Your Trunk" promises an exciting and rewarding experience. Don't miss out on the chance to be part of this innovative event on September 17th. Reserve your selling space today and get ready for a day of fun, bargains, and community connections.
Go to: https://lakewood-chamber.org/junk-in-your-trunk-space-registration/ and register today!