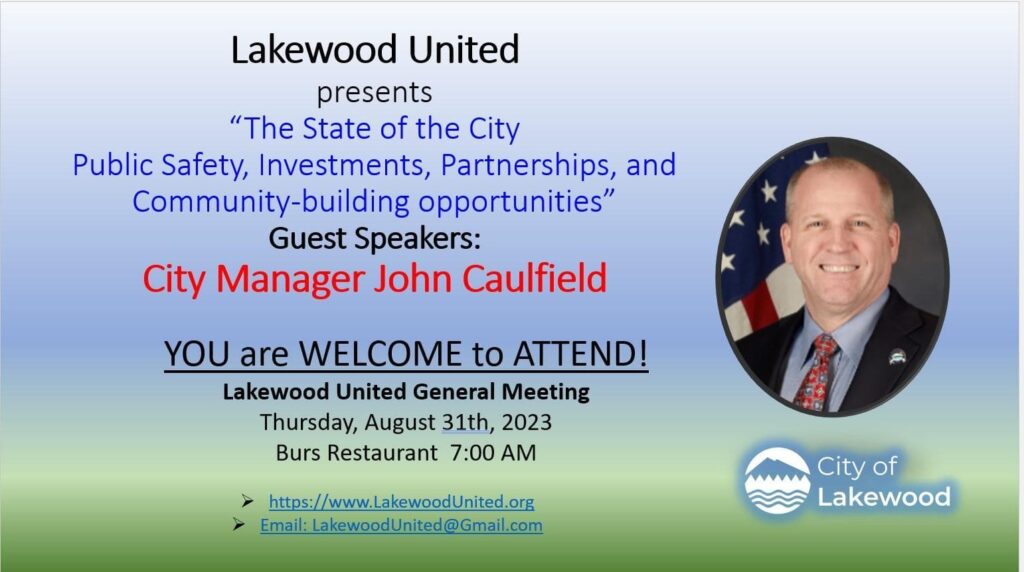 The public is invited to join Lakewood United on Thursday, August 31st, 2023 at 7:00 AM at Burs Restaurant
Map and an update will be on our website: https://lakewoodunited.org/
Guest Speaker will be Lakewood City Manager John Caulfield. As Lakewood's city manager over the past 10 years, Mr. Caulfield has a great deal to be proud of. He works hand-in-hand with city leaders and Lakewood citizens to problem-solve and plan the work focused on enhancing the quality of life for the citizens of Lakewood. We look forward to gaining an understanding of the core work happening by the City of so we can have knowledge of and support the work that enhances the quality of life for youth and families in Lakewood. 
City Manager Caulfield came to Lakewood with a wealth of leadership experience by serving in lead city management roles in Mountlake Terrace and University Place.  His military background as a US Army Ranger also gives him a personal connection to our military families as well.
Please come out and learn more and City Manager Caulfield and the work that he is leading in Lakewood.
Our Next Public Meeting is September 21, 2023 at 6:00pm
Pierce College, Fort Steilacoom Campus, Olympic Bldg., Room 102
Attention:
All community meetings will be on Zoom. Please email your request to: LakewoodUnited@gmail.com and a link will be sent to you.
We have a new website so check it out! LakewoodUnited.org
Lakewood United's 2023 Board thanks you for your support!