Submitted by America's Automotive Trust.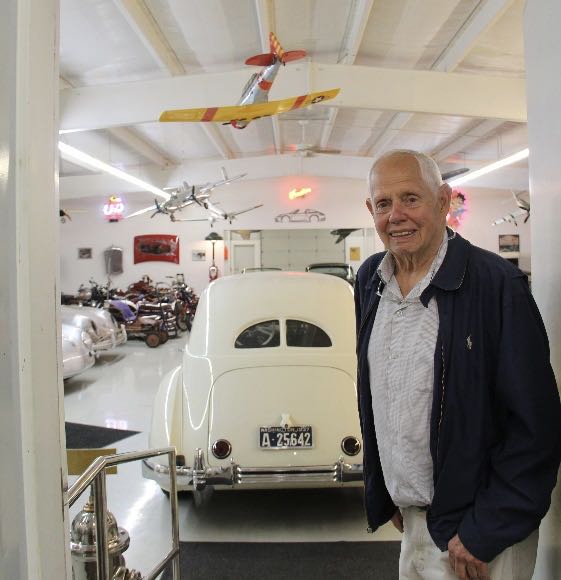 Tacoma, Wash. – America's Automotive Trust will honor Denny Aker, a Washington State native, as its 2023 Master Collector at a ceremony on September 8, 2023 when the Trust hosts its Annual Gathering of the Concours Club. The Annual Gathering is the Trust's most exclusive event where it presents its most prestigious awards to those who have made outstanding contributions to America's automotive heritage. These include the Master Collector, Master Craftsman and Nicola Bulgari Awards. 
Denny Aker was born in Bellingham, WA, and was raised on his grandfather's 160-acre farm. The farm equipment often needed repair, so Denny became an expert welder and learned how to create parts and fix engines. After some time, Denny realized that the pastoral life was not for him, and he moved to Seattle to work for Volkswagen of Washington as one of the very few Porsche mechanics in the area.
Over time, Denny found a lucrative niche in the repair circuit in 1965 working on VWs and Porsches. Starting his own shop, Akers Porsche, he loved working on Porsches, especially the 356s. They were simple, 4-cylinder engines which were a joy to drive. "If you treat them right, they will treat you right!" was his motto. Denny is retired at the youthful age of eighty-four, but he still gets called down to the shop, now run by his son, for repair questions on the old Porsches.
Around 1970, Denny began collecting vehicles and his collection is best described as 'unique' and 'eclectic'. His first collector car was a 1930 Rolls Royce Phantom 1, which he still owns today. Initially intrigued by the 1930s Art Deco beauties, like the Auburn V12s, and coffin nosed Cords, he later went on to collect Porsches and antique motorcycles, such as a 1942 4 cylinder Indian, a 1937 Indian Scout, a 1919 Indian Power plus. Denny owns a 1910 Stanley Steamer and several functional steam engines. He has about thirty-five vehicles, including ten motorcycles, antique bicycles, and hundreds of artifacts related to motoring history. He owns about fifteen 356s in varying conditions. He even owns a Porsche Tractor.
'I'm delighted to honor Denny on this occasion,' stated David Madeira, CEO of America's Automotive Trust.' I'm one of those owners of a vintage Porsche whose problems no one could solve for me—until I met Denny 20 years ago. The car has run perfectly ever since! More importantly Denny is the type of person who the Trust is honored to recognize for his collection, his work, his integrity, and his willingness to share of his collection with others for public enjoyment.' 
About America's Automotive Trust
America's Automotive Trust was founded with the goal of securing our automotive heritage for future generations. We bring together like-minded organizations that honor the past, celebrate the present, and drive the future of car culture to make a greater impact. Founding member organizations LeMay – America's Car Museum, RPM Foundation, America On Wheels Museum, and our premier membership programs Club Auto and Concours Club, as well as our affiliated partners, work together to foster a strong community where any enthusiast can thrive – from the classroom, to careers, to the open road. America's Automotive Trust is a nonprofit 501(c)(3) organization. For more information: https://www.americasautomotivetrust.org/