This was the second year that the Northwest Room and Community Archives Center were invited to be host locations for the University of Puget Sound's Summer Fellowship Internship (SFI) Program. Through a competitive application process, UPS selects students to participate in the program and places them with local nonprofit or public sector organizations. Participants take part in weekly meetings with other students in the program and engage in supporting key projects at their host locations. This year, we welcomed Isabella Rodriguez and Claire Keppler. Learn more about them and their work below!
Isabella Rodriguez is from Portland, OR and is entering her final year at UPS with a double major in Environmental Policy and Decision-Making and History, and a minor in Latine Studies. She worked as the Community Archives Center Intern this summer.
Claire Keppler is also from Portland, OR and entering her final year at UPS. She is majoring in History with a minor in Biology. She worked as the Northwest Room Intern this summer.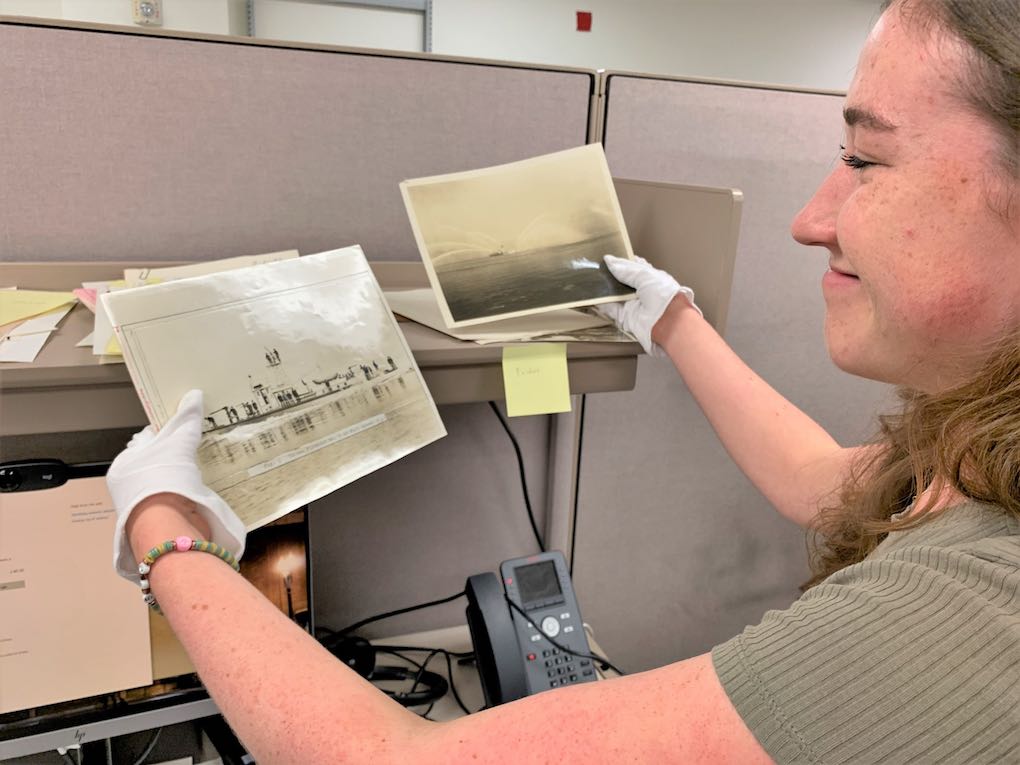 What interested you about spending the summer working with the Northwest Room/Community Archives Center?
Rodriguez: Through my studies in history, I have learned the importance of archives and the materials they make accessible to the
public. I also have begun to understand all the ways in which history has been sanitized and white-washed. I think the work of the Community Archives Center is incredibly valuable and I was interested in helping with the project. I also have worked in community-based organizations and public parks, so I think learning about how archives function in public libraries/the public sector is particularly interesting.
Keppler: Like Bella, I am a history major and what I love about studying history is that I get to immerse myself in the past and uncover fascinating stories through historical documents. Working in the Northwest Room was the perfect opportunity to not only work with a massive collection of original historical records but also to work with Tacoma history and gain firsthand accounts of the city I study and live in.
Tell us about some of the projects you worked on during your internship.
Rodriguez: The first collection I worked on was the wedding photos of Rudy Henry and John McCluskey who were the first same-sex couple to be issued a wedding license in Pierce County. I really enjoyed looking at their photos and learning how to write a short biography for both men. Though the photos were not particularly old, I know that they are an important part of the history of Tacoma and will be used for years to come. I also worked on various publications like Pandora, opens a new window (a Seattle women's publication), The Black History Bulletin, opens a new window, Happenings on Hilltop, opens a new window, and others. I liked getting to look through them and not only getting to see what these publications were reporting on but also the photos and creative works they included in their issues. I learned a lot about the history of Hilltop from Happenings on Hilltop, opens a new window. Hilltop as an area is so crucial to Tacoma's history, so I am grateful to have had the opportunity to work with primary source documents related to the area's history.
Keppler: Two of the biggest collections I have worked on are the Northwest Airlifter, opens a new window publication and the photo slide collection of Lewis Law, a local Tacoman. The Northwest Airlifter, opens a new window is a periodical for the McChord Airforce Base that we had a large collection of dating from 1987 to 2022. The Lewis Law Photographs contained images of a wide range of subjects taken across the U.S. but in particular, roads and road signs, especially in the Pacific Northwest circa 1960s. What I enjoyed most about these projects was experiencing Tacoma in a different era and being able to witness the lives of local people through the records they kept.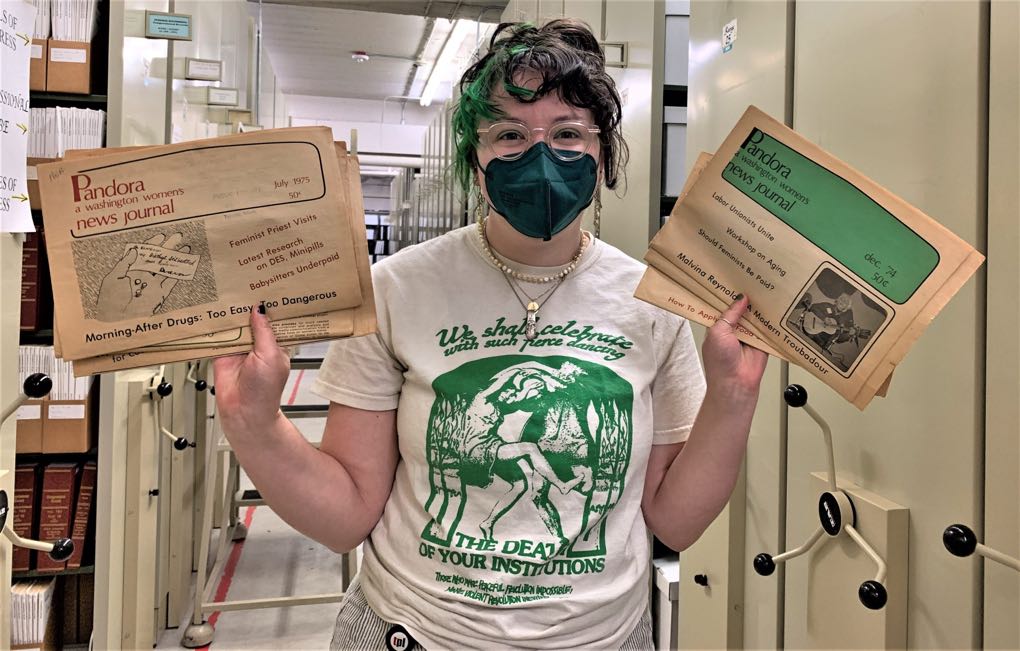 Did you come across anything you didn't expect? Did any of the content in the collections surprise you?
Rodriguez: I think I was surprised by how many modern materials the archive holds. I think usually when people think of history and archives, they think of the past but often the materials that can be archived related to marginalized communities are more recent. I also was surprised by how much I learned about local history just from reading parts of Happenings on Hilltop and researching the people that worked on it.
Keppler: I was overall surprised by the breadth of records, documents, and things in these collections that people have managed to hold on to. Be it interoffice memos of a local business or detailed photos of every year of the Washington Daffodil parade. Having never worked in an archive before, I have never seen how well companies and private individuals can collect and record their own histories. Working in the Northwest Room I have now experienced this, and I have come to really appreciate the importance of this in-depth record keeping in telling the story of the city.
Now that you've completed your internship, what do you hope people learn from the collections you worked on?
Rodriguez: I hope that the collections I have worked on help the public better understand the diverse and complicated history of Tacoma. I hope that people will be able to see themselves in these collections and see that people like them have history and roots here. Particularly for people with marginalized identities, I hope that they can learn how people before them have worked for equality, spoken up for what they believe in, and lived their lives in ways they saw fit. In the collections I have worked with I saw the ways everyday people have made history, in small and positive ways.
Keppler: I really hope people are able to more easily access and understand their local history so that they can help to continue spreading it into the community. There are so many amazing stories in our Tacoma history to be told, but for that to happen these resources need to be accessible. If the work we have done here allows people to learn something about their history, if people are able to share the history of the city, then we will have done our jobs.