Story by Pamela Sleezer, Joint Base Lewis-McChord Public Affairs Office.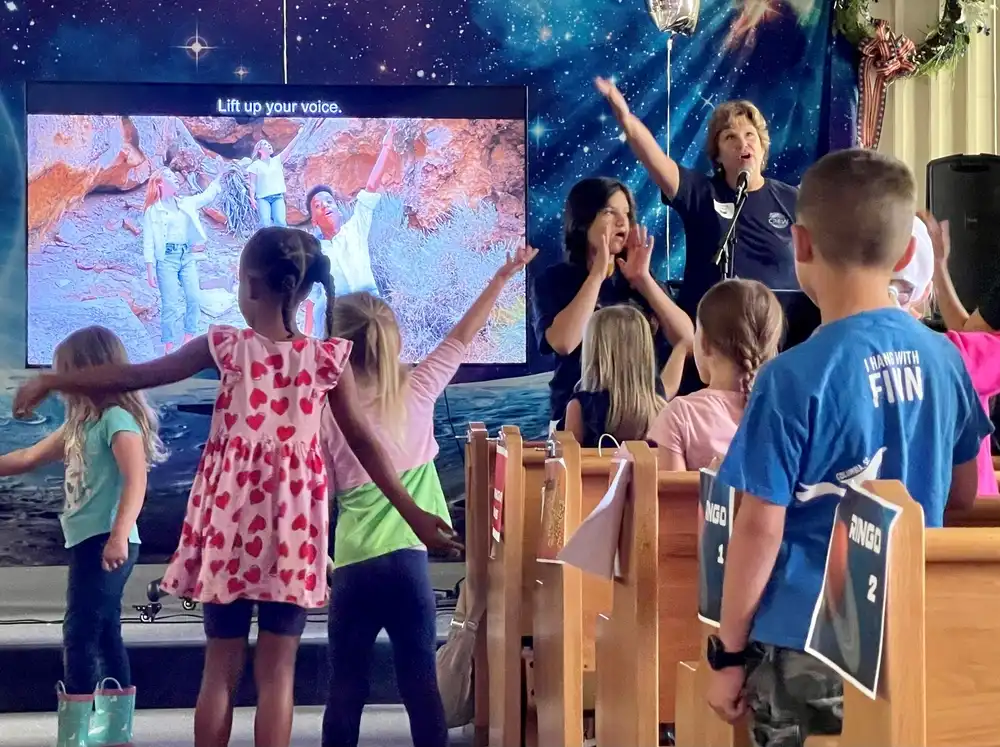 JOINT BASE LEWIS-McCHORD, Wash. – Another successful year of Vacation Bible School wrapped up this week at Joint Base Lewis-McChord, with more than 400 children participating in the weeklong summer program.
Themed "Stellar," this year's VBS program launched children between 4 years old and 5th grade on a cosmic quest into outer space with fun activities that combined space exploration with faith-building messages.
Morning, afternoon and evening sessions were held across JBLM at Lewis North Chapel, McChord Field Chapel and at Lewis Main Chapel between July 24 to July 28 and Aug. 7 to Aug. 11. Participants enjoyed games, arts and crafts and even got to meet a guest "astronaut" each day.
Participants Yuna Craig and her friend Evelyn Owens, both 8 years old, are first time participants at JBLM's VBS program, and they both gave glowing reviews.
"It's really been a lot of fun," Craig said. "My favorite part so far has been the singing and dancing because I get to learn new songs."
"We get to play games and make crafts," Owens said.
Rebecca Fisher, director of Religious Education at JBLM, said the program's success each year relies heavily on the volunteers.
"The volunteers really make the difference," Fisher said. "The number of children we can host each year depends on the number of volunteers we get, and having a group of older kids that are excited to be here and engage with the children during their lessons really makes a positive impact with the younger kids."
This year's VBS is the first year 12-year-old Mikayla Steenburg has been able to attend as a volunteer, and she said she has been anxiously awaiting the time to come.
"You have to be 12 to volunteer, so I've been waiting to be old enough," Steenburg said. "I have a big family and I really enjoy spending time with little kids, so this is a lot of fun for me."
This is the second year for volunteer Day'zha Keith to participate and she shared Steenburg's excitement.
"I'm such an extrovert and I love kids, so everything about VBS is fun for me is so much fun for me," Keith said. "I always feel so happy and fulfilled at the end of each day."