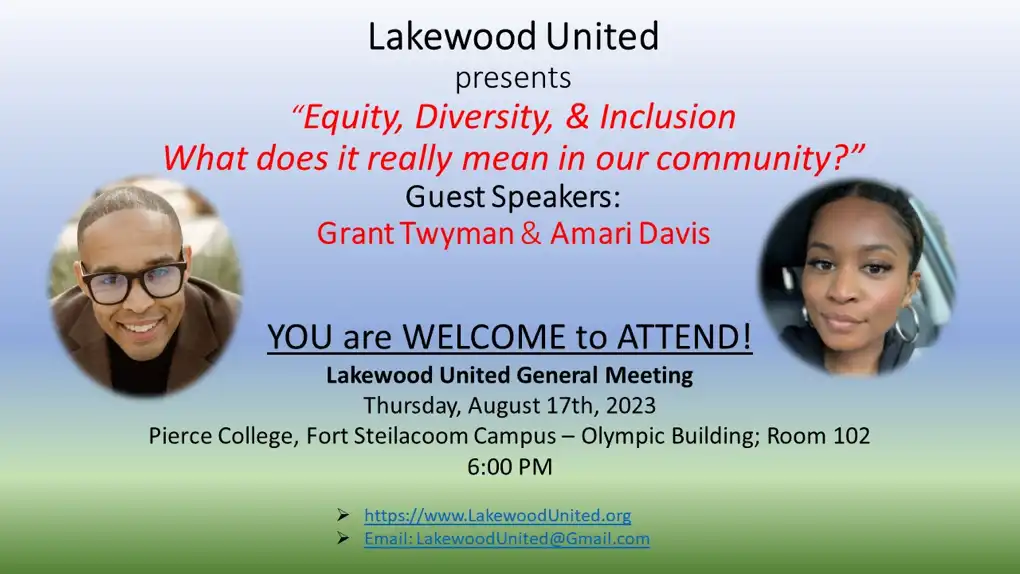 The public is invited to join Lakewood United on Thursday, August 17, 2023 at 6:00pm
Pierce College, Fort Steilacoom Campus, Olympic Bldg., Room 102
Guest Speakers: Grant Twyman and Amari Davis
Grant Twyman is an established community leader and organizational manager. As the Director of Equity and Community Engagement in the Clover Park School District, Grant works collaboratively to elevate diverse voices, audit systems and facilitate organizational change so that students and staff flourish. Grant also serves on the board of the Tacoma Pierce County Chamber of Commerce and the Lakewood Multicultural Coalition.
Amari Davis is the Equity, Diversity, and Inclusion (EDI) coordinator for the Clover Park School District. She is committed to elevating student voices and helping to empower youth in our local community. Amari has worked with youth in a number of ways advocating for overall students success and well-being.
PRESENTATION TOPIC: Grant and Amari will share information regarding the Equity, Diversity, & Inclusion work that is enhancing the opportunities for student success across the Clover Park School District. They will share the positive impact of this work on students, families, and staff and will answer questions regarding how it meets the needs of our diverse student population. In addition, they will share highlights of what students have identified as their needs to enhance the quality of life for themselves, as members of CPSD, and the broader community.
Lakewood United is proud to have presenters who are willing to share ideas on how we can support the positive work that is happening in our local community.
Next meeting on August 31, 2023 – Burs Restaurant – 6151 Steilacoom Blvd. SW – 7:15 am
Guest Speaker: John Caulfield – Lakewood City Manager.
Attention:
All meeting and events will also be on Zoom. Please email your request to: LakewoodUnited@gmail.com and a link will be sent to you. Zoom will be muted to all. Use "chat box" to talk.
We have a new website so check it out! https://lakewoodunited.org/
Lakewood United's 2023 Board "Thanks You" for your support!