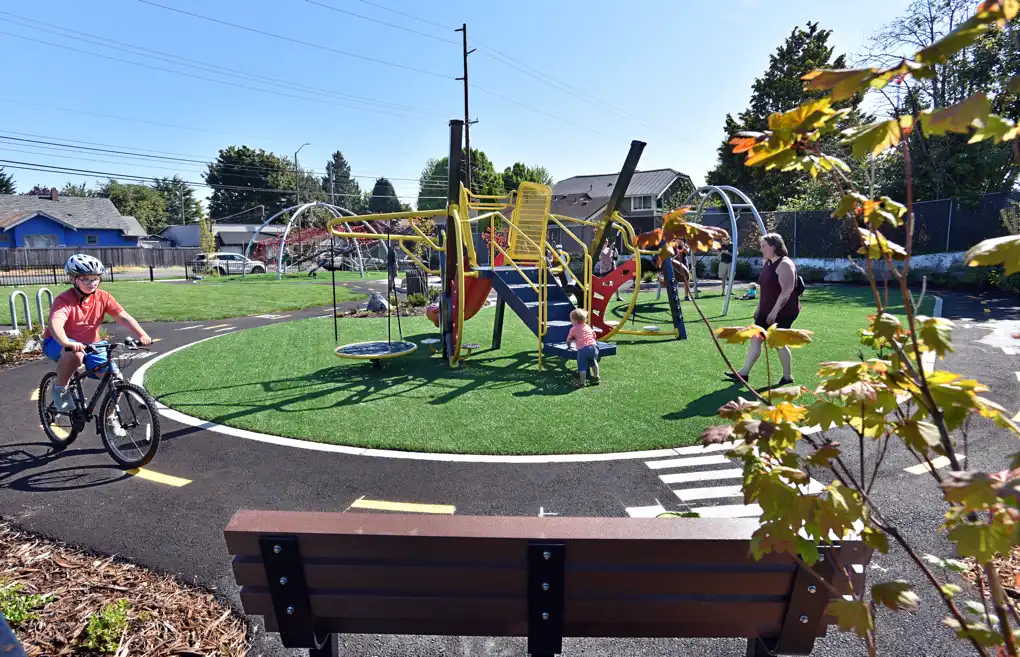 Tacoma, WA: It's time for the South End to get revved up and ready to celebrate the grand opening of Gas Station Park!
Although it's one of the smallest parks in the city at 0.2 acres, it packs a big punch with its transformation from a former gas station that left the lot as a cleanup site to a tree-lined play space where kids can ride around a tricycle track or swing on a climbing dome.
The park is an example of what is possible when the community and local agencies join forces to clean up neighborhoods and add green space for the health and enjoyment of all.
"Gas Station Park is not just a fun space for families in southeast Tacoma, it's also improving the physical, mental and emotional well-being of community members by giving them a dynamic green space within a 10-minute walk of their home," said Park Board President Andrea Smith.
The celebration kicks off at noon Aug. 13 with hands-on crafts where kids can add decorations to their trikes or scooters and personalize a commemorative temporary license plate for the pedal-power parade. The City's Active Transportation team will fit kids in need of a helmet. Supplies are limited and will be provided on a first-come, first-served basis.
At 1 p.m., there will be a look back to the park's history. Then kids will be invited to the track at 1:30 p.m. to take a victory lap around the traffic garden for the opening event parade.

The lot's history dictated its name.
It operated as a gas station from about 1919 to the 2000s, when it was abandoned after the site tested positive for toxic materials. Pierce County acquired the site and sold it to the City of Tacoma, which used a $100,000 grant from the U.S. Environmental Protection Agency and $35,000 from Exxon Mobile to clean up the lot.
The South End Neighborhood Council agreed to develop and maintain the park until the city took over maintenance in 2005. In 2021, ownership was transferred to Metro Parks Tacoma and a community-inspired design was created.
Now, 14 trees have been planted around the park and a children's play structure replaced aging play equipment. The park's fun trike track serves as a traffic garden with mini-traffic signs where kids can begin to learn the rules of the road. Additional site features include a climbing dome, open lawn, and picnic tables.
Finishing touches include new fencing, an ADA accessible parking space, central irrigation system and improved access and signage.
Construction started in October and wrapped up in June. Artist and park neighbor Annie King created a placemaking mural when the park first opened and will be restoring the popular work following the celebration.
Green space now exists for neighbors living between Park and Pacific avenues, from South 43rd to South 52nd streets, which further closes the park access gap in Tacoma and inches closer to the goal of every Tacoman living within a 10-minute walk to a park.
More than 65,000 people in Tacoma do not live within a 10-minute walk of a park, according to nonprofit Trust for Public Land.
Catherine Ushka, District 4 City Councilmember and a staunch advocate for Gas Station Park, said she is thrilled with the transformation that has provided much needed park access to the South End community.
"Gas Station Park is now a vibrant, active space, filled with youth playing on climbing equipment or pedaling along the track. It was my honor to work with Metro Parks and the Washington State Legislature to secure funding for improvements to Gas Station Park, and to be a part of the robust community engagement process that shaped its final design," Ushka said. "Ultimately, I would love to see improved access to parks for every resident across Tacoma and will continue working with our local and regional partners toward this goal."
The park received $150,000 as one of several improvement projects funded by 2014 Tacoma voter-approved bond money. Other funds include $504,700 from a Washington State Department of Commerce grant, $320,000 from City of Tacoma and $2,224 in open space fees.
For more information on the grand opening: Gas Station Park Grand Opening Celebration – Metro Parks Tacoma
WHAT: Grand opening celebration of Gas Station Park
WHEN: Aug. 13, 12-2 p.m.
WHERE: 4801 S. Park, Tacoma