Submitted by Dr. Jeff Reynolds.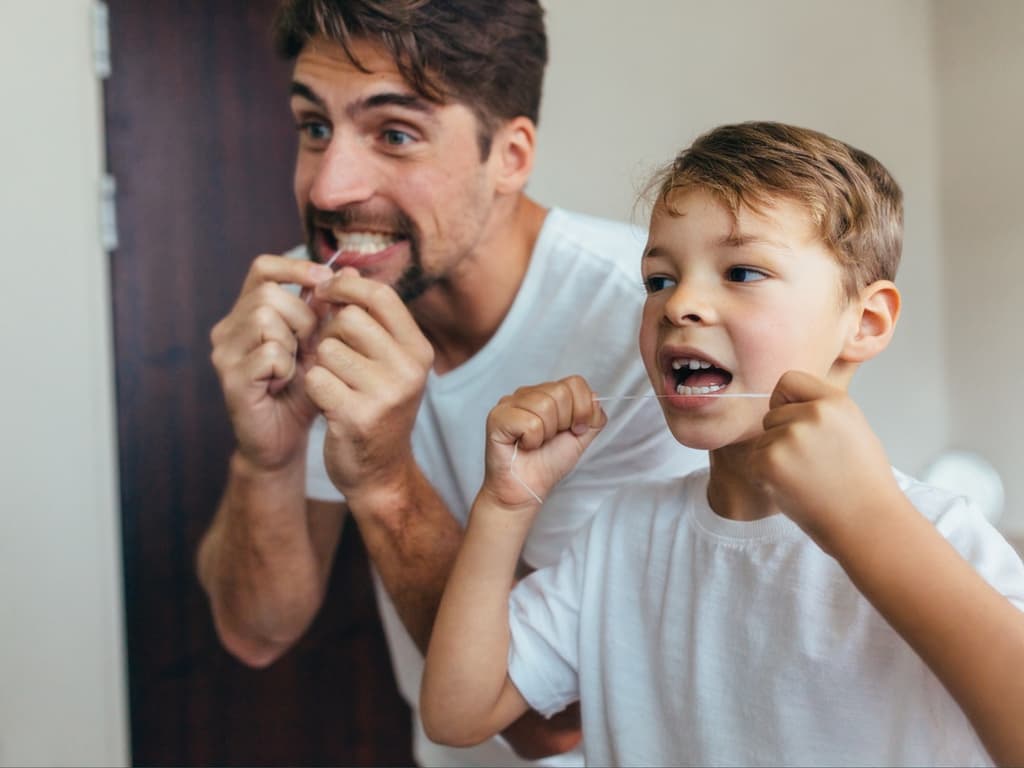 What simple action serves as a one-stop shop to protecting your oral health while helping prevent gum disease and tooth decay? Flossing, and at least once a day at that. While brushing is a great place to start, there are many small crevices your toothbrush can't reach on its own.
Flossing may seem like a chore but adding it to your household's daily routine could save you hassle and expense of dental treatments down the road. The good news is that there are a variety of flosses made to fit your needs and preferences.
Easiest-to-Use Floss: An electric air or water flosser is a great option if you struggle to floss regularly. Although it can be an upfront investment, an electric flosser requires very little effort, spraying water or air in pulses to effectively remove debris from between your teeth.
Smoothest Floss: Look for floss which has a light coating of wax if you prefer a smooth touch while flossing. Waxed floss often has a silky texture and comes in many flavors.
Toughest Floss: If you want floss that won't break or shred when you clean your teeth, go for polytetrafluorethylene floss (PTFE). It's made from the same material used in waterproof sportswear, so it's extremely strong and durable.
Most Natural Floss: Rather than containing PTFE or per- and polyfluoroalkyl substances (PFAS), all-natural types of flosses use biodegradable materials like natural silk instead of nylon with a beeswax coating.
Most Affordable Floss: Unwaxed dental floss is the most affordable option available. Made from nylon like most flosses, unwaxed dental floss simply doesn't have a slick waxed coating.
Best Floss for Kids: It can be hard enough to get kids to reach for floss, but an ergonomic dental floss pick with a long handle can help ease the struggle. Selecting one made especially for children so little hands can grip it is even better.
Best Flavored Floss: Waxed floss comes in a variety of flavors to suit people of all ages. For children, that means fun, fruity flavors, while floss for adults is typically mint- or cinnamon-flavored.
Best Floss for Teeth with Spacing: If you have wide spacing between your teeth, traditional floss may not be best for you. Dental tape is slightly thicker and flatter than floss and can help clean around individually spaced teeth.
Best Floss for Braces: Braces pose quite the obstacle for flossers. Some dentists recommend investing in Super Floss, made from materials which resemble yarn. Super Floss also contains stiff pieces on each end to help navigate the floss under braces and dental bridges for the most effective cleaning.
Best Floss for Gingivitis: Flossing plays an important role in preventing gum disease, which is treatable and reversible in its early stages. For sensitive gums, floss that is soft and free of potential irritants is best. A woven floss which expands slightly can be more efficient at grabbing plaque if you're prone to debris buildup throughout the day.
Taking that extra step will make a world of difference for your teeth, and it takes just a few minutes. For more information about your oral health, visit Delta Dental of Washington's blog.
Jeff Reynolds, DMD is a Delta Dental of Washington member dentist and serves as the Dental Care & Dental Director for Community Health Care.