Submitted by Sound Credit Union.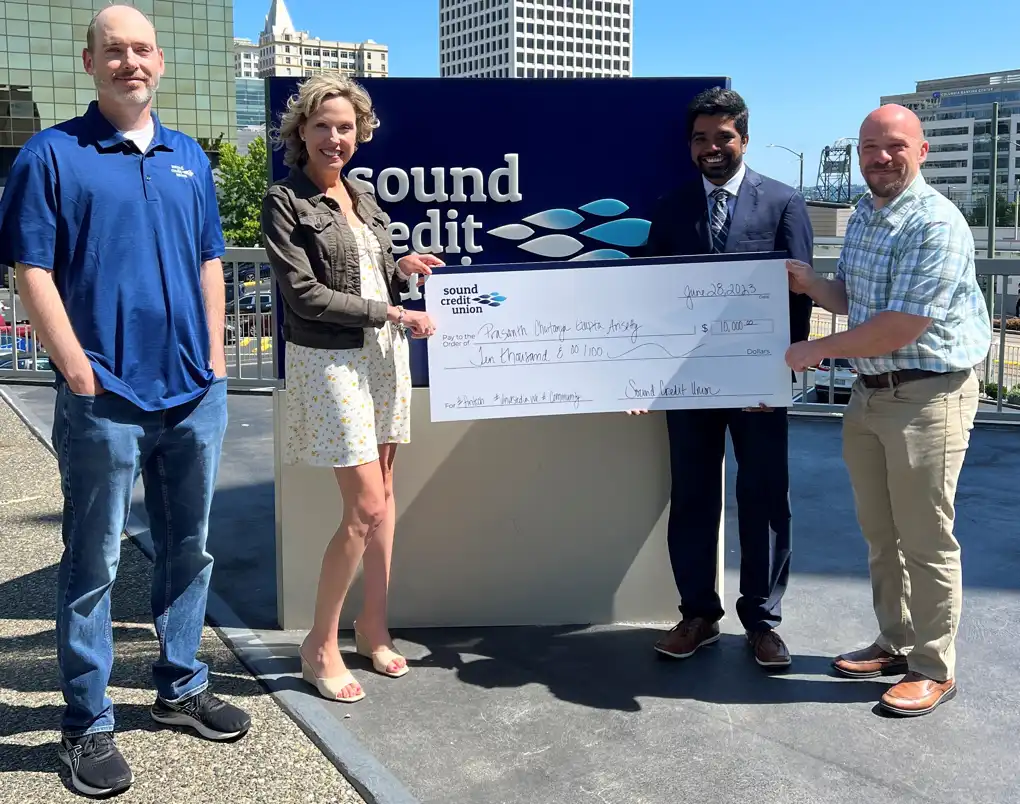 Sound Credit Union (Sound) in partnership with the Milgard Center for Business Analytics at the University of Washington Tacoma (UWT), announced Prasanth Chaitanya Gupta Arisetty as the winner of the 2023 FinTech Incubator Challenge. Arisetty is the founder of Spendalyze, an app that tracks and analyzes transactions across all bank accounts and provides personalized offers to assist users with financial management.
In 2021, Sound and UWT launched this competition seeking financial technology (FinTech) innovators interested in creating financial tools that would help consumers to manage their finances, while at the same time assist them in building financial confidence. Applicants submitted their ideas, then Sound and UWT selected three finalists who presented to a panel of judges in late June. Finalists in the competition shared their concept to a panel of judges made up of representatives from Sound's Executive Management team, leaders from UWT, and local community partners, Quincy Henry – Co-Owner & Chief Experience Officer at Campfire Coffee, as well as Dennis Joyce with Tacoma Venture Fund.
Spendalyze captured the attention of the judges. "This tool creates a user friendly experience for consumers to view all of their transactions from across bank accounts, manage subscriptions and assists in preventing fraud," said Charlene Henson, SVP/Chief Retail Officer, Sound Credit Union. "The app also focuses on analyzing the transactions using machine learning and then provide personalized offers based on user spending by connecting users with the local merchants thereby benefiting both parties."
"Attending the Fintech Incubator Challenge hosted by Sound Credit Union has been an invaluable experience that has greatly enriched my entrepreneurial journey. The competition provided a unique platform for fintech enthusiasts like me to showcase our innovative ideas and solutions. Throughout the event, I was exposed to a wealth of knowledge and resources that accelerated my learning and honed my skills in the FinTech space. Winning the competition was an incredible achievement and a testament to the hard work and dedication I invested in my venture. The panel of experts, comprised of seasoned professionals from the industry, provided invaluable feedback and guidance, which further fueled my growth and development. Their insights and constructive criticism have become a cornerstone of my success, guiding me towards refining my product and business strategy. Overall, my experience at the Fintech Incubator Challenge was truly transformative, propelling me closer to my entrepreneurial goals and solidifying my passion for the fintech industry," said Prasanth Chaitanya Gupta Arisetty.
This year's winner received $10,000 in total cash prizes from Sound and a renewable 6-month membership for CoMotion Labs in Seattle. "The Milgard Center for Business Analytics could not be more proud of Chaitanya, a 2023 graduate of the Milgard School of Business' own Master of Science in Business Analytics program. Thank you to Sound Credit Union for making it possible for Chaitanya to bring his Spendalyze vision to life," said Michael Turek, Associate Director, Center for Business Analytics Milgard School of Business at UWT.