Earlier this year, the Pierce County Council began a nationwide search for the Office of the Pierce County Council's next Chief of Staff and is excited to announce a successful candidate has been found and will be joining the team Monday, July 17.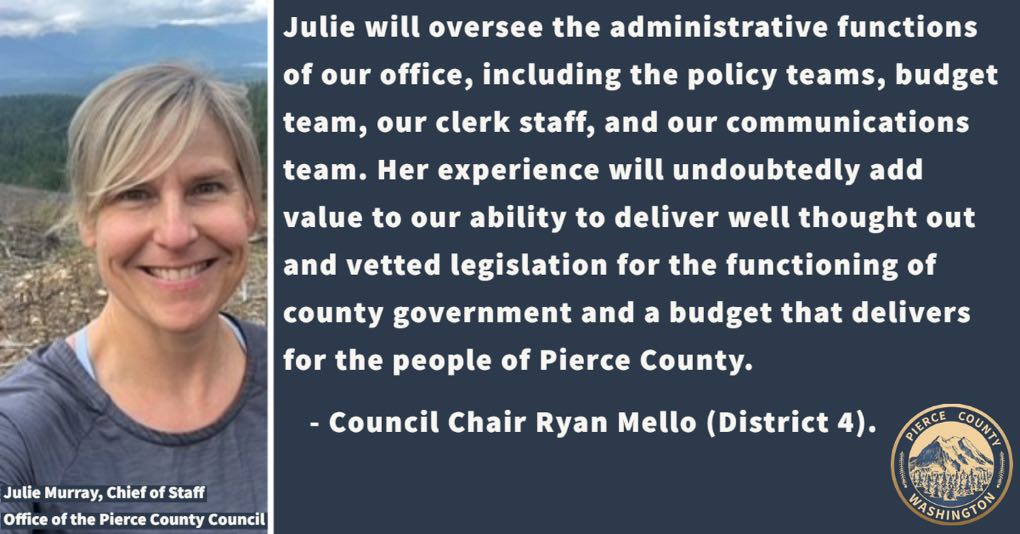 Julie Murray comes to the Office of the County Council with a wealth of experience from the State Association of Counties, the State Office of Financial Management and most recently as Senior Budget Counsel with the Washington State Senate's Ways & Means Committee. Her experience working with policy developers and elected leaders on the development of complex budgets will be a great asset to Councilmembers, staff, and more importantly the residents of Pierce County.
"Julie will oversee the administrative functions of our office, including the policy teams, budget team, our clerk staff, and our communications team," said Council Chair Ryan Mello (District 4). "Her experience will undoubtedly add value to our ability to deliver well thought out and vetted legislation for the functioning of county government and a budget that delivers for the people of Pierce County."
"Everyone we have talked to who has worked with Julie over the years shared about her professionalism, fairness, intellect and passion for public service. She has lots of experience leading teams of people who she directly and indirectly manages and comes with a stellar reputation for her integrity, work ethic and positive demeanor," added Mello.
The Chief of Staff role has been vacant for nearly a year, with the office operating under the leadership of co-administrators Susan Long, Chief Legal Counsel, and Hugh Taylor, who serves as Principal Policy Analyst in addition to his co-administrator duties
"Having a chief of staff will help our staff work more efficiently to deliver the services Council needs to effectively work on behalf of the people of Pierce County," said Taylor. "It will also help staff work more effectively within their respective roles and teams to support the Council in its budget and policy making duties, communicate with the public, and provide transparent access to the legislative process."