By Don and Peggy Doman and Lavinia Hart.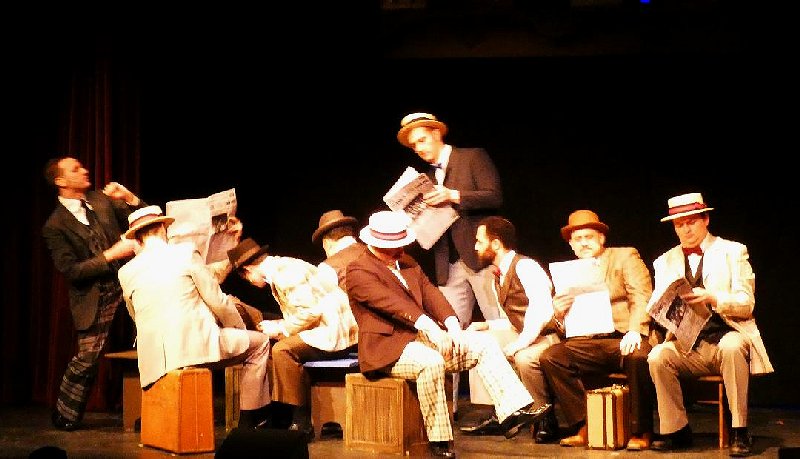 We got our tickets and waited in the lobby for seating. An old friend came over and asked "Is this the actress?" We had kept after my cousin Lavinia Hart to join us for The Music Man. We introduced the two of them. As an actress, director, and teacher, Lavinia had seen numerous productions of The Music Man from Detroit to New York City. She had moved back to Tacoma after retiring from Wayne State University. Lavinia is named after my mother. Our mothers were twins.
Soon the doors were open to the theatre and we all moved in for our seating. The last two rows had some empty seats, but mostly the house was sold out. I saw a man wearing a T-Shirt telling the world that he was a proud father of an actor and smiled. I spotted a number of local actors I recognized. I could tell this was going to be a good night.
The opening scene sells the story. The song "Rock Island" with its lyrics and traveling salesmen all bouncing in rhythm to the clicking of the wheels and the banter of "whatayatalk. whatayatalk, whatayatalk" connect with the worry of the competition – Harold Hill.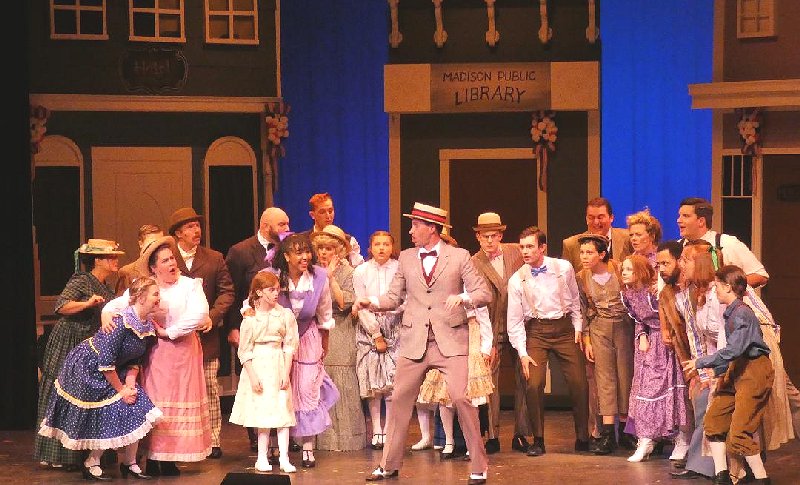 "The Music Man is a musical with book, music, and lyrics by Meredith Willson, based on a story by Willson and Franklin Lacey. The plot concerns con man Harold Hill, who poses as a boys' band organizer and leader and sells band instruments and uniforms to naïve Midwestern townsfolk, promising to train the members of the new band. Harold is no musician, however, and plans to skip town without giving any music lessons. Prim librarian and piano teacher Marian sees through him, but when Harold helps her younger brother overcome his lisp and social awkwardness, Marian begins to fall in love with him. He risks being caught to win her heart." – Wikipedia
On stage Jon Douglas Rake, Founder and Managing Artistic Director, welcomed everyone and the fun began. There are 24 songs in this wonderful musical. The live orchestra gave us a nice sampling and then the curtain came up. We were treated to the first scene on-board a passenger train. The story unfolds in 1912 in a small town in Iowa. We see a railroad car filled with salesmen all discussing the behavior of one particular shady salesman, Harold Hill, played by Mauro Bozzo.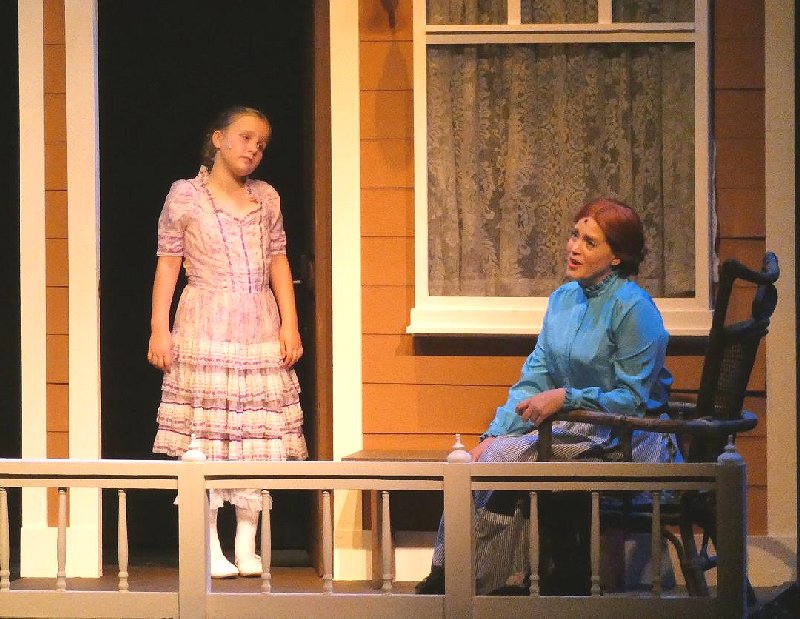 Mauro Bozzo, did a fantastic job dancing and performing in TMPs "Singing in the Rain" as well as "Chorus Line" at Tacoma Little Theatre. He came across very, very nicely as Harold Hill in The Music Man. Harold just needed a thread of a threat to capture the townsfolk and he does it with the song "Ya Got Trouble." During the standing ovation at the end of the production, his mother (one row in front of us) yelled out "That's my son." We're still laughing. It was so sweet.
Marian the Librarian (Meagan Castillo) has the most beautiful operatic voice. When she sings Goodnight My Someone, I had visions of Shirley Jones from the original movie. So lovely, so tender, so soulful. Marian's mother, Mrs. Paroo (Jaqueline Edwards) plays the perfect Irish mother (with a shrill voice that I recognize from my mother) who wants her daughter to be settled and happy. Edwards plays the Irish accent and attitude perfectly.
As for the townspeople, Mayor Shinn as the protector of the town's morals, also the owner of the snooker and, now, the pool table (oh, horrors ". . . trouble right here in River City", the downfall of the town's boys!) and Mayor Shin barks his way through the play, demanding Harold Hill's credentials. His wife, Eulalie Mackecknie Shinn (Stacie Hart) shrilly and with absolute power commands the social life of River City, Iowa's small town and exercises her relentless control, even she falls under the spell of Harold Hill's flattery. Their daughter Amaryllis (Oona Muller) loudly proclaims "Ye, Gods!" at the end of every sentence, to her mother, to her beau, to the other kids.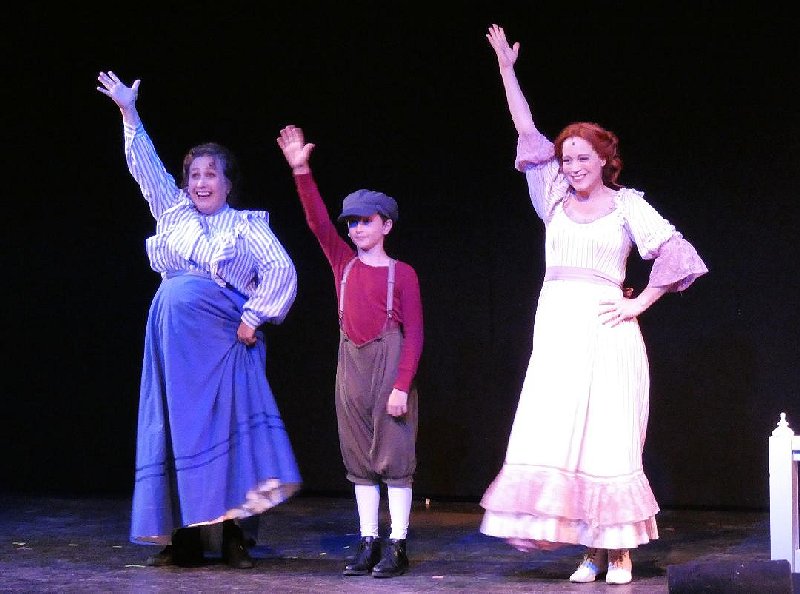 The set is colorful and sparse, which lets us enjoy the nearly forty actors (adults and children) who are on stage at various times. Harry Turpin is the director and choreographer. His twenty years of being on stage and behind the curtain show us his skills. John Chenault is the lighting director. His thirty-five years of backstage lighting have certainly paid off for TMP where he has lit more than 100 shows. Mark Rabe, the music director and conductor has been busy at some of our favorite Pacific Northwest theaters from shows to cabarets. Julles Mills is the show's costume designer. Costumes take time and money, but Julles has worked miracles at TMP with some of our favorite shows like Kinky Boots, Singing in the Rain, and Joseph and the Amazing Technicolor Dreamcoat. Angela K. Morgan is the stage manager for The Music Man. She has been part of the TMP success with the award-winning Adams Family, Ragtime, Evita, and Sister Act.
Acting, dancing, and singing make The Music Man what it is, but what really carries the production is the songs . . . the tunes that we continue to hum and sing to ourselves and share. They've been recorded and sung for over sixty years.
"Goodnight My Someone" is a song of longing and hope. It is one of my favorite songs that I play on my baby-grand piano. It's about wishing for someone to love and be loved. My wish is already accomplished, I have the love of my life, my wife, and yet I still play the song and think of her even when she is in the next room. The song just touches me.
Here is another touching favorite that might surprise you . . . from The Beatles: youtube.com/watch?v=uDxCg1nxUko
Here is a wonderful comment from my cousin Lavinia who has directed numerous stage productions and taught aspiring actors for decades: The first response I had last night after the curtain call of Music Man at the Tacoma Musical Playhouse was "I'm so glad I came! This production reminds me about everything there is to love about community theatre!
Years ago, I got a call from a former student who was on a national tour of Music Man. The production was coming to my city. She said "It's not a big part but I have a featured moment in the number "Shipoopi". I told her I wouldn't miss it for the world. She was great and I wanted to yell "That's my student!" when her number was finished, just like the lead actors Mom who called out "That's my son" on opening night.. It's the connection with the artists on stage. We take pride in their success. We are people from all walks of life and for two hours or so, we enjoy a communal experience. Thank you, Tacoma Musical Playhouse for your dedication and hard work in hitting the mark. Your shows will live on in the memories of all the participants, including the audience.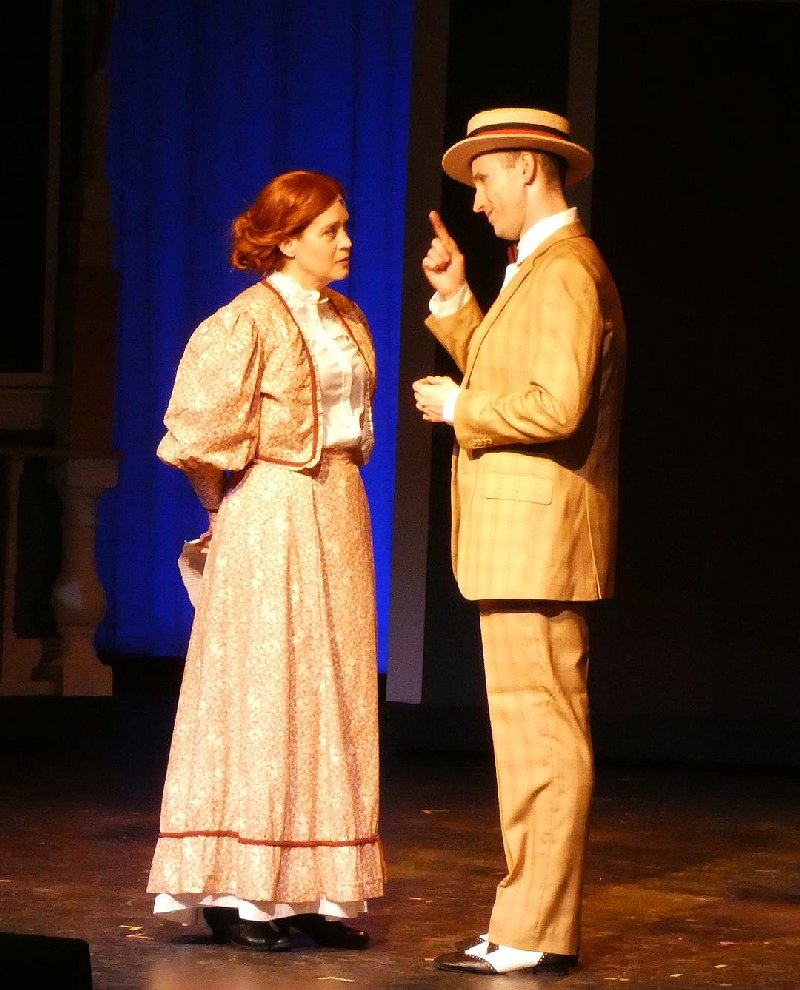 You never know what form a remembered performance may take. An actress, dear friend and god-mother to my daughter, knew she had little time left on this earth due to cancer. She had the words of the chorus of "The Wells Fargo Wagon is a-comin', comin' for me" printed on the last page of her funeral program. Two other musical theatre friends led the song and the entire audience sang the song of the River City townspeople clear through to "comin' til you stop for me." Who knows when or where she had performed in that show, but she found the way to make her final exit with love and laughter for her friends and family by using that show tune. It came from that place of creative joy found in the arts. And we never know from performance to performance when we will find it – that creative joy. But, folks, it's HERE right NOW, in River City! You can find it on the stage of the Tacoma Musical Playhouse thru July 30.
The Music Man plays Friday and Saturdays at 7:30 PM and Saturdays and Sundays at 2:00 PM.
By turns foot tapping, funny, warm, romantic, and touching, The Music Man is family entertainment at its best.
Order your tickets at: tacomamusicalplayhouse.csstix.com/event-details.php?e=1788