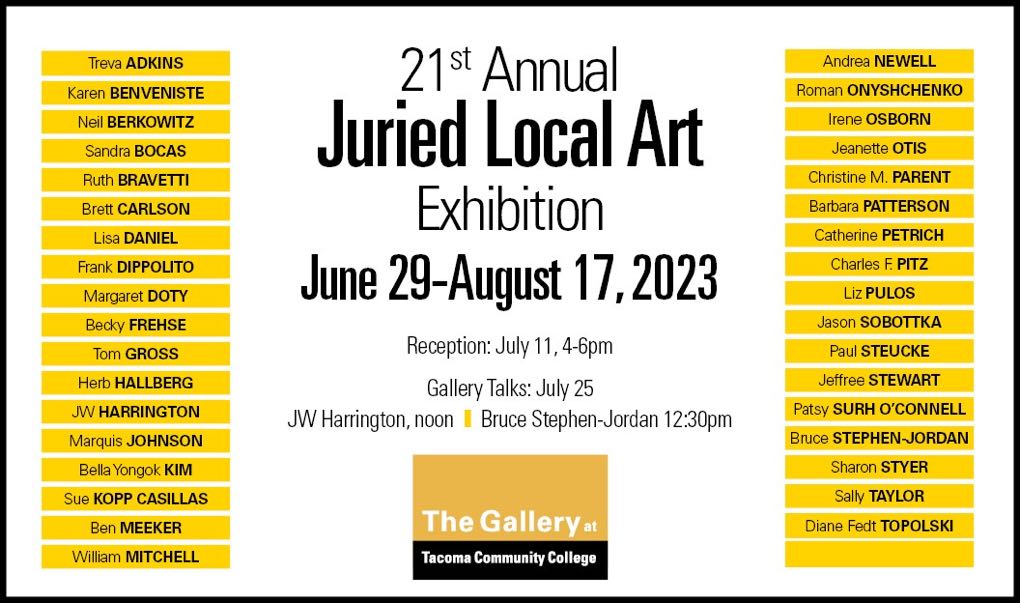 Tacoma Community College's 21st Annual Juried Local Art Exhibition will be on display in The Gallery through Aug. 17. The exhibition features paintings, photographs, drawings, sculpture, textile work, and other media by 35 local artists.
Building 4 at Tacoma Community College (near the corner of 12th and Mildred), The Gallery is open 10 a.m. – 5 p.m., Monday – Thursday on days the college is open. Admission is free.
Reception
Juried awards will be announced at the exhibition reception, which will be held 4-6 p.m. July 11 in The Gallery.
Gallery Talks
Artists will host Gallery Talks on July 25:
JW Harrington, noon – 12:30 p.m.
Bruce Stephen-Jordan, 12:30 – 1 p.m.
Exhibition Artists
Treva Adkins
Karen Benveniste
Neil Berkowitz
Sandra Bocas
Ruth Bravetti
Brett Carlson
Lisa Daniel
Frank Dippolito
Margaret Doty
Fecky Frehse
Tom Gross
Herb Hallberg
JW Harrington
Marquis Johnson
Bella Yongok Kim
Sue Kopp Casillas
Ben Meeker
William Mitchell
Andrea Newell
Roman Onyshchenko
Irene Osborn
Jeanette Otis
Christine M. Parent
Barbara Patterson
Catherine Petrich
Charles F. Pitz
Liz Pulos
Jason Sobottka
Paul Steucke
Jeffree Stewart
Patsy Surh O'Connell
Bruce Stephen-Jordan
Sharon Styer
Sally Taylor
Diane Fedt Topolski