Written by Pamela Sleezer.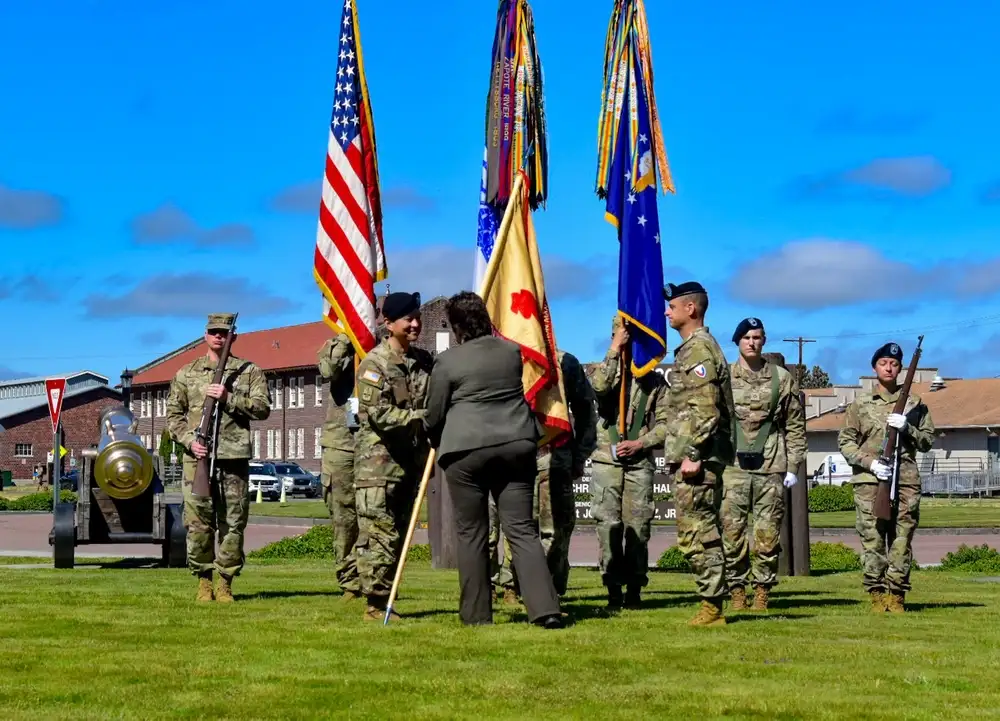 JOINT BASE LEWIS-McCHORD, Wash. – The command of Joint Base Lewis-McChord came under new leadership June 29 as Col. Phil Lamb handed the reigns over to incoming garrison commander, Col. Kent Park.
At a ceremony held on the grounds at the garrison headquarters building, Lamb symbolically passed the JBLM Garrison colors, representing the change of command, to Park before a crowd of friends, family members and representatives from surrounding communities.
"This will be more challenging, this will be more rewarding and more important than any other option you could have pursued," Lamb said as he addressed Park during his remarks.
Before Lamb gave his final remarks as commander, Brenda McCullough, Installation Management Command – Readiness director, delivered high praise for Lamb's efforts and accomplishments over the past two years.
"From July 2021 through June 2023, you led Joint Base Lewis-McChord in providing exceptional support to the senior commander," McCullough said. "And you did so while skillfully managing critical fiscal and resource challenges. I know I speak on behalf of Lt. Gen. (Omar) Jones and Lt. Gen. (Xavier) Brunson when I say that JBLM's continued success over the last two years is attributed to your leadership."
Lamb will not be going far from the base he called home as a middle and high school student. His next assignment will see him assuming the responsibilities of I Corps chief of staff.
Like Lamb, Park also has history with JBLM. He previously served as the battalion operations officer and executive officer with 1st Battalion, 23rd Infantry Regiment, of the former 3rd Brigade, 2nd Infantry Division (now 1st Brigade, 2nd Infantry Division), whom he deployed with as part of Operation Enduring Freedom.
Commissioned in 1999 as an infantry officer, Park's career with the Army has spanned 24 years. Born in Seoul, South Korea, Park immigrated with his family to the United States when he was just 8 years old, settling in the Houston area.
Most recently, Park was a member of the Carlisle Scholars Program at the U.S. Army War College, in Pennsylvania, where he researched modernization efforts for the Selective Service System and mass-mobilization challenges in large-scale combat operations.
He arrives to JBLM with his wife, Dr. Jae Rin Park and their three children.
Park will now take over management of the sprawling installation that spans more than 400,000 acres. As garrison commander, he will oversee JBLM's day-to-day operations, ensuring support to the hundreds of thousands of service members, families, civilian employees, and contractors that make up its population.
"I can't match Colonel Lamb's personal and historical connection with JBLM," Park said. "But I am deeply and emotionally committed to this community. It is an incredible privilege and honor to have this opportunity to give back, lead and serve."