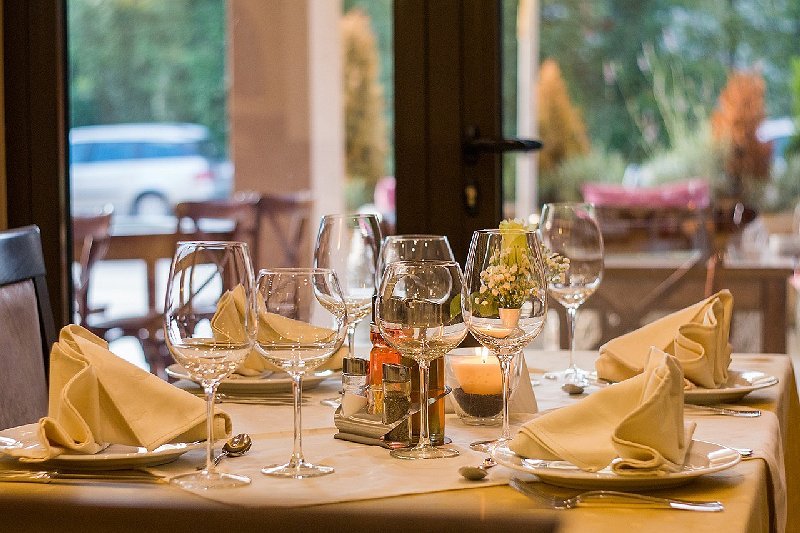 My mother grew up in Nevada, Missouri. She loved pickled pigs feet, Veg-all, okra out of a can, and bacon. I agreed with her on bacon. My dad, also grew up in Nevada, Missouri. He got through high school by supporting himself with delivering newspapers, and odd jobs like sweeping out the nearby barbershop. He rented a room from an aunt. This was during the Great Depression. As I grew up my dad would sometimes stuff bread into a glass and then pour milk on it and eat it with a spoon. I didn't realize until years and years later that my dad's bread and milk was likely one of his only meals.
I was a latch key child. I walked to and from Stanley Elementary in Tacoma every day from 2520 South Ferry. Sometimes I would make myself toast and fry me some bacon for a sandwich. When I wasn't walking straight home, I was attending my Cub Scout Den meeting. At one meeting we were being shown how to grill hamburgers in the back yard. Each scout got to make their own. As I put mine together my Den Mother stopped me and asked what I was doing.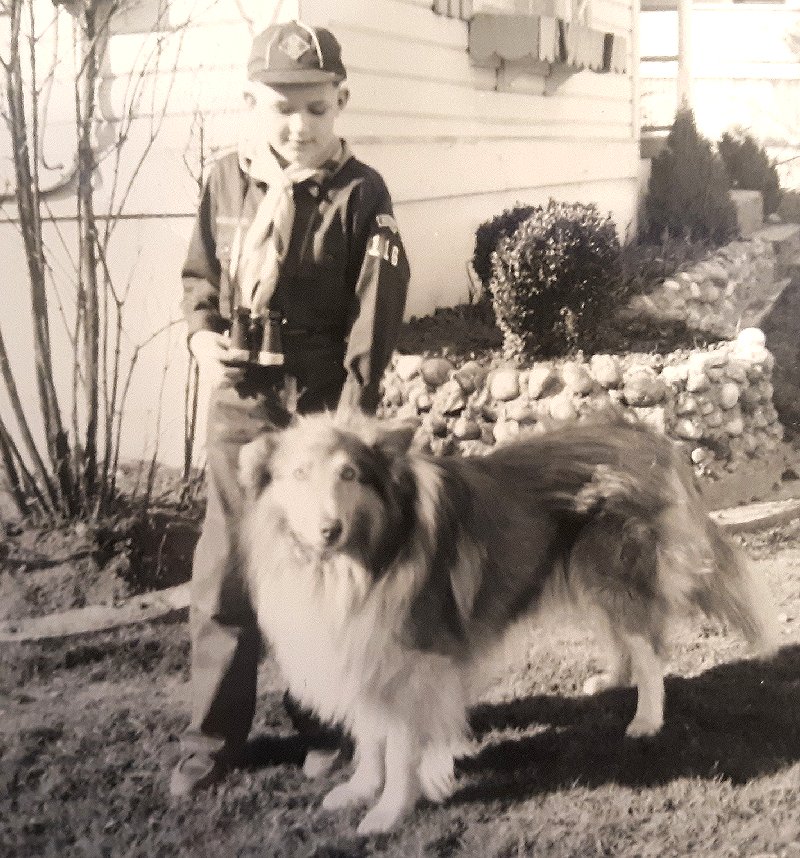 Although my dad spooned down bread and milk as a teenager, as an adult he got caught up in backyard BBQ. He and I experimented with thin hamburger patties. In-between the patties, we would add cheese, seasoning sometimes or anything else that looked like it would cook well and taste remarkably better. My Den Mother looked at me like I was from outer space . . . until she made her own version of my patties. If I had been a Boy Scout I probably would have been given a Hamburger patch for my sash. Here is a photograph of me as a Cub Scout with my faithful dog, Pal.
A few years later my parents purchased a motel in Ponders Corner. By the time I was in the seventh grade I was working at the motel and renting rooms when my parents went to meetings or shopping. When my parents left me alone to run the motel in the evenings, I would go to the little grocery store in Ponders. I had found ingredients for Russian, French, and Mexican food and cooked whatever I wanted to eat. Later when my parents left me in charge of my younger sister Marsha, the two of us would munch on our own pepperoni pizzas from the Italian restaurant across the street from our motel. Eventually, the restaurant closed, and the Marzano recipe for the tomato sauce traveled to Sixth Avenue and became the basis for everyone's taste buds delight of Clover Leaf Pizza.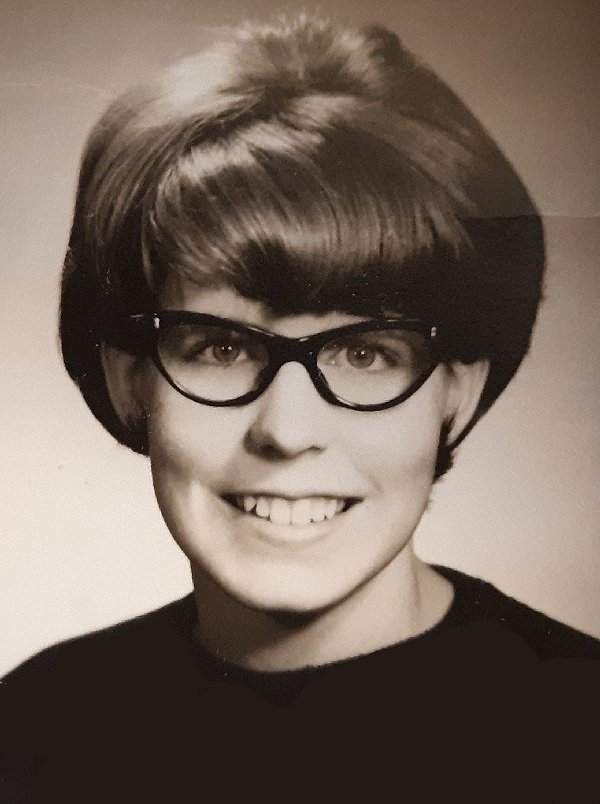 A few years later I met the lovely Peggy Harrington. When I went to dinner at her parent's home for the first time, my jaw didn't drop, but I was in awe. There were six of the seven Harrington children plus mom and dad. I had never seen that much food on one table as I did then. There were several milk containers on the table and two plates piled high with steak. Peg says, "I fried the steaks after tenderizing and dredging in seasoned flour. I've always been partial to green herbs and paprika." The food was excellent.
Peg loves meatloaf. It was her a favorite as a child. She says, "I often asked for meatloaf for my birthday dinner with baked potatoes. I make it with a pound of good hamburger, chopped onions and peppers, green and red herbs, etc., plus bread slices torn up for holding it together."
Peg was the second oldest of the children. Four months later we were married. Our three children have some versions of a number of our recipes or have altered the ingredients to suit themselves.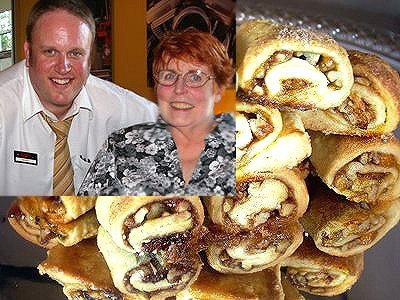 I love Peggy's meatloaf, but her Salmon Croquettes are a real favorite with me. My mom made them, but Peggy's are much better. Peg has her own style. She explains, "I buy cans of salmon, drain them, break them up just a little and put chopped onions and red peppers in them with the selfsame green herbs (as appropriate, since I season chicken almost the same way). Pat the patties into shape and fry in a hot cast iron skillet until done." There are always leftovers and I'll eat them directly out of the fridge.
Peg and I have belonged to several organizations, and have dined at various cities all around Washington as well as Oregon and British Columbia. About twenty years ago we began visiting locations around the Pacific Northwest enjoying theatre, museums, and dining. We talked with a few chefs, and shared our experiences by writing of our travels and dining. Our website Northwest Adventures tells many tales of our experiences – nwadventures.us/
Right now we've had just under 8,000 visitors for the year.
Here are five links from Sumner to Bellingham about eating and having fun in our NW Adventures:
nwadventures.us/925Monaco.html (Eating 9 to 5 and Sleeping In, Too)
nwadventures.us/LOJ17-Spaghetti-Factory-2017.html (Thunder & Lightning and the Old Spaghetti Factory in Lynnwood)
nwadventures.us/PalaceKitchen.html (The Palace Kitchen and Legally Blonde at the 5th Avenue)
nwadventures.us/Bell1.html (College Days? Drinking and Eating in Bellingham – On the way to see a brown rhino.)
nwadventures.us/Sumner.html (Suddenly Last Sumner – From Pick-Quick to CenterStage, 5th Avenue, and ManeStage – 3 Plays in 3 Days)
Just before COVID hit, we created a website – eating-out-tacoma.com/
In this website we talk about food and our local restaurants. When COVID came in, restaurants went out. We are just starting to get our audience back. Right now we are just under 3,000 visitors.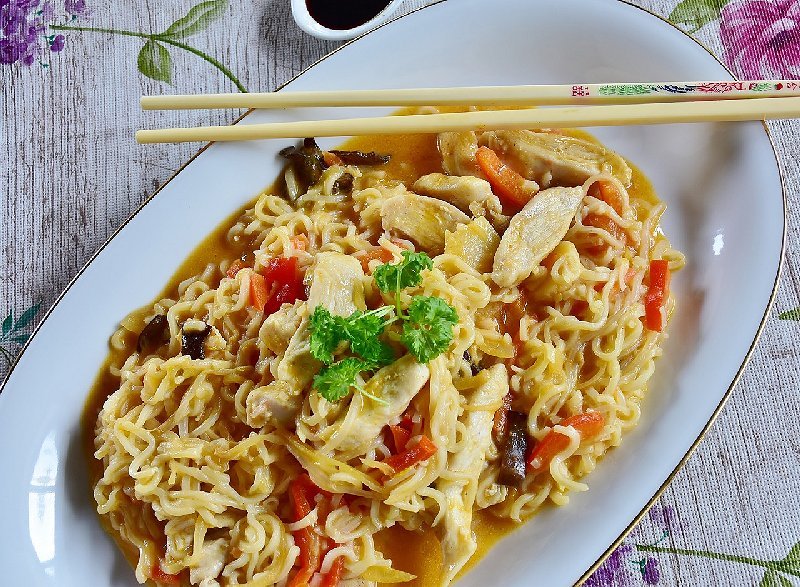 What's funny about our restaurant reviews are questions from friends about various places to eat. Last year I spoke about "Growing Up in Lakewood" at a meeting of the Lakewood Lions Club. When I asked if there were any questions, one hand shot up and I was asked "What do you do when your hashbrowns aren't pre-paired like you want?" Obviously a Suburban Times reader. Peg and I share our stories and post on The Suburban Times. For hashbrowns I always ask for my hashbrowns to be burnt, burnt, burnt, with onions cut up in or on them. To make sure the waitress understands I gesture with my hands showing cutting onions.
In addition to our reviews, we also place our results by location as well as listing the latest reviews at the top of the website. Also, we list types of nationality food. We love talking to people about food and local restaurants as well. We like to help local restaurants. Please, take a look. Some closed their doors, but some returned.